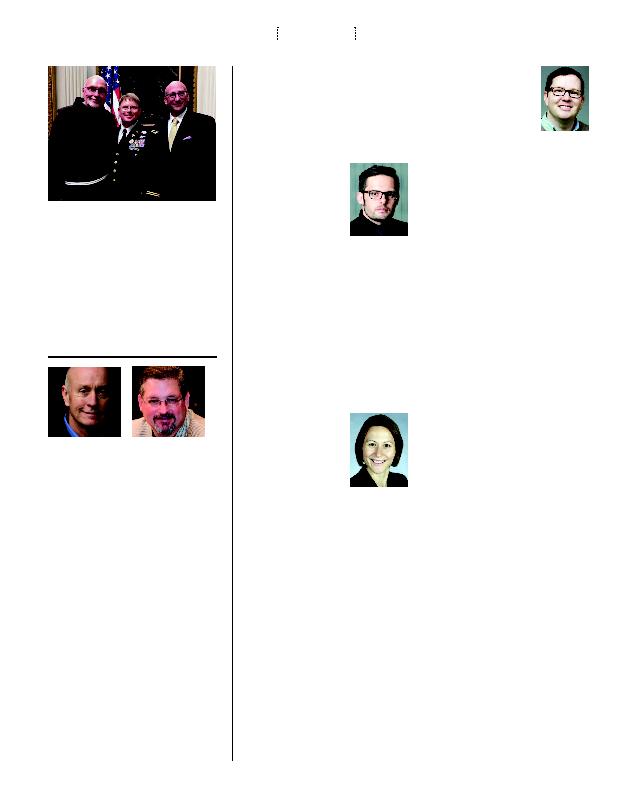 2007
Kevin Rhoney
media and public relations
specialist for Eastman Kodak
Company in Rochester.
2008
Emily Ciraolo
was promoted to assistant di-
rector of corporate communications at Na-
tional Fuel.
Scott Eddy
Sports Information Directors of America
(CoSIDA) District 1 "Blog of the Year" hon-
ors with St. Bonaventure Athletics photogra-
pher Craig Melvin for his coverage of the St.
Bonaventure women's basketball 2016
NCAA Tournament run. The production,
which followed the Bonnies from their sec-
ond-ever NCAA Tournament selection
through their trip to Oregon and victory over
Oklahoma State, was selected as the top
work of the 2016-17 academic year in the
blog category for all entries in District 1 -
Connecticut, Maine, Massachusetts, New
Hampshire, New York, Rhode Island, Ver-
mont, New Brunswick, Newfoundland, Nova
Scotia, Prince Edward Island, and Quebec. It
marks the third straight year Eddy has re-
ceived a national or district writing award
from CoSIDA, earning a district award for a
student-athlete feature in 2015 while also
receiving the CoSIDA National Story of the
Year honor in 2016.
Ian Nolan
director of campus operations for IDEA Pub-
lic School's Brackenridge campus, which is
opening in San Antonio in August. IDEA
was named America's Best Charter School
Network last summer, and this campus will
have grades PK, K, first and sixth and even-
tually grow to be a PK-grade 12 school. A
former basketball team manager, he also
founded and runs BonaBlog.com, a website
dedicated to SBU basketball, in his spare
time.
2009
Dan Quirk
was promoted to senior man-
ager at Ernst & Young LLP in the financial
services assurance practice in Pittsburgh.
2010
Robert Chatt
completed the requirements
for his doctorate degree and will graduate
with his Ph.D. in business administration,
with a focus in finance, in August. From
there, he will join Westfield State University
as an assistant professor of finance.
Cameron Smith
is a Buffalo Business First
30 Under 30 award winner. He is the direc-
tor of finance for Supportive Services Corpo-
ration, a non-profit organization that runs
two separate programs, the Senior Employ-
ment Program and the Weatherization Pro-
gram. He is also the president of the Buffalo
Peavey worked at St. Bonaventure as the
director of new students, assistant regis-
trar and assistant director of student ac-
tivities from 2003-2006.
2004
Adam Bednar
MDDC Press Association with its Best of
Show Award for Local
Government. The
MDDC's highest cate-
gory award, the honor
recognizes particularly
superlative work among
journalists in Maryland,
Delaware and the District
of Columbia. Bednar is
the economic development and real es-
tate reporter for The Daily Record in Balti-
more, Md.
Nicole (Borrelli) Branagan
Ashley (Borrelli) Biryla,
'06, '07,
opened Compass Cycle Studio,
a new indoor cycling studio in Rochester.
The 45-minute indoor cycling classes are
set to the beat of loud, energetic music
and incorporate hand weights in order to
offer a full-body workout.
Allison War-
den Sizemore
partner at Reed Smith LLP in the firm's
Pittsburgh office. Warden Sizemore is a
member of the firm's Employee Benefits
& Executive Compensa-
tion Group. She assists
clients with a broad
range of employee bene-
fits matters, including
plan documentation, dis-
closure, and day-to-day
counseling for qualified
retirement plans, non-
qualified plans, and welfare plans. She
also is experienced with multi-employer
pension plan issues, such as withdrawal
liability, distress terminations and under-
funded pension plan matters, benefits due
diligence, and advice in connection with
corporate transactions. She earned her J.D
from Duquesne University School of Law in
2009.
Mike Trask
of the 2017 Class of 40 Under 40 by
Global Gaming Business Magazine. Pro-
duced in conjunction with the Innovation
Group and G2E's Emerging Leaders of
Gaming program, the 40 Under 40 group
represents "the best of the next genera-
tion of leaders in the casino and gaming
industry." Trask is director of marketing at
Ainsworth Game Technology.
2006
Sean P. Lynch
was promoted to director in
the Investment Banking Division at Barclays
Capital, a global investment bank.
Two of St. Bonaventure's most accom-
plished journalism alumni were honored with
New York Press Club Awards for Journalism.
Dan Barry, '80, of the New York Times,
was honored in the Featured Reporting cate-
gory for "Fight," the story of a boxing match
that resulted in the death of Hamzah Ajahmi
and the impact it had on his opponent, An-
thony Taylor.
Mike Vaccaro, '89, of the New York Post,
won in the Sports News category for "The
King Delivers -- and Weeps," his story on Le-
Bron James after the Cleveland Cavaliers
won the NBA title last June.
An enduring tradition in New York media,
the annual New York Press Club Awards for
Journalism honor excellence by writers, re-
porters, editors, producers, photographers
and multi-media journalists from television,
newspapers, magazines, radio and the inter-
net. Entries are considered in 38 categories
from material submitted by New York metro-
politan area news organizations and individ-
ual journalists. The awards were presented at
the club's annual Awards and Installation
Dinner June 5 at Manhattan's Water Club.
Barry, Vaccaro honored
by New York Press Club
O'CONNOR LAUDED AT WHITE HOUSE
Col. Kevin O'Connor, D.O., '88, (center)
who served as the physician to Vice Presi-
dent Joe Biden and the Second Family
for eight years, retired from the Army in
July. O'Connor is pictured with Fr. Dan
Riley, O.F.M., '64, (left) and classmate Jim
Goebelbecker, '88, following his retire-
ment ceremony. The ceremony was held
on the White House grounds in Novem-
ber 2016. Vice President Biden was the
presider for the ceremony and Fr. Dan
gave the opening prayer.