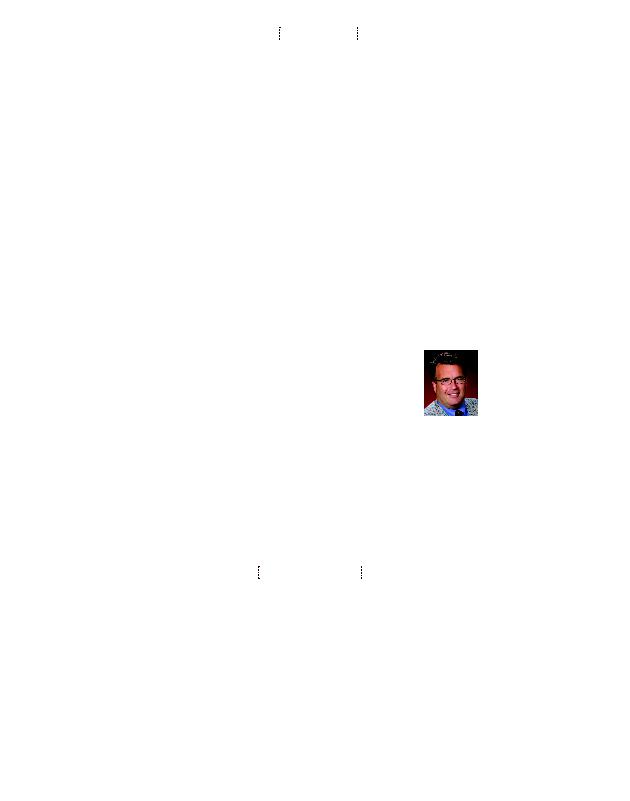 A directory of deceased alumni is available on Bona's Online. Not a member? Register at www.sbu.edu/alumni.
Tadhg Bonaventure to Jennifer
and Philip Lazzaro, '94
Charlotte Mae to Tammy and
Steve Nicholson, '94
Finn Michael to Corinne P.
(Kelly), D.O., '02, and Eric Krist
Walter Jack to Kathryn (Dickin-
son), '03, and Robert Char-
boneau
Sean Wolcott to Kate (Wol-
cott), '03, '04, and Anthony
Rizzo
Alanna Grace to Gina (Mar-
socci) '05, and Michael Andoloro
Kennedy Helena to Kelly (Bo-
quard), '05, and David Ko-
rzak, '05
James Robert III to Sarah and
Jimmy Coyne, '06
Hazel Katherina to Shannon
(Doherty), '06, and David Wolf
Quinn Avery to Stephanie
(Belke), '06, and Shane Ryan,
'06
Elin Elizabeth to Kate (Moul-
ton), '07, '08, and Mathew
Chmielewski
Elin Violet to Brynn (Bootey),
'08, and Dave Fagerstrom
Dylan Nicholas to Lynne (Muc-
cia), '08, '09, and Tyler Herman
Lydia Anne to Laura (L'Esper-
ance), '09, and Alex Cole, '08
Amelia Harper to Ruth
(Harper), '10, '11, and Kevin
Rhode, '10
Kolbe Elias to Taylor (Janak),
'11, '12, and Martin Spear, '11
Emma Elizabeth to Kait (Laub-
scher), '12, and Dan Ripley,
'11
Michael Robert to Heather and
Frank Castiglia, '12
Declan Bernard to Chrissy
(Conlon), '13, and Kevin
Smith, '13
Dr. Raymond P. Salamone, '43, Denville, N.J.
John E. Ryan, '48, Rochester Hills, Mich.
Wendell V. Cleveland, '48, Marcy, N.Y.
Patrick J. Dolan, '49, Pennington, N.J.
Gerald D. Chadderdon, '49, Prescott, Ariz.
Joseph J. Gonsiorek, '49, Lackawanna, N.Y.
Elizabeth (Reiber) Anderson, '49, Dublin, Ohio
Joan (McGranaghan) Czark, '50,
Mountlake Terrace, Wash.
Rev. Berard M. Dudek, O.F.M., '50, Riverside, N.J.
John C. Ford, '50, Fairfield, Conn.
John R. Lanz, '50, Clinton, N.Y. *
Dr. Richard F. Mayer, '50, Towson, Md.
Rev. David W. O'Brien C.S.P., '50, Columbus, Ohio
Martin J. Welch, '50, Olean, N.Y.
Sgt. Lawrence E. Barry (Ret.), '51, Lakewood, N.Y.
John J. Clavin, '51, East Moriches, N.Y.
John J. Lane, '51, Turtlepoint, Pa.
Raymond C. Miller, '51, Wilmington, N.C.
Rev. Guy Morgan, '51, St. Petersburg, Fla.
Carl E. Pauletta, '51, Machias, N.Y.
Ernest S. Virok, '51, Columbus, N.J.
Thomas J. Foy, '52, Palo Alto, Calif.
James S. Leone, '52, Bennington, Vt.
John D. Hardy, '53, Gloucester, Mass.
Walter G. Kettle, '53, Endicott, N.Y.
Raymond G. McDonald, '53, Glen Head, N.Y.
Robert J. Fleming,'54, Great Bend, Pa.
Peter A. Spetaccino, '54, Morristown, N.J.
Harlow A. Webert, '54, Watertown, N.Y. *
Warren F. Bowhall, '55, Malta, N.Y. *
Dr. George W. Bragle, '55, Slingerlands, N.Y.
Frank E. Cady, '55, Wellsville, N.Y.
Joseph R. Heintzman, '55, Rochester, N.Y.
Daniel F. O'Hara Jr., '55, Montclair, N.J.
Robert J. Regan, '55, Potsdam, N.Y.
James F. Zacharias, '55, Dalzell, S.C.
James W. Taylor, '56, Olean, N.Y.
James R. Blackwell, '56, Olean, N.Y.
Robert J. Wagner, '56, Rock Hill, S.C.
Donald J. Chiavetta, '57, Plano, Texas
John J. DeVencenzo, '57, Estero, Fla.
John E. Leary, '57, Desert Hot Springs, Calif.
Robert J. McCarthy, '57, Fairview, Pa.
Joanne Ray Mitchell, '57, Bradenton, Fla.
James M. Moran, '57, Jamestown, N.Y.
Fr. John Russell, O.CARM., '57, South Orange, N.J.
Patricia (Osborne) Zimmermann, '58, Stuart, Fla.
Norman M. Lerner, '59, Charlotte, N.C.
James A. Brush, '60, Wellsville, N.Y.
George W. Freeman, '60, Conway, S.C.
Albert J. Frey, '60, Bronxville, N.Y.
Arthur L. Haberman, '60, Eggertsville, N.Y.
D. Bryan Mahady, '60, Painted Post, N.Y.
Stanley D. Sambora, '60, Waterville, N.Y.
Joseph L. Tierney III, Esq., '60, Arnold, Md.
W. Thomas Donovan, '61, South Euclid, Ohio
Robert K. May, '61, Venice, Calif.
John W. Rockovits,'61, Hobart, Ind.
Clara J. Vales, '61, Olean, N.Y.
Dr. Charles M. Fischer, '62, Wilmington, Del.
Norman J. Hamed, '62, Olean, N.Y.
Thomas H. Havekost, '62, Granger, Ind.
Rev. Thomas F. Keating, '62, Cortland, N.Y.
Philip T. McLean, '62, West Haven, Conn.
Sr. Ellen M. Schafer, '63, Allegany, N.Y.
Francisco P. Herrera, '64, Island Park, N.Y.
John G. Montana, '64, Wayne, N.J.
Richard J. Piccioli, '64, Allegany, N.Y.
Kevin M. Gately, '64, Port Washington, N.Y.
Sr. Catherine M. Brady, '65, Allegany, N.Y.
Richard L. Brown, '65, Derrick City, Pa.
Eugene F. McCue, '66, Rockville Centre, N.Y.
Sr. Rose M. Niedda O.S.F., '66, Allegany, N.Y.
Edward P. Ryan, '66, Tampa, Fla.
Dr. Estelle M. (Colman) Wade-Crino, '66,
Silver Creek, N.Y.
Charles J. McGowan, '67, North Ridgeville,
Ohio
Stephen J. Zyrkowski, '67, Vero Beach, Fla.
Frederick J. Moricca, '67, Olean, N.Y.
Thomas F. Doran, '68, New York, N.Y.
Alice M. Connell, '68, Brooklyn, N.Y.
Cmdr. Stephen F. Wilder, '68, Mantoloking, N.J.
Maj. Robin M. Davis, '69, Manheim, Pa.
Sr. Susan Buckley O.S.F., '70, Snyder, N.Y.
James N. Ciampo, '70, Cranford, N.J.
Thomas M. Cornell, '70, Weedsport, N.Y.
Sr. Mary L. McMasters, '70, Kingston, N.Y.
Louise M. (Reyers) Nash, '70, Poughkeepsie, N.Y.
Dr. William J. Mariani, '71, Hamburg, N.Y.
Michael D. Smith, '71, Culpeper, Va.
James E. Galbally, '72, Medford, N.Y.
Patrick J. Sheehan, '72, Elmira, N.Y.
Margaret (McGovern) Ulasewicz, '72,
St. Augustine, Fla.
Maj. Raymond R. Anderson (Ret.), '74,
Dexter, N.Y.
Robert D. Lee, '75, Daytona Beach, Fla.
Dr. Peter G. Como, '75, Ellicott City, Md.
Mary M. Mundt, '77, Warren, Pa.
Janet M. Sorvelli Alvandi, '79, Laurel, Md.
Jay P. Kerley, '80, Peru, N.Y.
Mary A. Foley-Harpell, '81, Kissimmee, Fla.
David M. Lewis, '81, Buffalo, N.Y.
David B. Munns, '81, Clearwater, Fla.
James E. Canty, '84, Concord, Mass.
Clifford J. Wraight, '85, Wayland, N.Y.
Mary K. Crowley-McCune, '90, Fairport, N.Y.
Daniel P. Maerten, '90, Martinsburg, W.V.
Joyce A. Michaelson Fitzgerald, '92,
West Creek, N.J.
Donald E. Frank, '92, Johnsonburg, Pa.
Chris J. Meskos, '96, Syracuse, N.Y.
IN MEMORIAM
James E. Canty, '84, a uni-
versity trustee since 2011,
passed away April 25 at his
home in Concord, Mass.,
after a courageous battle
with brain cancer. Canty was
a champion of Bona's rugby
program, supported Bonaventure athletics
and The Bonaventure Fund and in 2012
made a lead gift to the School of Business
Building Campaign in honor of his great-
uncle, Francis Walter "Hookey" Frey, '24 (MS
'38). Canty was president of the Boston-
based investment advisory firm Clough Capi-
tal Partners L.P. He is survived by his wife,
Kristin, and four children.
* Member of St. Bonaventure's Seraphim
Legacy Society