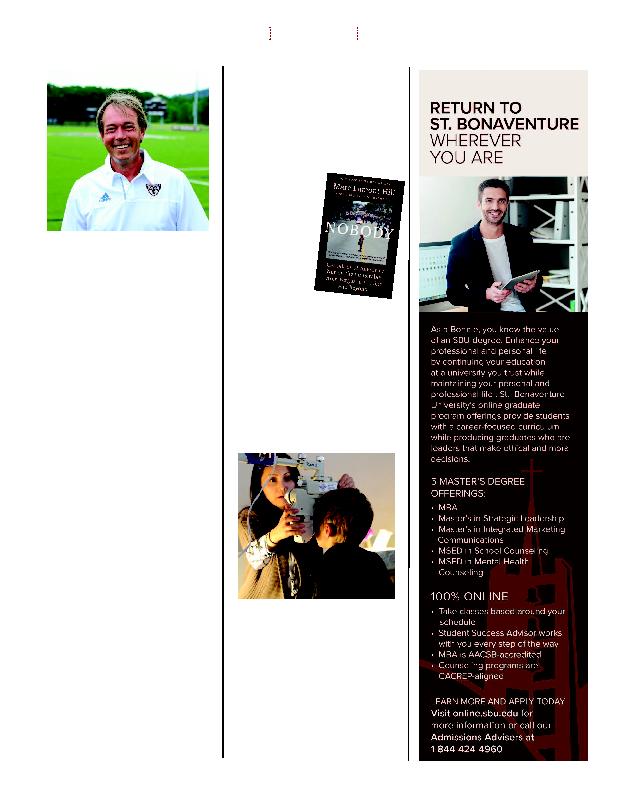 400

2
The number of people who sought
no-cost medical, dental or vision care
during a Remote Area Medical (RAM)
clinic held at the university in June.
The clinic was held in partnership with
local and regional health care part-
ners, many of whom volunteered
their time at the clinic or were on site
to share information about medical
services they provide for the region's
underinsured.
ALL BONAVENTURE READS
SBU has chosen "Nobody: Casualties
of America's War on the Vulnerable,
from Ferguson to Flint and Beyond" by
scholar and journalist Dr. Marc Lamont
Hill as its common
read for 2017-18.
ers a string of high-
profile deaths in
America and inci-
dents of gross neg-
ligence by the
government. To
make his case, Hill
recounts the de-
tails of tragedies
like the death of Michael Brown and
draws upon first-hand reporting and
careful historical analysis to show how
the "Nobody" class has emerged over
time and how forces in America have
worked to preserve and exploit this
group.
SBU will welcome Hill to campus
Sept. 25 to deliver a keynote address to
members of the Class of 2021. Hill is
considered one of the leading scholars
of his generation.
`Nobody' author to
visit campus Sept. 25
Lacrosse added
to Division1 lineup
ATHLETICS
St. Bonaventure will add men's
lacrosse to its NCAA athletics lineup
beginning with the 2018-19 academic
year, and has hired Randy Mearns to
lead the program.
Mearns has directed the men's
lacrosse program at Canisius College
for the past 19 seasons. During his
time in Buffalo, Mearns led his program
to a pair of Metro Atlantic Athletic
Conference (MAAC) Championships
and NCAA Tournament appearances in
2008 and 2012.
In 2014, he added a gold medal to his
head coaching résumé by leading the
Canadian National Team to the Federa-
tion of International Lacrosse (FIL) World
Championship.
In his nine-year playing career in the
National Lacrosse League (NLL), he was a
part of two championship teams and
named NLL All-Star Game MVP in 1999.
He is a member of the Canadian
Lacrosse, Ontario Lacrosse, Rochester
Knighthawks and Canisius College halls
of fame and also earned bachelor's and
master's degrees from Canisius.
Men's lacrosse will become the 17th
NCAA Division I varsity sport at St.
Bonaventure. The university previously
sponsored men's lacrosse as an inter-
collegiate team from 1989-93, when
the program was moved to its current
club level.
St. Bonaventure has sponsored varsity
women's lacrosse since 2000. The
women's team currently has 27 stu-
dent-athletes.