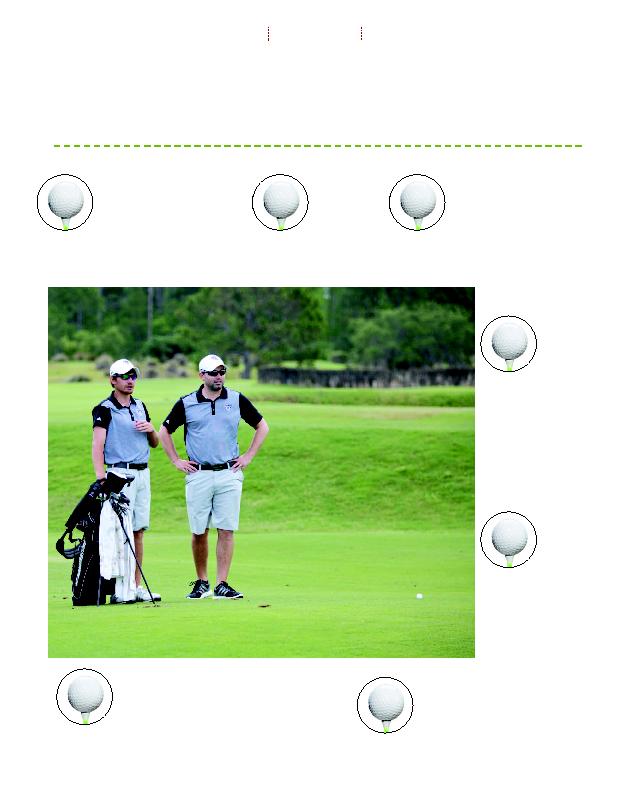 2
Alignment:
aligned with your
target.
Make a full shoulder turn, keep-
ing your vertical alignment,
without swaying.
Keep your
chin up
Slowly begin your backswing and
continue until your left shoulder (for
right-handed golfers) comes under your
chin, then begin your downswing.
When
chipping,
and put about 65%
of your weight on
your left foot/side (for
right-handed players).
Don't break your
wrists and accelerate
the club face through
the ball.
When
putting,
line on your ball with
your target. This is an
easy thing to do to en-
sure you are aligned
properly.
Fix the slice.
Start with the grip. When
you grip the club you form a "V" be-
tween the index finger and thumb on
both hands. When you grip the club and
address the ball, the "V" on your right
hand should point to your right shoulder.
Before every swing, stand behind your ball and
line yourself up
with your target ahead. Now
pick out a spot in the grass anywhere from 6
inches to 2 feet in front of your ball, on the same
line as your target down the fairway. When you
take your stance and prepare to swing, use the spot on
the ground to line yourself up properly.
We're always told to keep our
heads down, but this is a big
misconception in golf. It's more
keep your head
still
. If your head stays down you
won't be able to finish your swing. Keep
your head still through impact, then follow
through to look at your target.
3.
2.
1.
Fore!
Playing in your company's summer golf league or gonna hit
the greens on vacation? Bonnies golf coach Ryan Swanson
offers these 7 tips to get your game in shape.
4.
5.
6.
7.