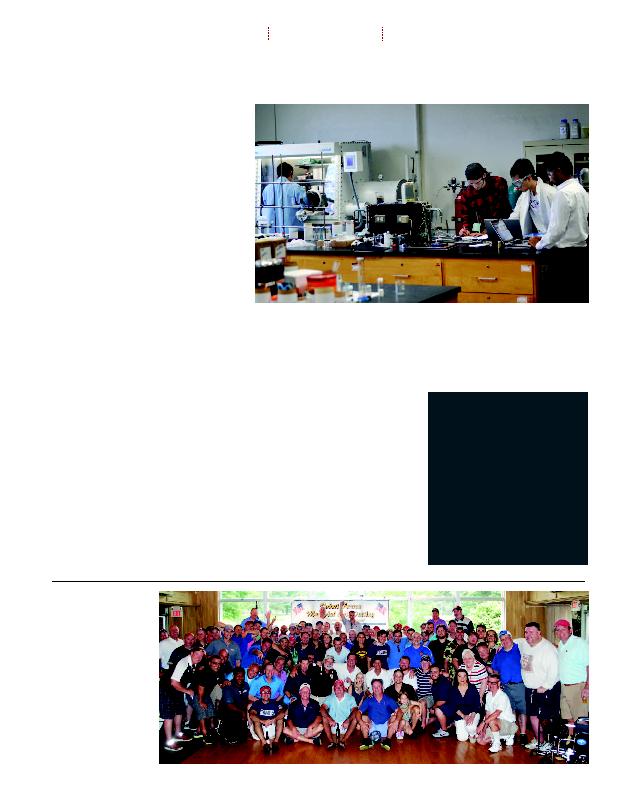 With a motto of "Excellence in Sci-
ence," Shimadzu is a leading global
corporation devoted to developing
original technology in precision and
measuring instruments. Acquisition of
these instruments will enable the uni-
versity to compete for high-quality stu-
dents and faculty who want to be part
of an exceptional and distinctive schol-
arly environment.
"The time is ideal to imagine a suite
of analytical and research tools, with
appropriate support and service, which
could take our natural science curric-
ula, undergraduate research, and at-
tractiveness to faculty and students to
the level of the most prestigious under-
graduate colleges in the country," said
Hilmey.
Your support in helping to fund a full
instrument suite for chemistry, biology,
and physics will provide the necessary
tools for top-tiered undergraduate re-
search and cutting-edge curricula at St.
Bonaventure.
St. Bonaventure students work in the research lab.

2
P
reparing students to be the next innova-
tor, researcher or explorer of an important
idea is vital for the future of our world,
which is why the university is embarking on an
exciting initiative: creation of a state-of-the-art
instrumentation facility in the natural sciences.
A suite of analytical and research tools will
better allow our students to become research
collaborators from the very first day on campus
-- collaborators who can mature into compe-
tent, independent researchers before they head
off to graduate school, secondary classrooms or
industry.
Multiple groups of students will benefit from
an instrumentation suite, including those in the
natural and health sciences, as well as our new
allied health programs.
"Not only does research provide an unrivaled
hands-on experience for students, it helps de-
fine professional goals and develops critical
thinking and problem solving skills in a practical
setting," said Dr. David Hilmey, dean of the
School of Arts & Sciences.
"In physics, chemistry and biology, our stu-
dents have been active in research for the past
10 years, which has resulted in countless stu-
dent presentations at local and regional confer-
ences as well as peer-reviewed publications by
students. This success has occurred with a lim-
ited selection of instrumentation," he said.
In a unique partnership, Shimadzu Scientific
Instruments is offering St. Bonaventure signifi-
cant savings on the retail cost of a variety of
top-of-the-line chemistry- and biology-related
equipment. In addition, the purchase of each
piece of equipment will include training and a
five-year service agreement.
The 16th annual Robert
Peraza '94 '96 Memorial
Golf Outing was held
June 23 in Yonkers.
More than 100 alumni,
family and friends at-
tended, raising approxi-
mately $20,000 for the
Robert David Peraza
Memorial Scholarship.
Save the date of June
22, 2018, for next year's
outing.
Investing in experiential science education
Golfers support
rugby program
For a complete list of equipment to be
purchased or to make a gift, please
contact:
Joseph Hoag
Advancement Officer
St. Bonaventure University
P.O. Box 2500
St. Bonaventure, NY 14778
Office: (716) 375-2148
Cell: (716) 307-5516
Email: jhoag@sbu.edu
Analytical, research tools will equip
top-tiered undergraduate research
Help equip a lab!