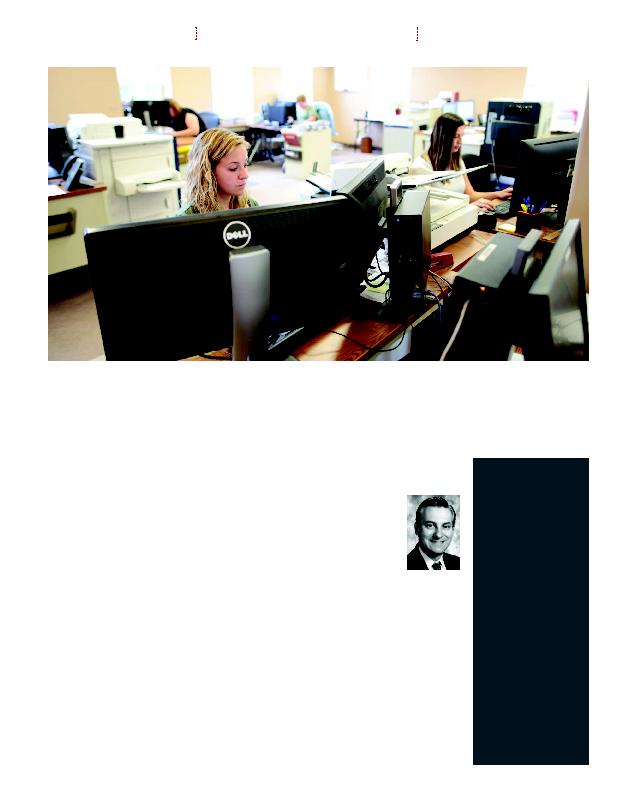 R
eal-world experience matters in the work-
force, which is why the internship program
in the School of Business is a key compo-
nent of our students' future success. For nearly
50 years, the program has launched business
majors into the workplace -- and more often
than not into full-time positions.
The program allows students the opportunity
to apply classroom knowledge in real business
settings, from small organizations just around
the corner to international corporations around
the world. Students gain vital hands-on experi-
ence, learn the importance of networking, and
improve their post-graduation job prospects.
Today, the School of Business is seeking sup-
port for The Patrick M. Premo Internship En-
dowment. Gifts to this endowment will help
fund a full-time internship director, provide travel
opportunities to build relationships with corpora-
tions, enable more companies to recruit on cam-
pus, and allow students to apply what they have
learned in the classroom to real-world situations.
Our AACSB-accredited School of Business con-
tinues to make its mark with a rigorous curricu-
lum, robust research, and distinctive service and
entrepreneurship programs. Now, with your sup-
port, we can enhance our distinguished internship
program and continue a proud tradition.
Premo, Emeritus Professor of Accounting, is one
of the founding fathers of the accounting depart-
ment at St. Bonaventure.
While his contributions to the
university were many, he is most
known for his dedication to the
School of Business internship pro-
gram, which he helped to create
in the early 1970s and oversaw
throughout his distinguished 37-
year career. He also forged strong bonds with
local, national and international companies --
connections that continue to this day and offer
our students internship opportunities around the
world.
Join us in reaching a goal of $2,000,000 to es-
tablish The Patrick M. Premo Internship Endow-
ment. For information, please contact:
Janet Glogouski
Advancement Officer
St. Bonaventure University
P.O. Box 2500
St. Bonaventure, NY 14778
Office: (716) 375-4084
Cell: (716) 307-2916
email: jglogous@sbu.edu
Funding The Patrick M. Premo Internship Endowment
Help continue Bona's tradition of a strong School of Business internship program
help to:
· Endow an internship
director position with
an annual salary, plus
benefits.
· Provide an annual
budget to cover
travel and other
expenses, enabling
the internship
director to visit with
selected employers,
host visitors on
campus, and employ a
part-time student
assistant for
administrative support.
· Fund further
development of
service learning and
clinical learning
initiatives in the School
of Business.
FAQs
Cortney Padlo (left), a senior marketing major, and Madeline Mahoney, a senior accounting major, are among a number of School of
Business students interning this summer at The Iroquois Group in Allegany.
The Pathway to Success Begins With You.