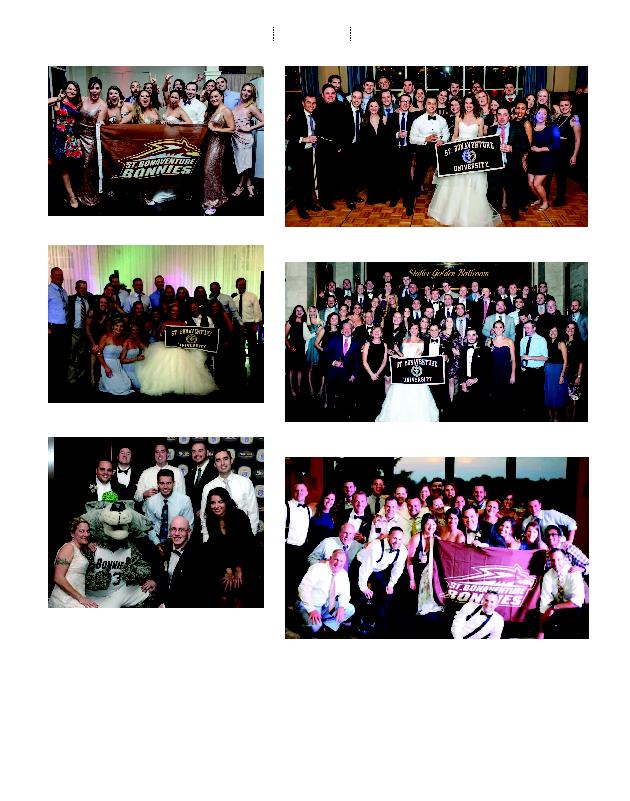 2
Amy Rumschik, '03, and Bryan McCorry
Anne Klapthor, '07, and Michael Damiano, '06
Dominque Morales, '07, and Matthew Gold
Mindy Biel and Christopher Cavendish, '08
Katie Meka, '08, '09, and Joey DiPerna, '08
Jacqueline Ouriel, '10, and John Braymiller, '10
To submit your announcement for
· use the enclosed envelope
· email bonalumnus@sbu.edu
· use the online form at
www.sbu.edu/BonaMag
All photos must be of good repro-
ductive quality. Pictures submitted
electronically must have a resolu-
tion of at least 300 dpi. The uni-
versity is prohibited from publishing
copyrighted photographs, unless ac-
companied by written permission
from the photographer.
Photos are published at the discre-
tion of the editor. Photos that in-
clude banners or other insignia of
the Brown Indian mascot will not be
accepted.
Don't forget to notify us of your
new name or address! Update your
information at Bona's Online at
www.sbu.edu/bonasonline.
St. Bonaventure University takes
pride in its alumni and joyfully
shares the news of their lives and
achievements. Supportive of our
Catholic Church's teachings, publi-
cation of announcements provided
to us by our alumni does not neces-
sarily imply an endorsement by St.
Bonaventure University.
Bonaventure Magazine Wedding Guidelines