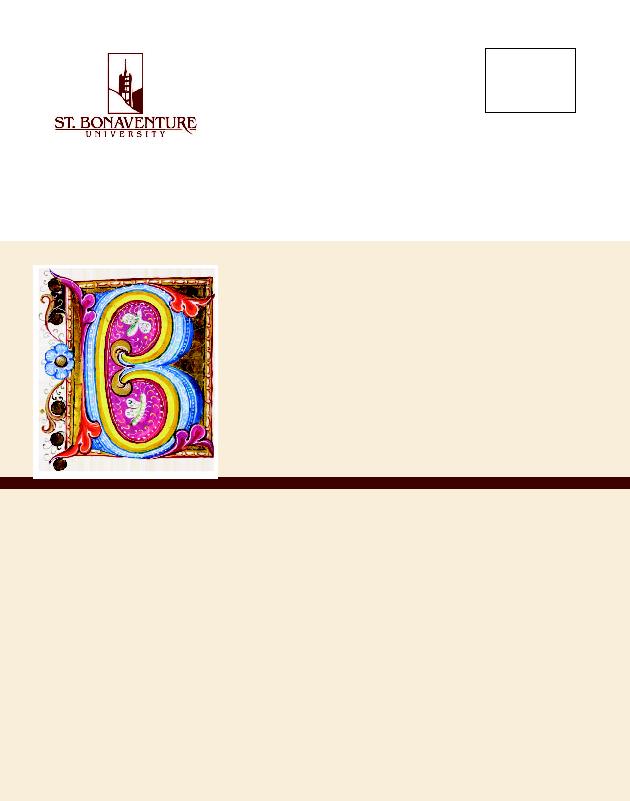 St. Bonaventure, NY 14778
Bonaventure Mass
Join St. Bonaventure University and
The Regina A. Quick Center for the Arts
for the world premiere of
honoring the 800th anniversary of the
birth of St. Bonaventure of Bagnoregio
composed by Fabio Luisi
4 p.m., University Chapel
Composer & Conductor
Sacred Space Planner
The Mass will be presented in concert form
5:30 p.m., The Cloisters at the Metropolitan Museum of Art
Tickets can be purchased for $65 by calling the
Met Cloisters Box Office at (212) 923-3700.
5 p.m., University Chapel
Chamber Ensemble of the Buffalo Philharmonic
Orchestra and Buffalo Philharmonic Chorus with guests
from St. Bonaventure University
Admission is free and open to the public.
Image Credit:
St. Bonaventure University
Holy Name Collection.
Manuscript 2
Psalterium diurnum
Italy, 1477
141 leaves (47 x 33 cm.)
If Bonaventure magazine is sent to your son or
daughter who no longer maintains a permanent
address at your home, update their address at
www.sbu.edu/BonaMag.