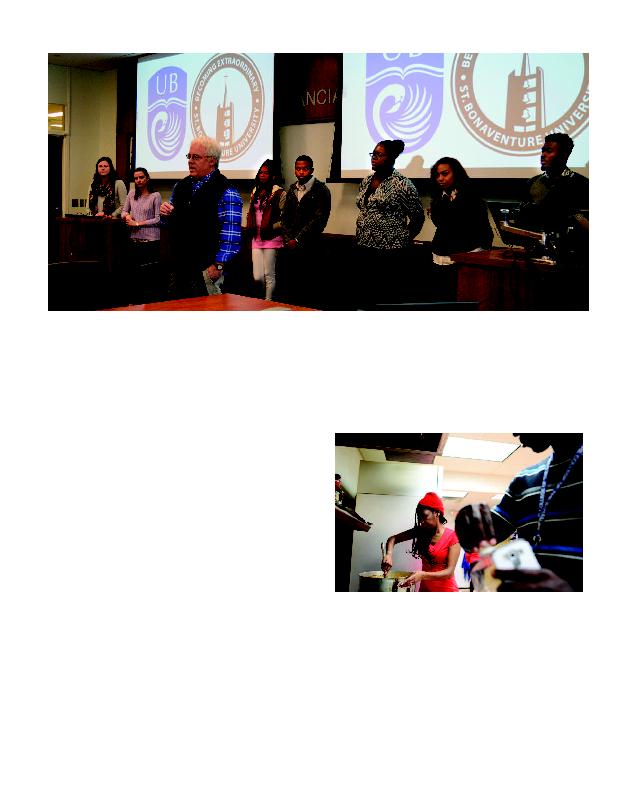 I
n 2002, Alicia Moss' mother enrolled the elemen-
tary school-aged girl in a day camp offered in her
community on Grand Bahama Island. It wasn't
until Moss was in college herself that she learned
the camp was organized by a group of students
from a small university in the United States called
St. Bonaventure. In March, Moss and six fellow University of
Bahamas students found themselves at St. Bonaventure for a
week of leadership training.
Fifteen years ago, St. Bonaventure professor Dr. Todd Palmer
introduced the campus to an international program, Students
in Free Enterprise (now known as Enactus), that helps univer-
sity students to create community empowerment projects. A
service trip to the Bahamas was one of its first initiatives.
This year, with mentoring from St. Bonaventure, the Univer-
sity of Bahamas has created its own student organization.
CASA -- Caribbean Association for Student Action -- is just
one of the spinoffs that has organically grown from Enactus.
Originally "just a business club," Enactus has morphed into an
social enterprise incubator for a number of programs, projects
and organizations at St. Bonaventure, all with an eye on lead-
ership development and a social entrepreneurial spirit.
"We have provided not just startup funding, but, more im-
portantly, startup infrastructure and leadership development to
make a lot of things happen in the last 15 years," said Palmer,
Enactus adviser and associate professor of management in the
School of Business.
Today, Enactus is a yearlong commitment for students of all
majors and has faculty and staff support from across the cur-
riculum. The 200 students who work with Enactus annually
find themselves open to new opportunities -- organizing
events, learning new software management systems, develop-
ing leadership skills -- and open to learning about themselves.
The 10-day Bahamas Entrepreneurial Service Trip each Janu-
ary remains a stalwart of the organization. The trip was de-
Enactus adviser Dr. Todd Palmer welcomes to campus members of the University of Bahamas Caribbean Association for Student Ac-
tion, one of the spinoffs that has organically grown from Enactus. In addition to leadership training, the students participated in sev-
eral service activities, including making a traditional Bahaman meal at The Warming House soup kitchen (below).
Enactus in Action
This social enterprise incubator
is transforming lives from
Olean to Uganda