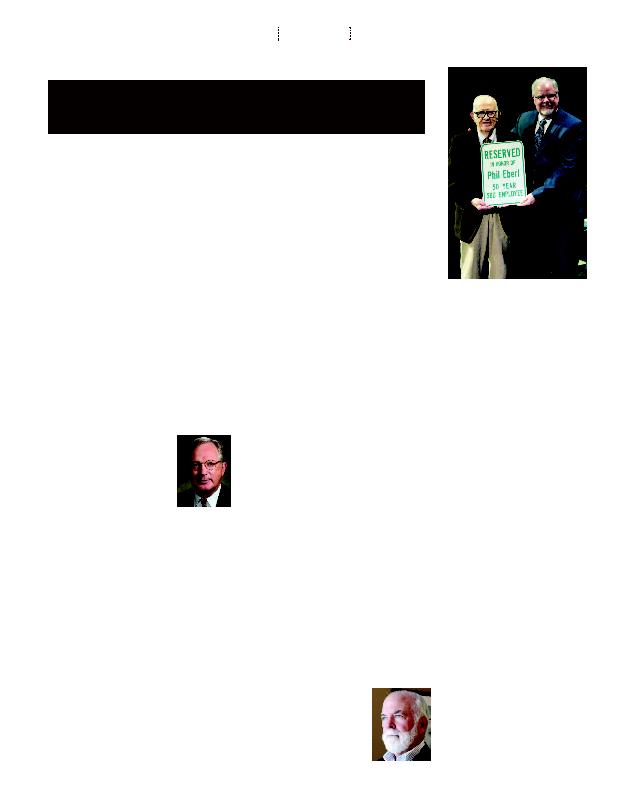 1940
Joseph Simini,
at 96 years young, has three
books ready for editing and possible publica-
tion: "An Easy and Permanent Weight-Loss
Diet," (how he lost 115 pounds in 48 months);
"8 Steps to a Better and Longer Life," (coping
with disability from firsthand experience); and
"Love and Forgiveness," (another look at
Christ's good news).
1960
Sam Stith
was one of four men inducted into
the Robert "Bob" Douglas Hall of Fame during
the John Hunter Memorial Camp Fund's 45th
Annual Awards Luncheon June 4 in New York
City. The Hall of Fame, founded in Harlem by
Eddie Younger and his sister Lorraine Younger,
along with Benny Garrett, the former New
York Renaissance hoops star, is the most
renowned African-American sports hall of
fame in the United States.
1967
James H. Cawley,
chairman of the Pennsylvania Public Utility
Commission (PUC), has joined
the Harrisburg law firm Skar-
latosZonarich as an energy con-
sultant. Cawley, a retired
lawyer, served two terms as a
member of the PUC, from 1979
to 1985 and from 2005 to
2015, and was chairman from
2008 to 2011. A graduate of
Notre Dame Law School, Cawley was one of
the original law clerks for Pennsylvania's Com-
monwealth Court when it came into existence
in 1970, served as majority counsel to the state
Senate Consumer Affairs Committee and chief
counsel to the Democratic floor leader in the
Senate, and was a major drafter of the Penn-
sylvania Public Utility Code.
1968
MaryAnn Kalbaugh Naso
her 37-year career in college admissions. The
last 12 years were spent as vice president for
enrollment at Wilson College, where she over-
saw the conversion to complete coeducation
and the growth of the institution to the largest
enrollment in its 147-year history. She notes
that some enrollment consulting may be in her
future. Also on the horizon is more quality time
with her husband and their family in Ohio,
New York and North Carolina.
1970
Carol Rautenstrauch,
Mutual Life Insurance Co. in 2013, has been
enjoying several Road Scholar trips, teaching
Mahjongg, doing 10K walks, and volunteering
at two theaters. She moved into a retirement
community last November.
1972
Tim Frawley
retired from British Airways after
37 years of service. He held corporate sales po-
sitions in San Francisco, Cleveland and Detroit.
Following selection into the British Airways
Commercial Officer Trainee Program based in
London, his focus shifted to customer service
and operations. He was appointed station
manager for Miami, where he finished his ca-
reer as director of Safety Compliance for The
Americas. This was a 41-station configuration
that included South and North American BA
stations. He and his wife,
Catherine (Noone),
'74,
live in Fort Lauderdale and enjoy their four
sons and 11 grandchildren.
1975
Mark Rupsis
was honored by the County
Commissioners Association of Pennsylvania
(CCAP) with the 2016 Outstanding Administra-
tor/Chief Clerk award. The award is given to a
Pennsylvania county leader who has done
much to enhance and improve the well-being
of the county and the residents he or she
serves. Rupsis was recognized as a champion
of county government, bringing 39 years of
service to Chester County. Under his leader-
ship, Chester County has earned many awards
for programs that successfully address plan-
ning, transportation and the balance of growth
with open space; that focus on citizens' health;
that boost economic development, workforce
training and job placement; and that develop
county parks and trails. Rupsis also serves on
the boards of the March of Dimes South East-
ern Pennsylvania and Southern New Jersey
Markets and the Chester County Economic De-
velopment Council, and is an adjunct instructor
at Widener University.
1976
Terry Hurley
almost 40 years in public rela-
tions. He worked in New York
and Chicago at two of the
largest PR firms in the world
and then at Roche/Genentech
(pharma/biotech) for the last 17

2
To submit professional news for the next issue of Bonaventure magazine, drop us a note
in the enclosed envelope, fill out an online form at www.sbu.edu/BonaMag, or email
bonalumnus@sbu.edu. Submissions may be edited for clarity or length.
44 SHARE YOUR CAREER NEWS WITH THE BONA NATION
Throughout the past 50 years,
the core and center of Phil Eberl's
life has been to meet, teach, ad-
vise, mentor and encourage St.
Bonaventure students.
This year, as the School of Educa-
tion celebrated its 100th anniver-
sary, it is noted that Eberl came to
the university 62 years ago and has
enjoyed the Bona's cultural milieu
from:
· 1955-1959 as an undergradu-
ate student. He earned a Bachelor
of Arts degree in history and grade
7-12 New York state certification.
· 1960-64 as a graduate student.
Eberl earned a Master of Education
degree in administration along
with principal and supervisor New
York state certification.
· 1967-2000 as a faculty mem-
ber teaching undergraduate and
graduate courses.
· 2001-2017 as the certification
officer for the School of Education.
Eberl was recognized by the uni-
versity for his 50 years of employ-
ment at the spring Honors &
Awards Ceremony.
During that time, he has been
privileged to serve with 13 univer-
sity presidents and 12 deans of ed-
ucation.
Phil Eberl no longer has to fight
for a parking spot at Plassmann
Hall. He's pictured above with
university Provost Dr. Joseph Zim-
mer.
Eberl recognized for
50 years of service
at St. Bonaventure