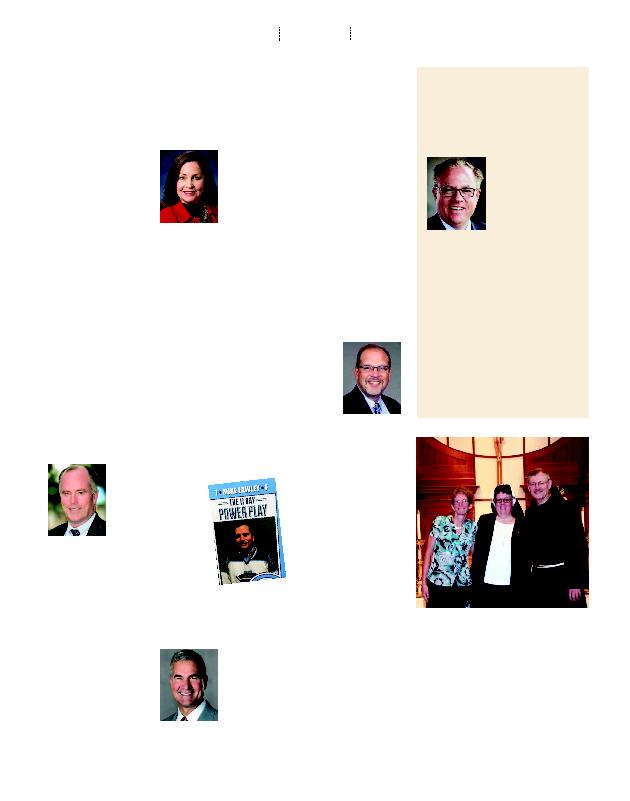 also the furthest point on the planet from
the center of the earth -- at 7:10 a.m. Nov.
17, 2016. He is pictured here on Chimbo-
razo at 20,560 feet. Brown says he is now
retiring from climbing!
Wendy Mann
accomplished executive with nearly 30 years
in association management, was named chief
executive officer of Com-
mercial Real Estate Women
(CREW) Network and presi-
dent of the CREW Network
Foundation. Mann comes to
CREW Network after serv-
ing as senior vice president
at NAIOP, the Commercial
Real Estate Development Association, where
she oversaw day-to-day business operations
of the association and was executive director
of its Research Foundation. Prior to joining
NAIOP, Mann was director of communica-
tions at the National Telecommunications Co-
operative Association. She also has held
positions with Intelligent Transportation So-
ciety of America, Health Industry Distribu-
tors Association, APICS ­ the Educational
Society for Resource Management, Greater
Washington Society of Association Execu-
tives, and the United States Chamber of
Commerce. Mann earned the Certified As-
sociation Executive (CAE) designation in
1991.
1986
Christopher Kempton
has joined forces with Strategic Retirement
Partners (SRP), a national retirement plan
consulting firm. As a man-
ager of Walsh Duffield's re-
tirement plan
consulting business, he
focuses on growing the
existing practice in col-
laboration with SRP. Up-
state New York will be
SRP's 14th location nationally. Walsh
Duffield Companies, Inc. has been offer-
ing insurance solutions to individuals and
businesses since 1860. With more than
100 employees, Walsh Duffield maintains
offices in Rochester, Buffalo, Avon and
Medina.
Thomas E. Salmon
chief executive officer at Berry Plastics
Group, Inc. He most recently served as the
company's president and
chief operating officer. Dur-
ing his tenure, the com-
pany completed 12
acquisitions, expanded its
product offering and geo-
graphic footprint, became
a public company whose
share price has more than tripled since the
IPO, and grew revenue by more than $2 bil-
lion. Salmon joined the company in 2007
with Berry's acquisition of Covalence Spe-
cialty Materials, where he led the Adhesives
Division for four years. From 2007-14, he
served as president of Berry's Engineered
Materials Division prior to being appointed
president of Berry's Rigid Closed Top Divi-
sion in 2014 and president of Berry's Con-
sumer Packaging Division in 2015. Before
joining Covalence, Salmon was general
manager of Honeywell Plastics and global
sales director for Allied Signal's Engineering
Plastics and Films. He began his career with
General Electric and held a variety of com-
mercial positions during his 12 years in GE's
Plastics and Lighting divisions.
1988
Jim Goebelbecker
Colo., where he is the new CEO of Denver
Kids, Inc., a nonprofit that works with at-
risk kids from kindergarten to 12th grade to
support them graduating high school. He
invites alums to learn more at www.den-
verkidsinc.org.
1990
David Kelley, Ph.D., CAA,
was promoted to program
coordinator of the online
master's of science in sport
administration program at
the University of Cincinnati.
1992
Michael Lawley
players who participated in The 11 Day
Power Play from June 22 through July 3 at
the Buffalo HARBORCENTER.
The players were required to
eat, sleep and breathe hockey
for 11 days. Their slogan,
"fight cancer at the world's
longest hockey game," raised
Roswell Park Cancer Insti-
than $150,000 for the ini-
tiative. After 23 years work-
ing in pre-hospital emergency medicine as a
paramedic,
Joseph Stanizewski
retired from this career path. Since early
2016, he has been working as a deputy coro-
ner for Montgomery County, Pa., and work-
ing toward his certification as a member of
the American Board of Medicolegal Death In-
vestigators.
1994
Tucker C. Stanclift
Criminal Justice section of the New York
State Bar Association for 2017-18. Found-
ing principal of Stanclift Law PLLC in
Queensbury, he focuses his practice area in
Dr. Chris E. Domes, '85, took office
July 1 as the sixth president of Neumann
University. Domes previously served as
president of Silver
Lake College in Wis-
consin.
the helm of the Wis-
consin school four
years ago, Silver Lake
College has opened a
Franciscan Center for Music and Per-
formance, a one-stop Enrollment and
Welcome Center, and state-of-the-art
nursing labs and classrooms. The col-
lege also developed new academic pro-
grams, including actuary science,
graphic design, nursing, and a master's
degree in leadership and organizational
development.
Before serving as president of Silver
Lake College, Domes held leadership
positions in various enrollment-man-
agement and student-development ca-
pacities for 17 years at Marymount
University in Virginia and for a decade
at St. Bonaventure.

2
Chris Domes named
president at Neumann
URBINELLI PROFESSES FIRST VOWS
Sr. Patricia "Patty" Carmella Urbinelli, SSJ,
'92, (center) a member of the Sisters of St.
Joseph of the Diocese of Ogdensburg,
professed her first vows Aug. 13, 2016.
She is pictured above with Tara (Mooney)
Korn, '94, and Fr. Peter Schneible, O.F.M.,
'73, associate professor of biology, who at-
tended the ceremony. Sr. Patty serves as a
youth minister in the parishes in Ogdens-
burg, Morristown, Hammond, Rossie,
Heuvelton and Lisbon. She will be renew-
ing her vows this year on Aug. 13.