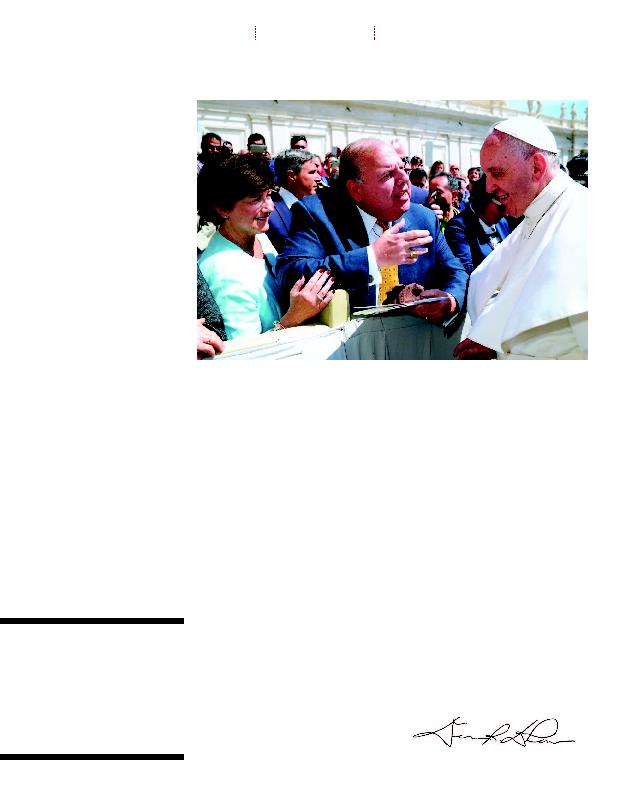 A new chapter in my Franciscan story

2
am pretty sure my wife
thought I was crazy.
you going to read that
press release?" Sherry said,
her words jostling me awake, my
computer propped open on my
lap late at night.
Enough times to prove to myself
that it wasn't just a dream. I really
was named the 21st president of
St. Bonaventure University.
named president Nov. 18 and offi-
cially taking over for Andy Roth
often felt like a pregnancy: the
anxiety and anticipation, the ex-
citement and the sleepless nights,
wondering how the people about
to enter my life June 1 would ac-
cept me.
It didn't take long to feel wel-
I was greeted by a huge banner
strung outside Devereux Hall wel-
coming me to Bona's. Just a day
later, as almost 1,000 of you
began flocking back to this place
you cherish for Reunion, I was
humbled by the warmth of your
embrace.
From the class dinners Friday
night to the huge cocktail recep-
tion Saturday night on Bob
Lanier Court, your kind words
and well wishes all weekend
meant more to me than you can
know as I assume the leadership
of this remarkable institution.
And your sincere forgiveness
for my Canisius College heritage
was truly appreciated.
Of course, I took the ribbing in
the good-natured spirit it was in-
University President Dr. Dennis DePerro and his wife, Sherry, had an audience with Pope Francis
on May 3.
tended. The Jesuits at Canisius and for the last 22
years at Le Moyne played a significant role in my
formation as a leader rooted in faith and charac-
ter. I'll always be grateful to them for their belief
in me and the guidance they provided.
But as I said at my introduction to the campus
community at the Quick Center in November, my
foundation is Franciscan, formed by the friars at
Bishop Timon in Buffalo.
It's true, the tale you might have heard by now.
John Kilcoyne, a Timon classmate of mine who
graduated from Bona's in 1981, saw Les Quick,
one of our most revered trustees and co-chair of
SBU's Presidential Search Committee, at a Manhat-
tan dinner three days before I was introduced as
president-elect.
The next day, John opened our Timon yearbook
and sent Les an email. Next to my senior photo I
wrote to John: "I hope you like Bonnie's. I wish I
were going there."
Here I am, 40 years later, beginning a new chap-
ter to my Franciscan story.
Just four weeks before I took office, that chapter
opened with a profound journey, following in the
footsteps of Francis and Clare on a pilgrimage with
a handful of university trustees through Assisi that
ultimately led to St. Peter's Square and a moment I
never dreamed possible ­ a personal audience with
the pope.
That brief time Sherry and I had with Pope Fran-
cis was such a precious gift. When I muddled
through a little broken Italian to let him know I was
the new president of St. Bonaventure, he im-
mediately reached out his right hand and
gently placed it on my forehead, blessing not
only me but our university.
And so I go forward in service to this great
university, with the blessing of Pope Francis
and the support and prayers of so many
good people affiliated with St. Bonaventure.
The road ahead in higher education is lit-
tered with potholes, some ­ like New York's
new "free public tuition" plan ­ that appear
when you least expect them.
But collaboratively and creatively, I'm confi-
dent Bonaventure will emerge stronger than
ever, establishing a sound academic and fi-
nancial foundation to ensure we will be
around for another 160 years. I'll need the
help of everyone around me, our 30,000-
plus alumni included, to make that happen.
This really is a special moment in my life.
When historians look back at the years I was
president of St. Bonaventure, I hope that
they can say this was a special moment in
our history.
From the bottom of my heart, thank you
for welcoming me into the Bonaventure
family.
I
Dr. Dennis DePerro
of St. Bonaventure University
Friday, November 3
10:30 a.m. - Inauguration Mass
2:30 p.m. - Installation Ceremony