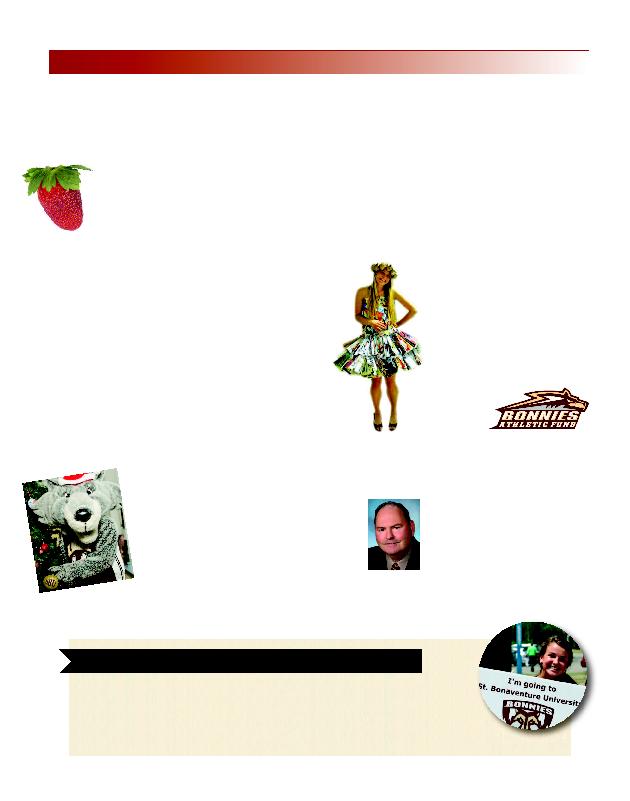 Dr. Pierre Balthazard, dean of the
School of Business, is one of the
paper's co-authors. Balthazard and
colleagues from Wake Forest, Ari-
zona State and the U.S. Army devel-
oped and tested the new model of
leader complexity.
Findings showed that leaders who
are more complex demonstrated
greater adaptability when facing
novel, ill-defined and changing lead-
ership situations. Leader complexity
was found to be enabled by both the
mind -- the complexity of leaders'
self-concepts -- and the brain -- the
neuroscientific basis for complex
leadership.
"Neuroscience can take us into the
heretofore neglected `black box' of
leadership," Balthazard said.
Bonaventure Athletic Fund
announces 15 by 16 goal
In conjunction with the St.
Bonaventure University Athletics
Strategic Plan, the
Bonaventure Ath-
letic Fund
(BAF) has an-
nounced
an ambitious new goal of 1,500
members by 2016 -- "15 By 16."
In addition, the BAF has been re-
named the Bonnies Athletic Fund
and a new BAF logo and website,
BonniesBAF.com, were introduced.
The BAF is St. Bonaventure's annual
fundraising drive for the Bonnies' 14
Division I sports teams. Members' in-
vestment in St. Bonaventure through
the Bonnies Athletic Fund helps stu-
dent-athletes compete for champi-
onships. For more information and to
view the 15 By 16 campaign video,
visit
www.BonniesBAF.com
Campus News
Faculty-student research probes
expressing food through art
A comfort-food fix without the calories
might be just a few Sharpies away.
Research by faculty and students in the
Department of Psychology suggests that
drawing pictures of unhealthy
food can have positive effects
on mood. A report on the re-
search -- "Expressing Food
through Art: Evidence for a Nutri-
ent-Specific Effect on Mood" --
appeared in the May Journal of Be-
havioral and Brain Science and received lead
coverage in the Personal Journal section of
The Wall Street Journal.
Faculty member Dr. Gregory Privitera and
students Brianne Moshaty, Frank Marzullo
and Melissa Misenheimer assigned partici-
pants to draw food in one of four groups:
high-fat, high-sugar cupcakes; high-fat, low-
sugar pizza; low-fat, high-sugar strawber-
ries; and low-fat, low-sugar peppers.
Results showed that drawing pictures of
high-fat or sweet-tasting foods resulted in
greater increases in mood compared to
drawing a bitter-tasting food:
· pizza, 28 percent increase
· cupcakes, 27 percent increase
· strawberries, 22 percent increase
· peppers, 1 percent increase
Learn more at www.scirp.org/journal/jbbs.
Deck the halls
with boughs of
Bonnies!
to-buy-for relatives or a
friend who simply deserves something spe-
We want to include you in the inaugural
St. Bonaventure Alumni Holiday Gift Guide!
Products or services that would be a perfect
addition to the guide include handmade
jewelry, art or clothing; experiential activities
and dining certificates; books and music;
and more.
If you think you have something unique
and special to offer fellow alumni during
the holiday shopping season, we want to
hear from you. Email the Office of Alumni
Services at alumni@sbu.edu. We need to
hear from you by Aug. 31.
Students sport
sustainable fashions
up green in the spring as
SBU students and staff
showed off creative
clothing that merged
fashion and sustain-
ability. The Project
Runway-inspired
"trashion" show
featured fashions
made of 75 percent or more
post-consumer items, includ-
ing magazines, pizza boxes,
junk food wrappers and CDs.
The event was the culmina-
tion of the university's two-month Recycle-
Mania initiative.
Business dean co-authors
study on leadership,
brain patterns
Neuroscience has revealed
that leaders who can adapt
best to complex and rapidly
evolving situations have dis-
tinctive brain networks, ac-
cording to a study published in the May 10
edition of the Journal of Applied Psychol-
ogy.
We love it when you brag about Bona's. And, we know you'd love for there to be
more alumni just like you. Contact Mary Jane Telford, '75, director of volunteer relations,
at
with the name and contact information of a prospective student,
and rest assured they'll receive VIP treatment.