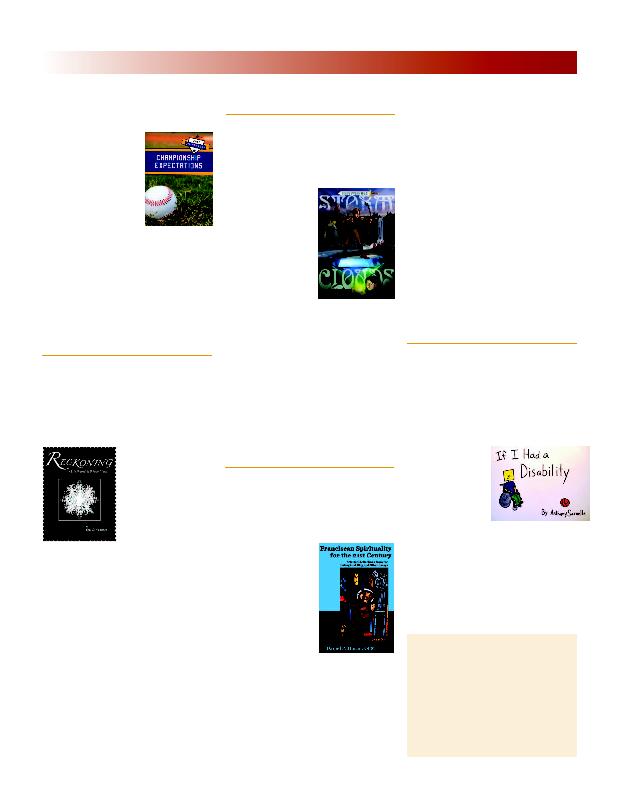 2
Off the Shelf
Their only hope to overcome challenges
on and off the field is to band together
and find a way to defeat the Victorium
Raiders and Royce
Rooney, the rival team's
professional pitching
prospect.
his M.S.Ed. at St.
Bonaventure in 1981
and is a former baseball
coach, is a professional
baseball scout with the
Tampa Bay Rays. He has
coached in the minor leagues and oper-
ated his own instructional baseball
school. Prior to entering professional
sports, Pransky worked as an elementary
school teacher and coached high school
and college baseball. He and his wife,
Grace, live in Davenport, Iowa.
Read more about the book at JimPran-
Eric D. Wagoner, '84
, has published
his third book, "Reckoning A Life Shaped
by BiPolar Illness," via Amazon. The book
reflects how the author's life has been
shaped by manic depression from its onset
nearly two decades ago to the present day.
there are more books
being published on
the subject, very few
have been authored
by those afflicted
with the illness, Wag-
oner said. "Reckon-
ing" serves to bring
mental illness out of
the shadows and into the public arena
where a better understanding can go a
long way toward the removal of stereo-
types and the encouragement of more re-
search and better treatment methods.
The story was encouraged by a hope that
others who share similar situations might
learn and perhaps not feel the hopeless-
ness or isolation that often accompanies
mental illness.
Wagoner has lived and worked in Har-
risburg and Seattle. In 1993, he moved to
the Piedmont region of North Carolina,
where during the next 20 years he worked
an "eclectic number of jobs," from carpen-
ter and day laborer in a textile mill, to mail
clerk, french bread truck driver and graphic
designer. He also has been self-employed
as co-owner of a small leather design and
manufacturing company for 25 years.
Mary (Lederman) Sutton, '95,
started her fiction career. In November
2012, she published the first book in her
middle-grade fantasy ebook series, "Power
Play: Hero's Sword
Vol. 1." In April, book
2, "Storm Clouds,"
was published. Both
are from Delabarre
Publishing and are
available at major
ebook retailers (Ama-
zon, B&N, Kobo,
iBooks).
name Liz Milliron, the
first story in The Laurel Highlands Mysteries
series, "An Idyllic Place for Murder," will be
published by Mysterical-e, a digital crime
fiction magazine (mystericale.com) in their
Spring/Summer issue. Another story in the
series will be released as part of an anthol-
ogy to be published by The Mary Roberts
Rinehart chapter of Sisters in Crime in De-
cember 2013.
For more information, visit Sutton's web-
site (marysuttonauthor.com), on Facebook
(www.facebook.com/AuthorMarySutton),
or follow her on Twitter (@mary_sutton73).
Fr. Daniel P. Horan's
"Franciscan Spirituality for the 21st Cen-
tury: Selected Reflections from the Dating
God Blog and Other Essays," is dedicated
to the St. Bonaventure University commu-
nity. Published by
Koinonia Press, this
collection of reflec-
tions by Fr. Dan, '05,
presents some of the
most popular and con-
troversial online reflec-
tions of the first two
years of his website,
DatingGod.org, and
offers an expanded
and updated version of these short essays
for the first time in print.
In November 2012, he released "Francis
of Assisi and the Future of Faith: Exploring
Franciscan Spirituality and Theology in the
Modern World."
Nearly 800 years after his death, St. Fran-
cis of Assisi remains the most popular saint
in all of Christianity. He continues to inspire
women and men of all ages, all back-
grounds, and from all religious traditions;
but how much do people know about the
actual spirituality and theology of this great
saint? What does this medieval man from
Italy, and the religious movement he
founded, have to say to a complex, global-
ized, technologically advanced, and mod-
ern world?
Fr. Dan answers these questions and
more. He presents a multifaceted approach
to questions about the rich meaning and
deep significance of the Franciscan spiritual
and theological tradition for our present
day in three parts by returning to the
sources and the best of contemporary
scholarship.
Horan, a Franciscan friar of Holy Name
Province of the Order of Friars Minor, is
completing his Ph.D. in Systematic Theol-
ogy at Boston College.
Anthony Sarnelle, '11,
"If I Had a Disability." The story follows a
young boy in a wheelchair who is afraid to
leave the confinements of his home to play
with the neighborhood children outside.
However, he observes the positive charac-
ter traits of other people with disabilities in
his life and finds in-
spiration. Discover-
ing that he shares
the same positive
character traits, he
gathers courage to
go outside and play.
For more photos of
the book, please search for "If I Had a Dis-
ability" on Facebook.
Sarnelle is an elementary/special educa-
tion and literacy graduate of St. Bonaven-
ture. He enjoys working with children,
playing guitar in his band Infinity Fall (Face-
book.com/InfinityFall), and is working on
additional writing projects.
CONTACT US
We are happy to print announcements and
brief summaries of new books, CDs,
screenplays and other multimedia works
published by SBU alumni, faculty and staff.
Send to bonalumnus@sbu.edu or:
Bonaventure magazine
P.O. Box 2509
St. Bonaventure University
St. Bonaventure, NY 14778