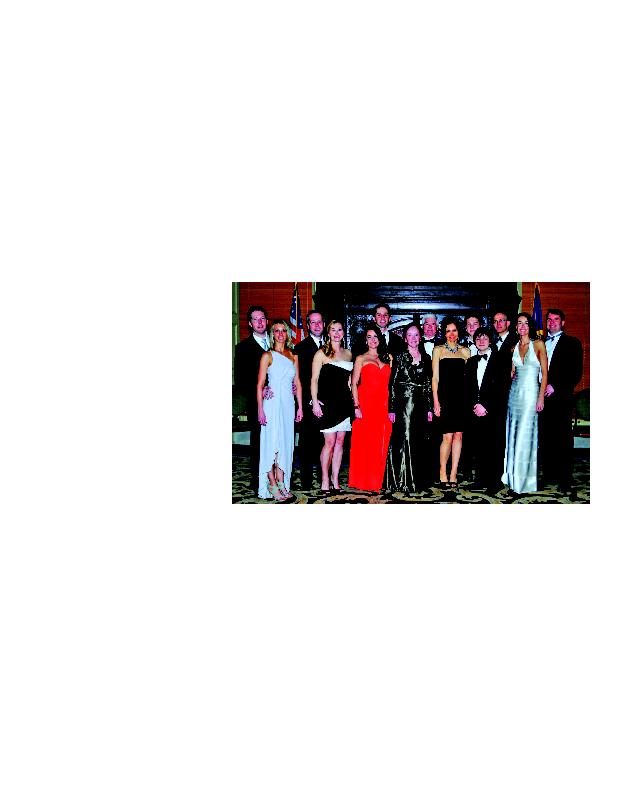 Still, even after months of bouncing back
and forth between hospitals, of Joel endur-
ing meningitis, pneumonia and staph infec-
tions as complications from surgery, doctors
were optimistic that radiation and rehab
would eventually prove successful.
"And so were we. We really got into a
routine of hope," Johnathan said.
In early October, Joel and Mary Gingras
were preparing to bring Joel Jr., oldest of
their six children, home for rehab. Instead,
a doctor told them Joel wasn't going to
make it.
"I'll never forget that doctor," Mary said.
"He said, `Well, I'll give your son maybe 24
to 48 hours to live, but I understand you
have five other children, so you should be
happy about that.' I couldn't speak."
Joel slipped into a coma and died Oct. 5.
His Bonaventure teammates and classmates
gathered days later in Doylestown to say
goodbye. He was just 27.
"What are we, 22, 23 years old? Just out
of college. We're invincible, on top of the
world, life all ahead of us," Altmeyer re-
called. "And then to find out one of your
best friends is really, really sick -- what a
punch in the gut. Why him? Why this guy,
who was just so full of life? It's still hard to
talk about."
The images from the funeral are still vivid
"I didn't realize what it would be like in
that receiving line, seeing how long the line
of people was. I remember thinking, `I just
can't get through this,'" Johnathan said.
"And I'll never forget, the first person I see
is Pam Laduke (now Conway), who I gradu-
ated with at Bonaventure. They were all
here for Joel and for me."
They all migrated to Kelly's Bar after the
service, still numb from trying to process
what 20-somethings never imagine they'll
experience.
"It was such a terribly sad day," Altmeyer
said. "I remember sitting there in the bar,
no one saying anything. And then, as
young, stupid professionals will do, a spit-
ball fight broke out. I just hope Joel was
laughing his butt off as he passed through
the pearly gates."
For Johnathan, the "classic Bonaventure
funeral reception" was a cathartic release,
helping to begin to heal the wounds of the
agonizing six months his family had just en-
dured.
Fr. Gerald McCaffrey, O.F.M., longtime
athletics chaplain and moderator, spoke at
the service, issuing a command to
Johnathan that he didn't consciously absorb
at the time, but one that he certainly
obliged.
"He said something I'll never forget: `We
lost Joel, so now it's Johnathan's job to keep
his spirit alive. For the rest of your life, make
sure you never forget Joel,'" Johnathan re-
called. "I didn't realize when he said it that
it was an obligation, but looking back now,
maybe Father Gerald knew what he was
doing."
J
oel's death gave birth to the Joel A.
Gingras Jr. Fund, which has donated
more than $1.4 million to the Ameri-
can Brain Tumor Association (ABTA) since
1989. Buoyed by the "humbling support"
of family and friends for the past 25 years,
Johnathan said, the JAG Jr. Fund has given
more money to the 40-year-old ABTA than
any other foundation.
"We are so grateful to the Gingras family
for their unyielding support," said Elizabeth
Wilson, ABTA president and CEO. "It's really
the exception to have a fund exist this long
after someone's death. To raise their level of
donations each year, and to see the energy
and the enthusiasm for their events con-
tinue to grow is pretty remarkable."
The roots of the JAG Jr. Fund date back
to the late 1970s, when the reckless
teenage tradition of bridge jumping into
the Delaware River turned into the seren-
ity of floating down the river in an inner
tube in the early 1980s.
"My dad showed me an article about
someone drowning while bridge jumping,
so we thought tubing might be a lot of fun
instead," Johnathan said.
Ten Doylestown friends were the first to
float as seniors in high school, but when
college buddies of theirs heard about it,
interest swelled and the first official Tube
Float was held in the summer of 1983.
When Joel was diagnosed in 1988, the
Tube Float continued, but now as a
fundraiser to help with Joel's rehab costs.
When Joel died in the fall, "my dad used
some of the money to plant five trees at
the cemetery, and the rest went to the
ABTA," Johnathan said.
That first donation was for $4,675.
"Today, we write them checks for
$120,000 to $140,000," Johnathan said.
The Tube Float -- where participants
raise money through solicited pledges --
spawned a golf tournament held the day
before the Float, and a winter party that
has morphed into a black-tie gala at the
historic Union League in Philadelphia.
The events have been remarkable suc-
cesses because they're focused on fun, not
fundraising, said Joel Gingras Sr., patriarch
of the Gingras clan.
"That was the mission, to remember Joel
and to have an awful lot of fun doing it be-
cause that's what he would have wanted,"
he said.
The exhaustive work to plan the events
was becoming more frustrating than fun,
but the efforts of his younger brothers
Christian and Matthew "revitalized"
Johnathan in the late '90s, Altmeyer said.
The Gingras clan poses for a photo before the JAG Jr. Fund Gala in Philadelphia.