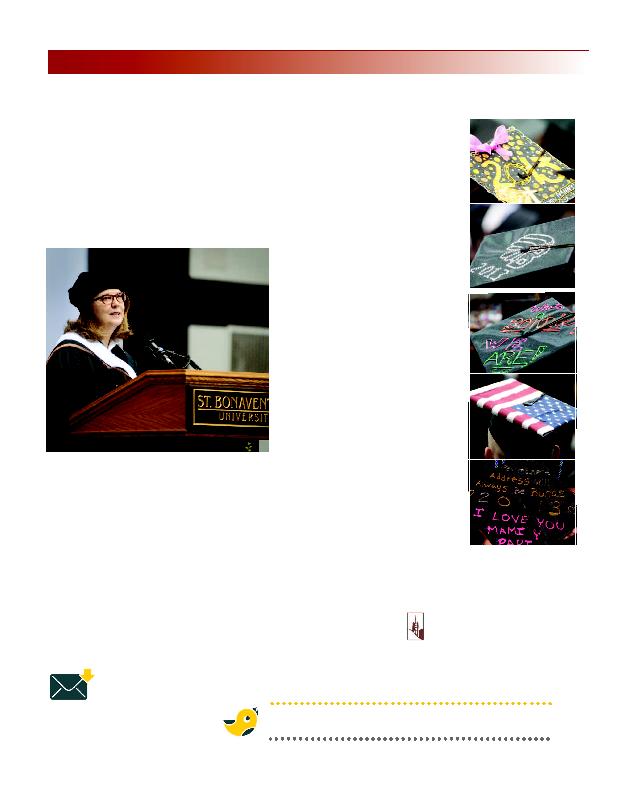 W
hen writer Patricia Hampl stepped
to the podium to address the class
of 2013 during May's Commence-
ment ceremony, she faced a throng of bright
smiles and bobbing black mortarboards. The
660 graduates were eager to have their brief
turn on stage, eager to raise their diploma
high, eager to secure their first (or next) job.
Hampl's career advice to the graduates,
though, didn't mention résumés, interviews or
networking.
"Your first post-graduation job is to make
sure you have a dream," said Hampl, an ac-
claimed author and English professor at the
University of Minnesota. "Maybe no one can
expect to find the meaning of life, but a
meaning for your life, that's worth looking for
-- and waiting for."
Hampl, a noted memoirist and clearly an ad-
vocate for telling stories, encouraged the grad-
uates to look at their lives as an ever-evolving
tale that will take a lifetime to tell.
Hampl was among four who received hon-
orary doctorates, all accomplished profession-
als, all advocates in their own right:
ˇ Eugene M. McQuade, '71, chief executive
officer of Citibank and an advocate for career
preparation;
ˇ Daria L. Foster, managing partner of
the investment management firm Lord
Abbett & Co. and an advocate for the
liberal arts;
ˇ Dr. Cynthia Ann Zane, president of
Hilbert College and an advocate for
higher education.
They all sought and found their call-
ing. The pages of this edition speak to
what led three St. Bonaventure alumni
to become advocates for others -- just
three examples of so many alumni who
have spearheaded great efforts in their
communities.
At St. Bonaventure, we talk to our
students about moving from service to
advocacy. As an undergraduate, Luis
Rivera, '09, teamed up with BonaRe-
sponds. His ties held strong after gradu-
ation, heading to Missouri and
Massachusetts to aid tornado- and hur-
ricane-struck communities.
Today, Rivera is teaching at a school in
Botswana through the Peace Corps.
In mid-July, Rivera's latest dream came true
in the form of baseball bats and other equip-
ment that will outfit his school's baseball team.
High schools and businesses in Rivera's
Rochester-area hometown worked together to
donate and ship items for the 20 young base-
ball players.
Beth Eberth is director of university
communications at St. Bonaventure.
Editor's Letter
Whether at Bona's or Botswana, take time to tell your story
Do you want to share an item from this edition? Use the Twitter hashtag
#BonaMag.
Submit your
news for the
next edition
ˇ use the enclosed envelope
ˇ email bonalumnus@sbu.edu
ˇ fill out an electronic form at
Commencement speaker Patricia Hampl is
celebrated as a contemporary writer known
for her memoirs, essays, travel pieces and
poetry.
Members of the class
of 2013 shared their
dreams, and creativity,
at Commencement.
More coverage and photos
at sbu.edu/Commencement
and sbu.edu/bonaflickr.