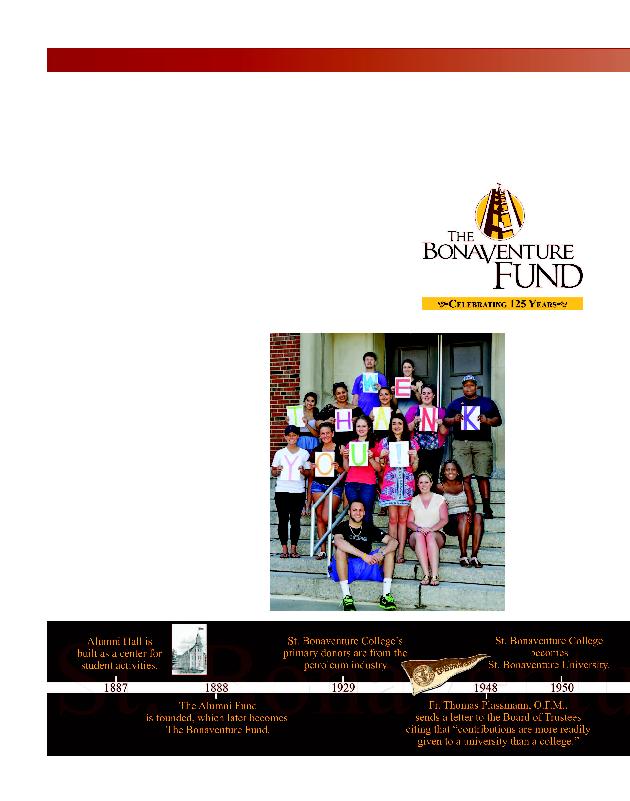 Partnering with you today. Making a difference for tomorrow.
trolling along the various twists and turns of the St. Bonaventure campus,
you would likely marvel at all the changes that have been made recently.
There are new buildings, new programs, and a new fervor electrifying the
campus. All of these changes are thanks to you! Your support of The Bonaventure
Fund makes amazing things possible (see The Bonaventure Fund timeline of highlights
below).
Amidst the new buildings and innovation, the heart of St. Bonaventure University re-
mains the same. The integrity and dedication to academic excellence that you have al-
ways treasured remains an integral part of the university's core.
You hold the spirit of St. Bonaventure in your heart, and you have kept its values alive
through your words and actions. Through every gift, every pledge, and every dollar do-
nated, you have reinforced and enhanced the Franciscan heritage that makes St. Bona-
venture unique.
Your continued support of The Bonaventure Fund
will also help to advance the President's Emerging
Initiatives of expanding and updating technology,
providing pathways to internships and careers
through career services, installing additional safety
and security measures on campus, and enhancing
several University Ministries service initiatives such as
Bona Buddies and the Warming House.
Your investment in the life of a student lasts their
lifetime. And for that, we thank you.
Each year, our Bonathon callers reach out to
alumni and friends to share current news about the
university and to ask for support of The Bonaven-
ture Fund.
This year's Bonathon concluded triumphantly with
student callers raising $248,068 in the form of 2,285
pledges and credit card gifts. In addition, 400 new
donors partnered with others to make a difference
every day at St. Bonaventure.
Another Bonathon season begins Sept. 15. Please
take the call! Add us to your select phone list: (716)
375-2000.
S
Connecting through the Bonathon
125 years
and it's all because of YOU!
Sharing their
thanks are this
year's Bonathon
callers. Pictured
from back row,
from left: James
McCarthy, '14; Rhi-
anna Foit, '14; Cas-
sandra Nguyen,
'15; MaeAnna Ed-
wards, '15;
Stephanie Dolliver,
'16; Katie Boe, '14;
Ty Doyle, '13; Car-
oline Connor, '16;
Brittney McDon-
ald, '16; Elizabeth
Pray, '14; Maranda
Fleet, '15; Sean
O'Connor, '15;
Molly McDo-
nough, '15; and
Tori Woods, '15.