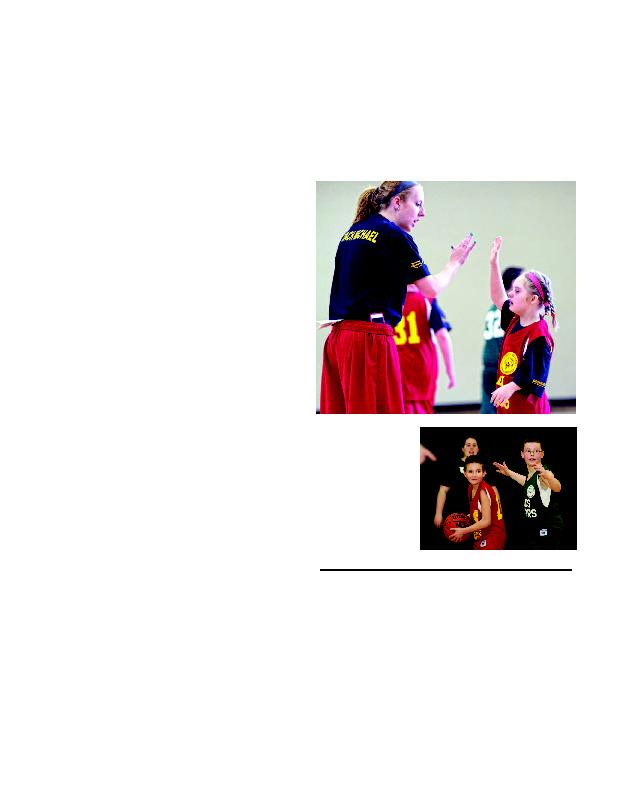 basketball games featured competition among teams made up
of children with and without intellectual disabilities.
"I student-taught last semester and had a lot of connections
within the schools. I placed volunteers within the schools to go in
during their practices so that they had a familiar face when they
showed up here at Bona's," Welch said.
The event marked the first time that Welch and most of her
classmates had volunteered for a Special Olympics event.
"We knew the players would come in and they would be
fantastic athletes and have a lot of fun, but we wanted to make
sure that everything was planned so we weren't wasting their
time," Welch said.
Scraba's hands-off approach during the planning process
helped her students flourish and learn, according to Welch.
Cheers erupt throughout the Reilly Center Arena. Athletes
dribble up and down the glossy Bob Lanier Court, inspired
by the encouraging oath. Abundant smiles and laughs warm
the large space during a two-day basketball clinic unlike any
other.
Neal Johnson, '73, CEO of Special Olympics New York, said
the oath exemplifies a major distinction between his organi-
zation and all other competitive sports through a concept
called divisioning.
"In any sport, if you don't win, you don't advance," John-
son said. "In Special Olympics, we have a premise that we
only have people competing against others with like abilities,
so that our athletes have an equal chance of winning and
advancing. We want the athletes to understand that being
out there, trying hard, competing fairly and learning to be
within the confines of the rules, is good enough."
In 2006, Johnson along with Dr. Paula Scraba, associate
professor of physical education, championed a partnership
between St. Bonaventure and Special Olympics. The pro-
gram started slowly with clinics in basketball and poly
hockey (floor hockey) and eventually added volleyball and
soccer into the mix.
In a two-day event, April 19-20, St. Bonaventure student-
athletes and students volunteered their time to shoot some
hoops with local schoolchildren as well as New York state
Special Olympians.
Planned by St. Bonaventure students, the event was an as-
signment in Scraba's "Leadership through Special Olympics:
Serving, Learning and Leading" course. Each individual in
the class of 12 students fulfilled a specific leadership position
within the event planning process.
Scraba engages her students in Special Olympics events to
provide them firsthand experiences they cannot get in the
classroom.
"It's all about building relationships, and that's part of our
Franciscan identity and our mission statement," Scraba said.
E
lementary and special education major Caitlin Welch,
'13, served as the event's liaison between the local
schools and St. Bonaventure for the April 19 Unified
Although Bona's has held previous sports clinics, this
event served as the first official Special Olympics competi-
tion hosted by the university since 1979, when St. Bona-
venture hosted the state summer games. The unified
ntsy athletes wait patiently as attention is commanded for the reading of
the Special Olympics Athletes Oath, a tradition before the start of every
Special Olympics event -- "Let me win. But if I cannot win, let me be

2
ABOVE: Women's bas-
ketball guard Emily
Michael grabs a high-
five from a player
during unified bas-
ketball games that
featured local ele-
mentary schoolchild-
ren of all abilities.
RIGHT: Students from
Allegany-Limestone
and Olean square off.
Neal Johnson, '73, CEO of Special Olympics New York,
says Dr. Paula Scraba is the catalyst that has immersed
hundreds of SBU students in the advocacy organization.