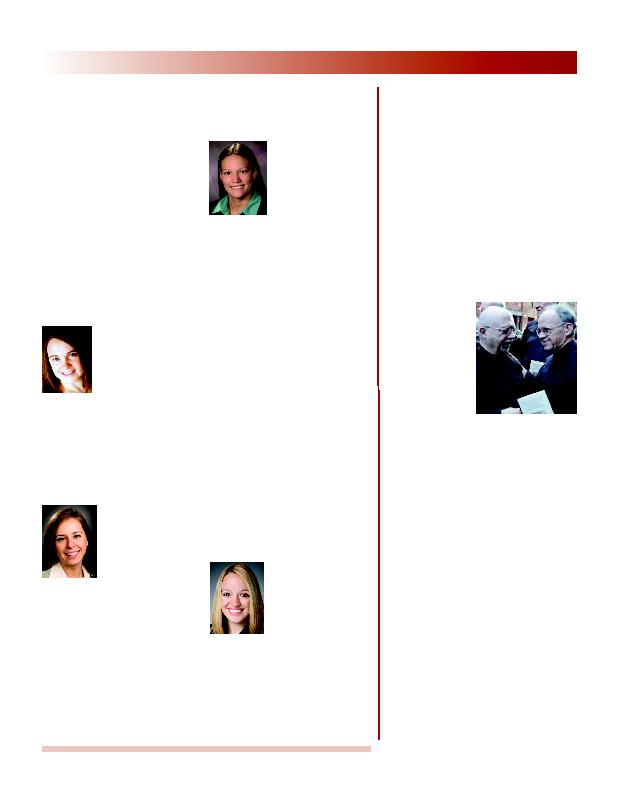 cluding New Hampshire, Virginia, Wis-
consin and Minnesota. He next ended
up in Colorado where he helped rebuild
a struggling state Republican Party. Four
years later, he did much the same for
Nevada's GOP. Cristin (Chase) Bratt
joined Fairfax County Government as a
public information officer. She manages
the media plan and social media efforts
for the Reston Community Center,
which includes robust programming in a
professional theater, two art galleries, an
aquatics facility, art studios and dozens
of leisure and fitness classrooms.
2003 -- Clay Hayes, a sixth-grade
mathematics teacher at Youngsville
(Pa.) Middle School, received statewide
recognition for his work in the class-
room. Hayes was named the Ann Mo-
niot Outstanding Middle Level Teacher
by the Pennsylvania Association for
Middle Level Education.
Jennifer Kane was
named international mar-
keting manager of the
North America Region for
Aetna. She lives in Con-
necticut. Kathleen Man-
nion was promoted to director of donor
relations in Institutional Advancement at
St. John's University in Queens, N.Y.
10th Reunion ~ 2014
2004 -- Karyn Vacanti-Shova com-
pleted her Ph.D. in applied develop-
mental psychology from Fordham
University.
2006 -- Kristie Ball
joined the law firm of
Harter Secrest & Emery
LLP as the assistant con-
troller. She previously
worked at Superior Plus
Energy Services, Inc., as
a financial reporting su-
pervisor. Ball is a certified public ac-
countant and lives in Fairport.
2007 -- Gabriel Edwards was pro-
moted to vice president of the Custom
Shell & Tube division at Cataract Steel
Industries. Cataract Steel is located in
Niagara Falls, N.Y., with an office in
Hamburg. Holly L. Griffith was pro-
moted to the position of supervisor at
Buffamante Whipple Buttafaro, P.C. As
a supervisor, Griffith specializes in tax
engagements, particularly the prepara-
tion of corporate, partnership, individ-
ual, limited liability company, and fidu-
ciary tax returns, including multi-state
returns. She is also responsible for
preparing compiled and reviewed finan-
cial statements and as-
sisting businesses and
individuals with tax
planning and projec-
tions. Griffith, of Elling-
ton, joined the firm in
May 2007 as a staff ac-
countant and became
a certified public accountant in February
2009. She is a member of the New York
State Society of Certified Public Ac-
countants, the American Institute of
Certified Public Accountants and the In-
stitute of Management Accountants.
She is a member of the Board of
Trustees for the Farman Free Library and
serves as the treasurer. Griffith also
serves as the treasurer for the Ellington
Firemen's Auxiliary and Ellington Town
Picnic Association. Joseph Tavares,
after three years in Brazil, will be mov-
ing to Egypt in August to work as a
high school counselor at Cairo Ameri-
can College, one of the top interna-
tional schools in the region. He hopes
to connect with Bona's alumni living in
the Middle East and Africa.
2008 -- Megan (Manjerovic) Con-
dello works for the United Steelwork-
ers Union and lives in Pittsburgh with
her husband, Timothy, '09, who is a
first lieutenant in the United States Ma-
rine Corps. Emily L. Ciraolo was pro-
moted to corporate communications
specialist at National Fuel in
Williamsville. Katelyn E. Dieffenderfer
has joined Chelus, Herdzik, Speyer &
Monte, P.C., as an associate attorney.
She will be working
with the other members
of the firm in handling
the firm's litigation files,
as well as other general
practice matters. In ad-
dition to working at the
firm's downtown Buf-
falo office, she will be practicing at the
firm's branch office in Cheektowaga. A
resident of Amherst, Dieffenderfer re-
ceived her juris doctor in 2011 from
University at Buffalo School of Law.
Jesica Kenney was promoted to super-
vising senior accountant at Tronconi
Segarra & Associates, LLP. She joined

2
Creighton, Meier, Putich
celebrate golden jubilee
as HNP Franciscans
Three friars who earned their bachelor's de-
grees at St. Bonaventure celebrated 50 years as
friars at Holy Name Province's annual jubilee cel-
ebration June 20 in New York City.
Fr. Bernard Creighton, O.F.M., '61, Fr.
Emeric Meier, O.F.M., '65, and Fr. Michael
Putich, O.F.M., '65, were among the 11 golden
jubilarians honored.
Fr. Bernie decided to join the Franciscans after
meeting the friars who worked at St. Bonaven-
ture. He professed his first vows as a Franciscan
in 1963, and was ordained in 1967. Throughout
his 50 years of ministry, he has served in educa-
tional and editorial
roles. His first as-
signment was edit-
ing The Provincial
Annals, an annual
historical publica-
tion, a job he did
from St. Francis of
Assisi Church in
New York City.
assigned to the
Franciscan Institute
at SBU, where he
stayed through
1994, taking care of
the business aspects
of running the institute, and proofing the schol-
arly materials. He also welcomed the scholars
and experts who traveled there from around the
world. Today, Fr. Bernie lives at St. Anthony Friary
in Butler, N.J., where he is the residence's vicar.
Fr. Emeric decided to join the Franciscans
after attending Seton Hall University and St.
Bonaventure. He professed his first vows as a
Franciscan in 1963 and was ordained in 1968.
He has lived and worked at St. Anthony Shrine
and Friary in Boston since 1978, where he con-
tinues to counsel, help with parish ministries,
and write a monthly article on Franciscan spiri-
tuality.
Fr. Michael joined the Franciscans in high
school. He professed his first vows as a Francis-
can in 1963 and was ordained in 1968.
Fr. Michael serves as a chaplain and member
of the palliative care consult team of the Veter-
ans Administration Medical Center in Buffalo.
His first assignment was at Bishop Timon High
School in Buffalo, where he served for 17 years
in various roles including director of develop-
ment, treasurer, instructor, and moderator of
the Franciscan movement. He also served in an
administrative role at St. Bonaventure.
Fr. Bernie Creighton
(right) is congratulated
after the Province's jubilee
celebration.
What's new with you? Submit class notes online at www.sbu.edu/bonamag