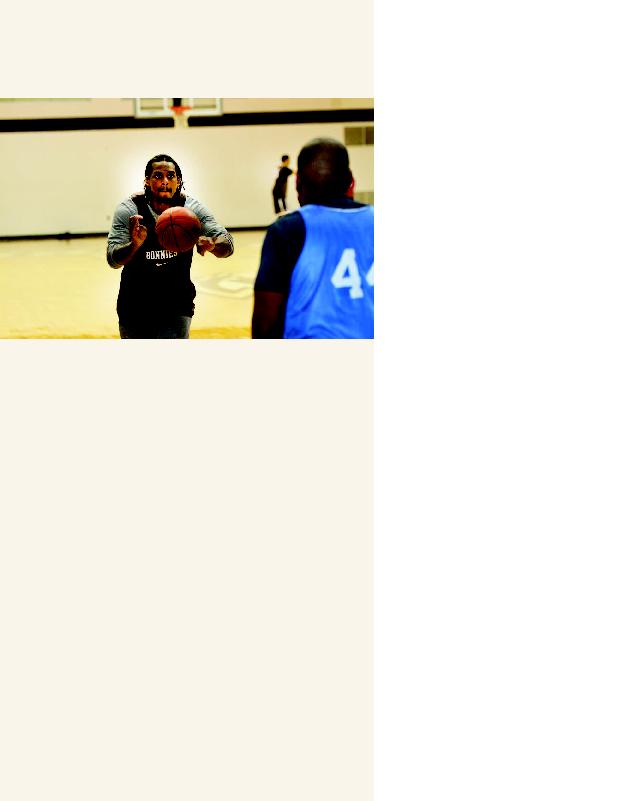 "She wanted us to learn on our own; she
wanted us to get to know the players," Welch
said. "She would advise but she wouldn't neces-
sarily demand. She let us become comfortable."
S
craba said the bond formed between the
elementary students during the games
had a profound effect on the school en-
vironment once they left Bonaventure.
"These students went to school with each
other for four years," Scraba said. "Now they
see each other in the hallway, start talking and
invite each other to sit with them at lunch."
The kids were forming relationships and
helping each other while having fun, according
to Scraba.
"You could see the relationships being built,
and that's what it's all about," Scraba said.
Scraba said instilling the importance of pres-
ence, dialogue and witness while interacting
with kids is vital when teaching her students.
"The time my education student spends to
tie a first-grader's shoe, that time he's present
with the student, he's dialoguing with him or
her," Scraba said. "Now, every time that little
boy or girl sees my student, it's a high-five in
the hallways. As far as witness, my student is
now a model that child can look up to."
On day two of the event, members of the
men's and women's basketball teams taught
sports skills clinics to Special Olympics basket-
ball teams that traveled from as far as Bing-
hamton. Teams from Rochester, Buffalo,
Jamestown, Wellsville and Olean also at-
tended.
Later in the afternoon, the student-athletes
played with Special Olympians in unified exhi-
bition games. The staff also made use of the
Richter Center basketball courts to accommo-
date the eight teams.
Bona students hope the program continues
"I hope the program extends because it re-
ally is an eye-opening experience for a lot of
people, myself included," Welch said. "Some-
times we get so focused on just our major at
school that we forget about the bigger com-
munity and things that go on outside of
Bona's."
Under Johnson's leadership, the Special
Olympics New York organization is the largest
Special Olympics, Inc. in North America and
the sixth largest in the world.
"I still say it is the purest of amateur sports,"
Johnson said. "Our athletes don't have sneaker
contracts and they're not playing for multi-mil-
lion-dollar endorsements. Our athletes compete
simply because Special Olympics says we believe
in you and we're going to give you that oppor-
tunity, and they take full advantage of it."
It was a good experience to give
back and just to see how much
all the kids were having.
Danny Farrell, '14
men's basketball guard
it today. It was a lot of
fun and I really liked working
with the athletes.
Matthias Runs, '16
men's basketball forward
I like working with the athletes. I
like
ergy -- they're very happy. We
enjoyed the event as always.
Charlon Kloof, '14
men's basketball guard
It was a lot of fun coming out
and helping the athletes. Doing
drills and playing games with
them. I had a
Marquise Simmons, '14
men's basketball forward
It was just great to see how
we were around. They had so
much fun and so did we.
Jill Murphy, '13
softball first baseman
Being a physical education major,
this is right up my alley. Just see-
ing the
Jessenia Andujar, '13
softball outfielder
I was actually just going to come
and be a cheerleader and
them on. Once I got there, I de-
cided to play and I loved interact-
ing with the athletes. It was a
great experience.
Katherine Caboot, '15
softball outfielder
I was surprised to see how much
for the game. It was just great to
be here and so much fun.
Hali Enderby, '13
softball outfielder
For the past seven years, St. Bonaventure's student-athletes have been first
in line to assist with Special Olympics sports clinics at SBU. More than 2,000
athletes from all sports teams have assisted in some way. Here's what several
of them had to say about their experience at the spring clinic.
Marquise
Simmons runs
a passing drill.