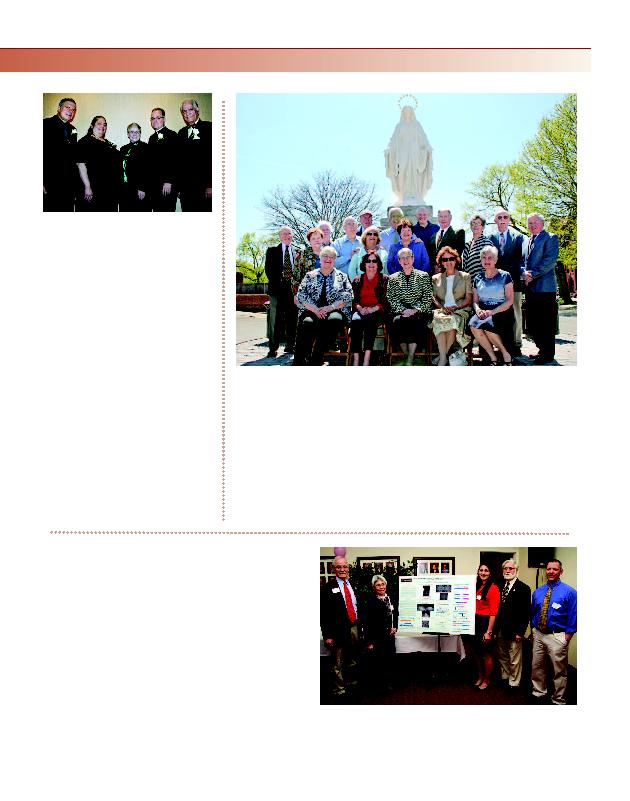 The annual Barbara Carr McKee Scholarship Luncheon offers a
unique opportunity for St. Bonaventure donors to witness the cul-
mination of a year of hard work by deserving scholarship recipients.
This year's luncheon, held on April 26 in the Robert R. Jones Board
of Trustees Room in Doyle Hall, featured 18 student showcases dis-
playing special projects students completed throughout the aca-
demic year. Leanna S. Chojnacki, '13, a political science and
international studies major with a double minor in history and law
& society, served as the student speaker. Marianne Letro Laine,
L.H.D.,'68, a longtime Bona's supporter, provided the keynote ad-
dress in which she urged students to "always remember the won-
derful honor you've been given."
Shown presenting their research in the photo at the right, Jen-
nifer Andrews, '13, and faculty member Ryan G. Rhodes greet the
Worden family who funded the John L. and Léone E. Worden Me-
Serving joyfully
The St. Bonaventure community cele-
brated the joyful service of two men
and a mission during the 2013 Gaudete
Medals ceremony this past April at the
Hyatt Regency in Buffalo. University
President Sr. Margaret Carney, O.S.F.,
S.T.D., (center) is pictured with the hon-
orees: Norm Paolini and Amy Betros,
representing St. Luke's Mission of
Mercy, a non-profit organization that
offers services to the poor in Buffalo;
the Rev. Msgr. David LiPuma, vice chan-
cellor of the Diocese of Buffalo and sec-
retary to Bishop Richard J. Malone; and
Dr. Khalid J. Qazi, president of the Mus-
lim Public Affairs Council of Western
New York. The Gaudete Medal is one of
St. Bonaventure's highest awards. Each
year, St. Bonaventure bestows the
Gaudete Medal to outstanding business
and community leaders who exemplify
the same spirit of joy and service ex-
pressed through the life and teaching
of St. Francis of Assisi. This year's event
raised more than $50,000 for student
scholarships.
On May 1, alumni and friends gathered in what would otherwise be an average park-
ing lot on campus were it not for the newly restored statue of the Blessed Virgin Mary.
This refurbishment was funded by a gift of more than $30,000 from the class of
1962 in honor of University President Sr. Margaret Carney, O.S.F., S.T.D. In addition to
being refurbished, the 126-year-old statue was recrowned with a halo that had been
missing since the 1950s. The statue stands proudly to the west of Hickey Dining Hall,
originally the location of the university chapel, which burned down in 1930. The statue
was the only part of the chapel to survive the fire. View a slideshow of the repairs at
www.sbu.edu/BonaMag.
Pictured here are members of the class of 1962 with Sr. Margaret Carney, O.S.F.
A blessed rededication
University supporters and students
celebrate significance of scholarships
www.sbu.edu/donate
morial Award for Excellence in Biology, which Andrews was
awarded. Pictured (from left) are Capt. Lorenz Worden, '64
(Ret.); Norma J. Worden, '64; Andrews; Dr. Robert L. Worden,
'67; and Rhodes, an assistant professor of biology.

2