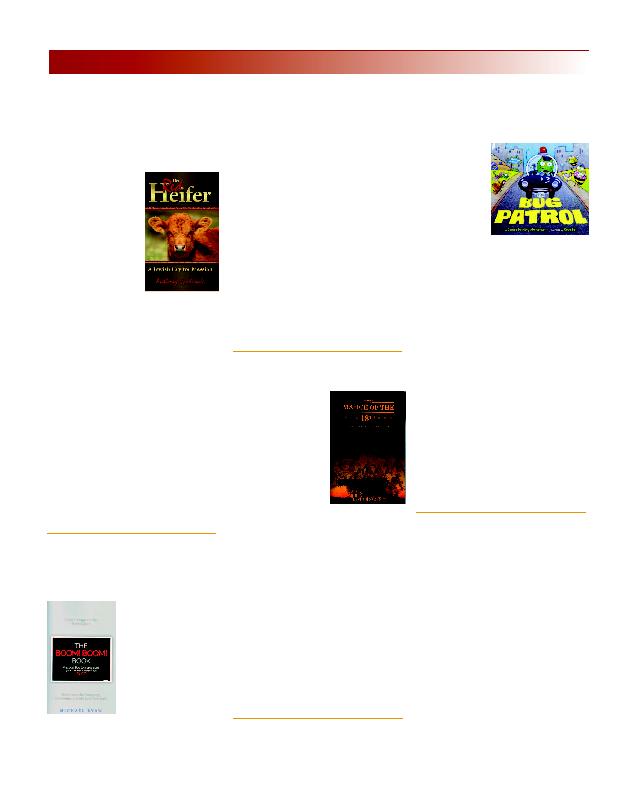 Off the Shelf
Anthony Cardinale
class of 1964 and a former adjunct profes-
sor at St. Bonaventure, is the author of
"The Red Heifer: A Jewish Cry for Mes-
siah."
Cardinale, who worked for 40 years as a
reporter at The Buffalo News, has written
extensively about Jew-
ish affairs for The News
and has interviewed
Palestinian refugees in
Jordan for The
Jerusalem Post.
search of the red heifer
in 1998 through a resi-
dency at Mishkenot
Sha ananim, the city of
Jerusalem's guesthouse
for visiting artists.
Cardinale has traveled extensively in Israel
and recounts in "The Red Heifer" his inter-
views with Orthodox rabbis, secular Israelis,
and Palestinian Arabs about the search for
a red heifer by the Jewish radicals wishing
to rebuild the Temple and bring the Mes-
siah. These real-life interviews are inter-
woven within an engaging and dramatic
fictional portrayal of the diverse people of
Israel and how they would react should
that red heifer be found. Readers will find
themselves in the Land, where they can
hear learned rabbis and ordinary Israelis
talking about the red heifer and dealing
with all the related issues and the immi-
nent coming and identity of the Messiah.
Cardinale is married to Messianic music
recording artist and songwriter Shirah Car-
dinale.
Michael Ryan, '77,
Ryan Media Consultants, is the author of
"The BOOM! BOOM! Book: Practical Tips
to Make Sure Your Career Doesn't Go
ough called the book
"something conserva-
tives and liberals can
agree on: Mike Ryan
has given all Americans
great advice in this
book." In the book,
Ryan shares lessons
from his own career
and from others such as former Xerox ex-
ecutive Don Zrebiec, who said, "Don't
love the company; the company can't love
Ryan emphasizes that people need to find
their passion in life and be willing to take
risks. He tells about a former co-worker
who quit to take a job paying a quarter of
what he was making to pursue his dream of
getting into television.
The book's theme is based on the 2000
movie "Pay It Forward," where the gifts
people receive are meant to be shared.
Ryan encourages readers of the book to
submit their own BOOM! BOOM! tips at
www.theboomboombook.com.
An award-winning journalist with 35
years of media experience, Ryan was a vice
president of The Arizona Republic, over-
seeing 18 community newspapers. He pre-
viously was managing editor and
community publisher at the Pensacola
(Fla.) News Journal and sports editor, news
editor and assistant managing editor at
The Times-Union/Democrat and Chronicle
in Rochester.
In 1864, the fate of the Union Army's Vet-
erans' Reserve Corps
rested on the courage
of its soldiers crippled
by the war, whose only
desire was dignified
service after harrowing
personal sacrifice.
18th: A Story of Crip-
pled Heroes in the Civil
War" by
Kevin Hor-
gan, '79,
novel wrapped around the true events of
one invalid regiment created and then for-
gotten as a footnote in our nation's history.
The 18th Veterans' Reserve Corps was
created during the Civil War to allow se-
verely wounded soldiers to serve effectively,
thereby freeing the able-bodied for combat.
Horgan served as an infantry officer in the
United States Marine Corps from 1979 to
1984. He and his wife,
Maureen (Grune),
'80,
live in the Atlanta area.
Fifty percent of the author's royalties for
this book will be donated to charities for
wounded veterans. See details at
www.Marchofthe18th.com. The book is
available on Amazon and Xulon Press, as
well as Kindle, Nook and iBook.
Denise Dowling Mortensen's
ture book, "Bug Patrol," was published by
Clarion Books in February. "Bug Patrol"
follows Captain Bob on his busy beat as
he rescues bugs and otherwise keeps the
peace in the bug world. Beetles fight over
parking spaces
at the mall,
roaches protest
for better hous-
ing (down with
roach motels!),
and crickets stay
up too late par-
tying. Captain
Bob responds to
each scene in
his bug mobile as his siren sounds: "Wee-
o! Wee-o! Wee-o! Woo! Bug Mobile com-
ing through!"
With illustrations by Cece Bell, this en-
thusiastic, goofy-sweet read-aloud is
crawling with fun rhymes, lots of action,
endearing bug-eyed characters, and a few
lessons in manners, too. Kirkus Reviews calls
it "a fun spoof."
Mortensen, who majored in journalism
and graduated in 1981, has worked at CBS
News and the Conde Naste Publications
and has done freelance copyediting and
proofreading for a publisher of children's
non-fiction books. Her other books include
the award-winning "Good Night Engines,"
"Wake Up Engines," "Ohio Thunder," and
a repackaged board book/flip book of both
"Good Night Engines and "Wake Up En-
gines." She lives with her family in
Chatham, N.J. Learn more about her at
www.denisemortensen.com.
Jim Pransky's
"Championship Expectations," details
how character and integrity are defined
for a group of young men as they attempt
not only to meet the expectations of their
fans, but, more importantly, their own.
Mickey Baker and his teammates have
experienced a rewarding and unprece-
dented athletic season, winning league ti-
tles in both basketball and football. As
they approach the opening of the Ameri-
can Legion baseball season, hopes and ex-
pectations are running high for the
opportunity at another championship.
These high school athletes have been
teammates for years, but a serious conflict
between their coach and a parent threat-
ens to disrupt the very fiber of the team
that has been built on friendship and ca-
maraderie.