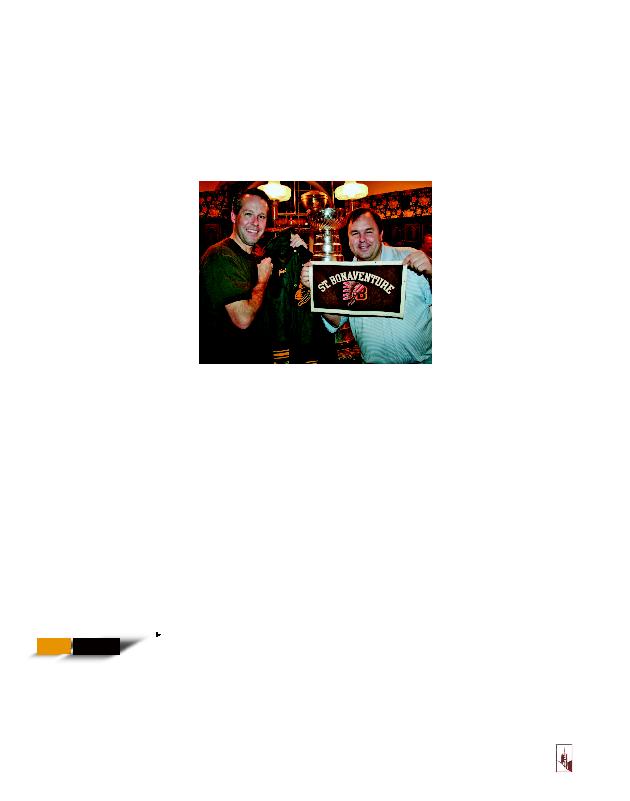 "Those guys helped take this to another
level. That tells you an awful lot about
this family and how much they are
loved," Altmeyer said. "His brothers are
asking their friends and family to donate
money in the name of a guy most of
them never even met."
The events have become a family love
affair, from Joel's parents and all of
his siblings -- including sisters Lisa
and Martha -- to their spouses and
kids. Johnathan's children and their
cousins run a lemonade stand at the
golf tourney and raised about $400
last year "because guys pull up and
give them $20 for a glass. It's amaz-
ing the generosity of people."
T
he fund grew steadily but
slowly, raising approximately
$125,000 over the first 10
years. But family support, increased
attention to pledge commitments at
the Tube Float, the growth of the
golf tournament, and the evolution
of the black-tie gala accelerated
fundraising.
More than $1.3 million has been
raised over the last 14 years.
Celebrities have pitched in, too.
Altmeyer worked with former Flyer star
Bill Clement at ESPN and told him about
the JAG Jr. Fund.
As a Stanley Cup winner in the 1970s,
Clement was allowed by the NHL to
"host" the Stanley Cup for 24 hours; he
decided to turn the opportunity into a
fundraiser and the first person he called
was Johnathan. The event, held in No-
vember of 2008, raised almost $30,000
for the fund.
The JAG Jr. Fund was almost 20 years old
when Wilson took over the helm at the
ABTA in 2008. The organization, founded
in 1973 by two mothers who lost children
to brain tumors, didn't have a formalized
awards program to honor people or groups
who had made significant contributions to
the mission of the ABTA.
the "unprece-
dented level" of
the Gingras
family's support, Wilson asked the ABTA
board to name the award after Joel Jr. as
the foundation neared the $1 million mark
in donations. They agreed.
"They've done something no other
group has done," Wilson said. "I wanted
to make sure that the family would know
that Joel's memory would live on, that his
story would continue to be told."
Appropriately, the first recipient of the
Joel A. Gingras Jr. Award, in 2010, was the
JAG Jr. Fund.
"We were just dumbfounded," Joel Sr.
said. "They awarded it last year to Dr.
Steven Brem, a brilliant, world-class brain
surgeon who's heading up this group at
Penn to pool resources for brain tumor re-
search. It shook me to the ground. To have
a national award named for my kid given
to someone like that was beyond anything
I could have imagined."
JAG Jr. Fund donations directly benefit
brain tumor research opportunities, most
notably in the form of nearly two dozen
fellowships for doctors. The ABTA receives
no government support.
"If the doctors aren't funded, they will
get wooed away to where the money is,"
Wilson said. "By keeping them engaged in
brain tumor research, we will keep the best
minds in the field."
Johnathan can't say enough about the
ABTA and trusts implicitly how they decide
to parcel out the money. His primary focus
is on the JAG Jr. fundraisers and in keeping
Joel's memory alive. Family and friends
serve as a wellspring of emotional support.
"The love I get from these people is the
fuel that keeps me going," Johnathan said.
"It fuels our whole organization."
What keeps people coming back to golf
and float and put on a bow tie every year is
the affinity they all have for the Gingras
family -- especially for those who remem-
ber Joel Jr.
A brochure to solicit donations for the
JAG Jr. Fund talks about "an ordinary life
inspiring an extraordinary legacy." It's a
clever marketing juxtaposition, but good
luck finding anyone who knew him who
would call Joel Jr. "ordinary."
"I hear stories about Joel, so many of
them after his passing, and they make me
so proud that he was such a good
person," said Mary, his mother.
Compelled to reach out after
seeing a photo online of the fam-
ily celebrating Joel Sr.'s birthday, a
childhood friend of Joel's emailed
Lisa Leleu, the second oldest of
the Gingras brood.
"He just had to let her know
how much Joel meant to him,"
Joel Sr. said. "He told her they had
such a great time together, and
that he had bought a cemetery
plot right near Joel so when he
gets his last reward, he can be to-
gether with him in heaven."
If stories like those leave a lump
in her throat, that's perfectly fine
with Mary Gingras. "People will
often say, `I don't want to make
you cry,' but I love it," she said. "I
want to hear these stories. They
Of course, heartfelt notes from old
friends and floating down the Delaware on
a hot August day will never fully close the
wound left by watching your child die be-
fore you do.
"It never gets out of your system," Joel
Sr. said. "Like I always say, `Welcome to
hell,' because you have little flashbacks
every so often and it just takes you to your
knees."
But they do admit that even after reflec-
tive moments of darkness, the sun always
rises thanks to the tireless work of their five
younger children.
"It's a wonderful tribute that they give to
their brother, and extremely rewarding for
us," Joel Sr. said.
Not surprisingly, Joel's death altered the
family's outlook on life.
"It definitely brought all of us closer to-
gether, no question," Johnathan said. "I
think we all realized how delicate life is
and that you should never take anything
for granted. He wasn't here long enough,
but Joel gave us a pretty good idea how
to look at life."
Tom Missel is director of media relations
and marketing at St. Bonaventure.

2
Johnathan (left) and Jay Altmeyer pose with Joel's SBU
hockey jacket at the Stanley Cup fundraiser organized
by former Flyer Bill Clement in 2008.