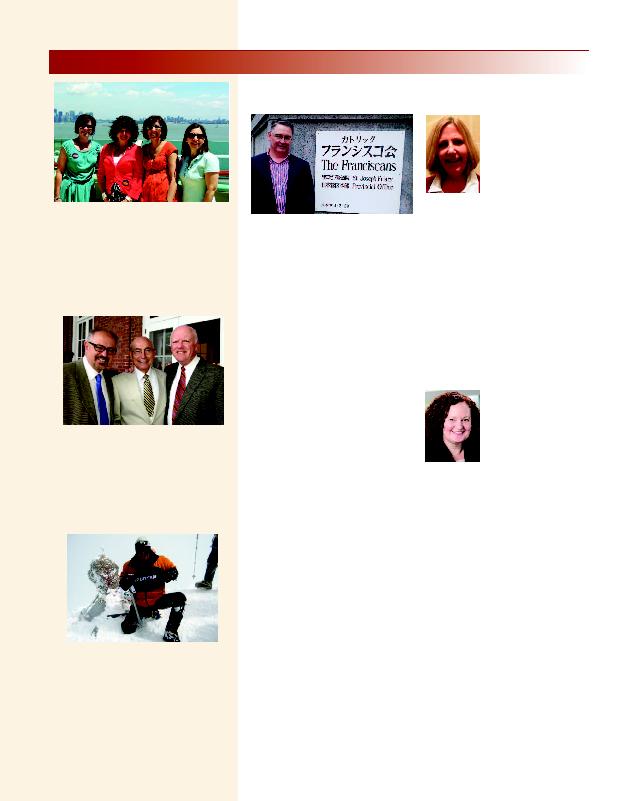 BonAlumnus Updates
Morris University. Majka and his wife live
in Pittsburgh.
1981 -- Patrick Brennan (above) was on
an extended business trip to Japan and
was looking for a Sunday Mass in English
when he came across the Franciscan
Chapel Center, an English-speaking parish
of the Archdiocese of Tokyo. "It really is a
small world. I discovered the OFM friars
ministering there were quite familiar with
St. Bonaventure, and we were able to
share some stories. As someone who
works for a company with a global foot-
print, it's nice that not only is the Catholic
Church global, of course -- but so are the
friars! Participating in the lively and multi-
cultural Mass was like being back on cam-
pus, with the homily including themes of
social justice for the poor in Tokyo and
help for recent immigrants to the coun-
try." Brennan has been with GE for 22
years and is vice president for Global
Communications at GE Capital Real Es-
tate, which operates in 16 countries. He
and his wife, Diane, live in Stratford,
Conn. Margaret McCormick participated
in a panel of newspaper and online jour-
nalists as part of Communications Career
Day in October 2012 at the S.I. Newhouse
School of Public Communications at Syra-
cuse University. McCormick is a self-em-
ployed writer, editor and public relations
professional who also manages social
media for several clients. She is the creator
and sole content provider for her Central
New York-focused food blog, Eat First
(http://eatfirst.typepad.com). Say hello at
mmccormickcny@gmail.com. Maria
LoRusso was selected for a 2012 Best of
San Antonio Award in the Business Attor-
neys category by the San Antonio Award
Program. She also received the 2012-2013
Merit Award for Teaching Excellence in Fi-
nance from the Department of Finance at
the University of Texas at San Antonio.
This is the third year LoRusso received this
award. Her law firm practices in the areas
of business/corporate law, business fi-
nance, securities, estate planning, tax and
mergers and acquisitions. LoRusso holds
an MBA from the Bill Greehey School of
Business and a juris doctorate degree from
St. Mary's University School of Law.
1982 -- Leigh O'Connell
was the 2012 Rochester In-
surance Professional of the
Year Award recipient at
this year's Rochester I-Day.
The award recognizes a
distinguished individual in
the Rochester, N.Y., insur-
ance community. O'Connell, a marketing
account executive at Paris-Kirwan Associ-
ates Inc., has continually shown support
for her community and her industry. She is
the treasurer for the Independent Insur-
ance Agents of Monroe County, and has
held the Sponsorship Chair position on
the Rochester I-Day committee for the
past three years. Cynthia K. Whitcomb is
associate vice president for marketing,
media and communications at the Univer-
sity of Saint Joseph (USJ). She is a resident
of North Haven, Conn. In her new role,
Whitcomb provides leadership, planning
and coordination of marketing and public
relations initiatives, serving as the univer-
sity's liaison and spokesperson to the media.
Her responsibilities include
promoting the university
brand, increasing institu-
tional visibility, and strategi-
cally integrating internal
and external communica-
tions with marketing ef-
forts. Whitcomb brings to
her position at USJ extensive experience in
the areas of strategic market planning,
brand management, marketing communi-
cations, and community/government rela-
tions. She most recently worked as vice
president of public relations and marketing
at Gaylord Specialty Healthcare in Walling-
ford, Conn.; prior to that, she served as the
hospital's director of public relations. Dur-
ing her tenure at Gaylord, Whitcomb was
honored with the hospital's "Beyond the
Call" award (2003) for demonstrating ex-
emplary service and dedication and was
recognized as an Athena International
Award nominee in 2007 for her accom-
plishments in mentoring women in the
workplace. Additionally, Whitcomb has
held previous positions in higher education.
1983 -- Ray Schey has joined American
City Business Journals as the advertising
director for the company's Milwaukee
business publication.
30th Reunion ~ 2014
1984 -- Dr. Robert J. Buckla was named
vice president of University Advancement
Bona alumnae were
Bermuda bound
Class of '84 Garden A East roommates
sailed to Bermuda to celebrate their mile-
stone birthdays. Pictured from left are
Karen (Wodarczak) Karaszewski, Jacque-
line (Skrzypczak) Lanzillo, Lorre (LaViola)
Johns and Mary Beth Vigneron.
Three alums who are county judges
attended the New York County
Judges Association Conference in
Cooperstown June 5-7. Pictured are
Monroe County Judge James Pi-
ampiano, '72, Saratoga County Judge
Gerald Scarano, '66, and Madison
County Judge Dennis McDermott, '72.
Jeff Brown, '95, is pictured at the
highest peak in Europe -- Mount El-
brus -- at 18,510 feet on May 12.
Mount Elbrus is one of the "Seven
Summits," the highest mountains on
each of the seven continents. This
peak is located on the border of Rus-
sia and Georgia. Brown is vice presi-
dent of Affiliate Sales (Midwest/West
Region) for the Sportsman Channel.