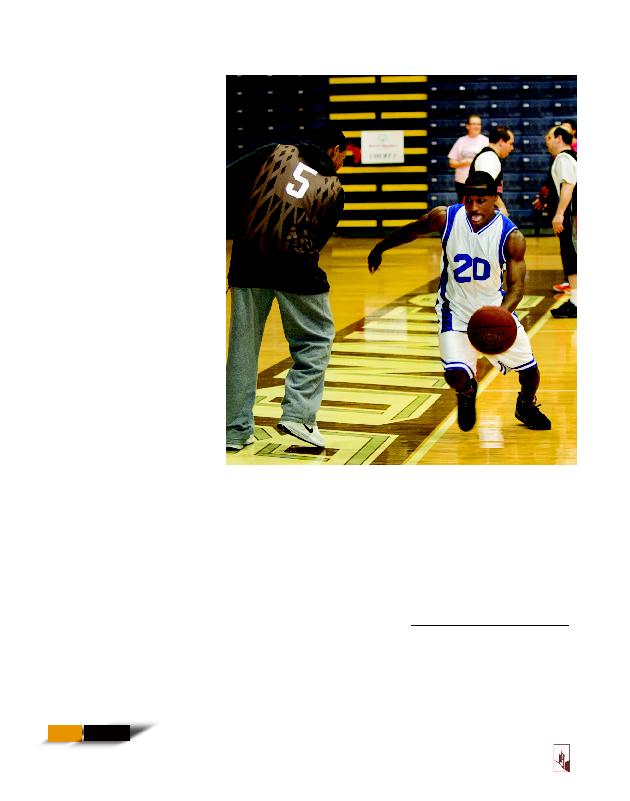 J
ohnson said his organization uses
sports as a vehicle to increase aware-
ness of people with intellectual dis-
abilities, to help defeat stereotypes and
break down barriers they face.
The Special Olympics organization has
evolved its mission over the years, accord-
ing to Johnson.
"Our mission went from being a sports
organization to an organization of advo-
cacy and service to people with intellec-
tual disabilities through sports," Johnson
said. "Sports is still at our core but, for
example, we're leading the call in trying
to get the public to stop using the R-word
(retard) with the R-word Campaign. Spe-
cial Olympics is at the forefront of that."
Scraba, the chaplain for both the
women's softball and lacrosse teams,
holds a master's degree in Franciscan
studies from SBU. She said Franciscans
are trained to be facilitators and advo-
cates.
"I have just as much to gain from my
students as my students have to gain
from me -- it's a reciprocal type pro-
gram," said Scraba.
Johnson said the partnership between
Bona's and Special Olympics would have
never been possible without Scraba's ded-
ication and without the foresight of Ath-
letics Director Steve Watson.
"Paula is a huge advocate of Special
"She's been a real catalyst in creating all
the initiatives that we have on campus and
it's just continued to grow incrementally.
Steve Watson's contributions to this part-
nership are immeasurable. He has been a
stalwart champion for our mission."
Scraba said the service possibilities are
endless and what's most important is
what students get out of the experiences.
"What you bring back is that sense of
responsibility and awareness," Scraba
said. "I can talk until I'm blue in the face
in the classroom about advocacy and
working with people with disabilities or
being sensitive to them, but that hands-
on experience really drives it home."
Johnson added, "It makes you proud
that Bona students are still doing all the
great things they have done in the past
and have added one more with the uni-
versity as a Special Olympics center."
The event was a testament to the uni-
versity's commitment to community and
service, said Johnson, who marked his
40th class reunion in June.
"I'm out of here 40 years this year and
obviously my admiration and love for the
university has been solid continuously
through those years," Johnson said.
"I know of all the good things Bona's
does in the community and its familial at-
mosphere because I lived it. I've watched
all of the activities and things the stu-
dents do for the university and I have
never been prouder than I was this week-
end."
Skye Tulio, a native of Gilbertsville, Pa.,
is a senior journalism and mass communi-
cation major at St. Bonaventure. Tulio
wrote for the campus newspaper, The
Bona Venture, for four semesters. She
held the position of sports editor during
the spring 2013 semester and is currently
the Student Government Association
(SGA) Strategic Communications and Dig-
ital Media Intern for the Office of Market-
ing and Communications.

2
Junior Jordan Gathers plays defense as the Special Olympians work on layups.
"It is the purest of
amateur sports.
Our athletes don't
have sneaker
contracts and they're
not playing for
multi-million-dollar
endorsements."