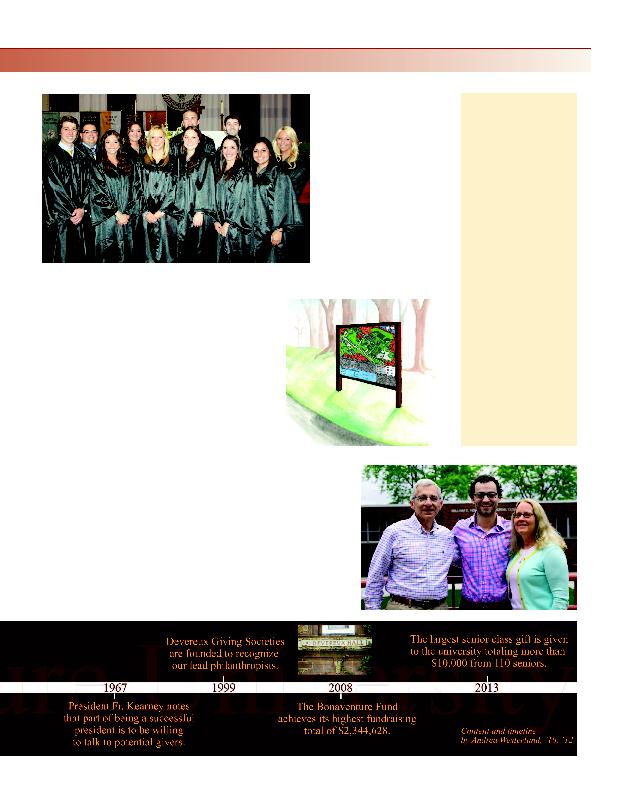 Acknowledging the need to replace the sign located at
the west entrance of our beautiful campus, the Class of
2013 raised funds for a more aesthetically pleasing alter-
native. To underscore their philanthropy, university trustee
and 2012-2013 National Alumni Association Board Presi-
dent Bob Crowley pledged to match each student's gift
dollar for dollar.
The students began raising funds this past winter with
the sale of Bonnies iPhone cases. The campaign netted
more than $10,000 with more than 100 student donors.
The class plans to install a campus map as well as a
brick welcome sign similar to that found at the east en-
trance of campus.
Members of the Senior
Class Gift Committee
presented their gift to the
university president during
the 2013 Baccalaureate Mass.
Members of the committee
included (front row, from left)
Ashlyn Verot, Chelsea
Reynolds, Kristie Manzella,
Christiana Eckel, Jessie Briggs,
and (back row, from left)
Matt Reitz, Robbie Chulick,
Mary Kate Gould, Josh
Carniewski, Mike Gargin
and Lauren Kryszak.
Your Bonaventure Fund dollars support each generation of students at
St. Bonaventure. As we celebrate 125 years of giving, it is wonderful to be
able to highlight donors who offer support across the generations.
Pictured here are three members of the Mantilia family, all of whom give
at the Devereux level: Robert Mantilia, '73, honored during Reunion Week-
end with the William P. "Stax" McCarthy Alumnus of the Year award; An-
drew Mantilia, '08, '09, co-chair of the School of Business brick campaign;
and Susan Allen Mantilia, '74.
The Mantilia family shares their blessings because they want to ensure
that current and future students benefit from the same high-quality educa-
tion they enjoyed.
www.sbu.edu/donate
Celebrating a Legacy of Generosity
Largest Senior Class Gift Creates Warmer Welcome to Campus
It's easy to make a gift to
the BONAVENTURE FUND
Online:
Phone:
Call us at (800) 664-1273
Recurring Gift:
automatic monthly, weekly
Matching Gift:
Mail:
Drop a check in the mail to
St. Bonaventure University
St. Bonaventure, NY 14778
In Person:
Stop by Francis Hall to talk
with us the next time you're

2
Illustration by Hannah Walker, '14