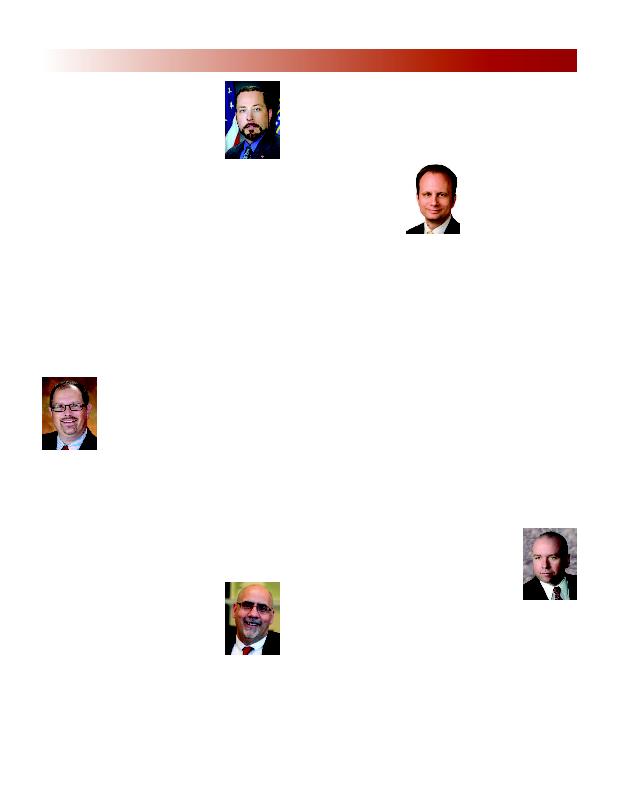 2
BonAlumnus Updates
at Cardinal Stritch University. Since 2009,
Buckla has been the senior director of col-
lege programs/majors and leadership gifts
at Illinois Institute of Technology, where he
was part of a leadership team that raised
more than $104 million in operating, capital
and endowment support as part of a $250
million campaign. He served in the vice presi-
dent/chief advancement officer role at two
other points in his career: Averett University in
Virginia and Hyde Schools on the East Coast.
Over the course of his career, Buckla has
worked at Regis University in Denver and The
Catholic University of America in Washington,
D.C. Michael Corkery was named the chief
executive of Deltek in February. The Herndon,
Va.-based firm offers software tailored for
government contractors and professional
services firms. Corkery was named acting
CEO in December 2012 after serving as Del-
tek's chief financial officer since January
2010. He lives in Reston, Va., with his wife,
Alison, and two daughters. Christopher
Gannon is general counsel of SNF Holding
Company, a privately held global chemical
company located near Savannah, Ga. David
Lanzillo, senior vice president of corporate
communications with First Ni-
agara, has been named an
ExecRank "Top Communica-
tion Executive," a distinction
reserved for fewer than 2 per-
cent of U.S. public company
communications executives.
Lanzillo and his wife, Jackie
(Skrzypczak), '84, live in Victor, N.Y., and
their daughter, Victoria, just completed her
sophomore year at St. Bonaventure. Before
joining First Niagara in September 2011,
Lanzillo served as director of corporate com-
munications and vice president of commu-
nications and public affairs at Eastman
Kodak Company, managing its global media
strategy and serving as its spokesman. Previ-
ously, he led financial, executive and em-
ployee communications at World Kitchen
Inc. and served as a supervisor of worldwide
marketing services at Corning, Inc. Lanzillo
holds an MBA from the University of
Rochester's William E. Simon Graduate
School of Business Administration.
1985 -- Chuck Hilbert, owner of Keller
Williams Realty Greater Rochester, had his
firm listed in the Rochester Top 100 list in
2012. The Top 100 is sponsored by the
Rochester Business Alliance and KPMG.
1986 -- Donald J. Blersch,
an intelligence professional
formerly with the Office of
the Director of National Intel-
ligence, has been selected as
the Missile Defense Agency's
director for Technical Intelli-
gence. As the director, Bler-
sch leads the Intelligence Requirements,
Counterintelligence, Acquisition Security,
Cyber Security Engineering, and Threat Sys-
tems Engineering/Target Requirements divi-
sions within MDA. Under Blersch's
leadership, these divisions guide the security
infrastructure and intelligence support to
the Missile Defense Agency staff, operating
locations, and major programs worldwide.
As the senior intelligence officer, Blersch is
the focal point for integrating intelligence
requirements and manages the relationship
with the intelligence community to achieve
the highest level of responsive collection,
analysis, and production support to meet
acquisition, research and development,
Command Element, and War fighter opera-
tional needs. Blersch lives with his family in
the Washington, D.C., area. He holds ad-
vanced degrees in Astronautics and National
Security Studies from George Washington
University and Georgetown University, re-
spectively. Blersch's awards include the Na-
tional Performance Review "Hammer
Award," the Department of Commerce Sil-
ver Medal for Meritorious Federal Service
(Leadership), NATO Non-Article 5 Service
Medal (ISAF-Afghanistan), and the National
Reconnaissance Office Imagery Intelligence
Directorate Employee of the Year (Senior
Civilian). Blersch entered into the Director of
National Intelligence's Senior National Intelli-
gence Service in April 2006; and, most re-
cently, entered the USG's Senior Executive
Service as a cadre Department of Defense
senior executive civilian in November 2012.
25th Reunion ~ 2014
1989 -- Anthony
Minchella received the
highest peer review rating
of AV Preeminent from Mar-
tindale-Hubbell. His law
firm, Minchella & Associ-
ates, L.L.C., celebrated its
10th anniversary in July.
Minchella lives in Middlebury, Conn., with
his wife, Jennifer (Olafsen, '91), and their
three sons, Anthony (Bona's '17), Andrew
and Daniel.
1990 -- David Kelley, Ph.D., was promoted
to assistant professor of field service in the
Sport Administration Program at the Univer-
sity of Cincinnati. Kenneth Mason, vice
president of government and regulatory af-
fairs for Frontier Communications Corp., was
named to the board of the Federal Communi-
cations Commission's Universal Service Ad-
ministrative Company. Mason is based in the
company's Rochester, N.Y., offices.
1992 -- Daniel W. Gerber,
a partner in Goldberg
Segalla's Buffalo office, was
appointed to a leadership
position within the Defense
Research Institute (DRI), the
country's leading organiza-
tion of defense attorneys
and in-house counsel. Gerber was ap-
pointed chair of the institute's Life, Health
and Disability/ERISA Committee. Gerber is
co-chair of Goldberg Segalla's Global Insur-
ance Services Practice Group across the firm's
11 offices and co-chair of its Cyber Risk and
Social Media Practice Group. He maintains
an international practice in complex insur-
ance coverage and reinsurance matters. An
active DRI leader, he also chairs its Social
Media Task Force, has served on its Annual
Meeting Steering Committee, and is a past
chair of DRI's national Insurance Roundtable.
Patricia Urbinelli entered as a candidate to
the Sisters of St. Joseph in Watertown, N.Y.,
in April. She writes, "I am so excited about
this new `good journey.' I was blessed when
God had led me to St. Bona's many years
ago. Now He has led me to the Sisters of St.
Joseph. I have always been happiest when I
follow His plans." She welcomes email from
her SBU family at patcooks@yahoo.com.
1993 -- Nora Franczyk Weil is the grant
writer for The Foundation of the Roman
Catholic Diocese of Buffalo. John P.
Gaughan was promoted to
partner at Hiscock & Barclay,
LLP, in Buffalo. Gaughan is a
member of the firm's Torts &
Products Liability Defense,
Commercial Litigation and
Creditors' Rights Practice
areas. His practice has fo-
cused on civil litigation with a concentration
in the area of general torts liability defense
matters in state court, as well as cases
falling under the Fair Debt Collection Prac-
tices Act in federal court. Gaughan joined
the firm in 2001. Gaughan received his J.D.
from Albany Law School of Union University
in 1999. In addition to his practice,
Gaughan is vice president of Buffalo Legacy
Project, Inc., a not-for-profit entity bringing
health and wellness resources to neighbor-
hoods in need in Western New York. Greg
Polisseni held a one-man exhibit titled
Breaking Free at the SC Fine Art Gallery in
Getting together with your
SBU peeps? Snap a pic (high
resolution) and submit it to
bonalumnus@sbu.edu