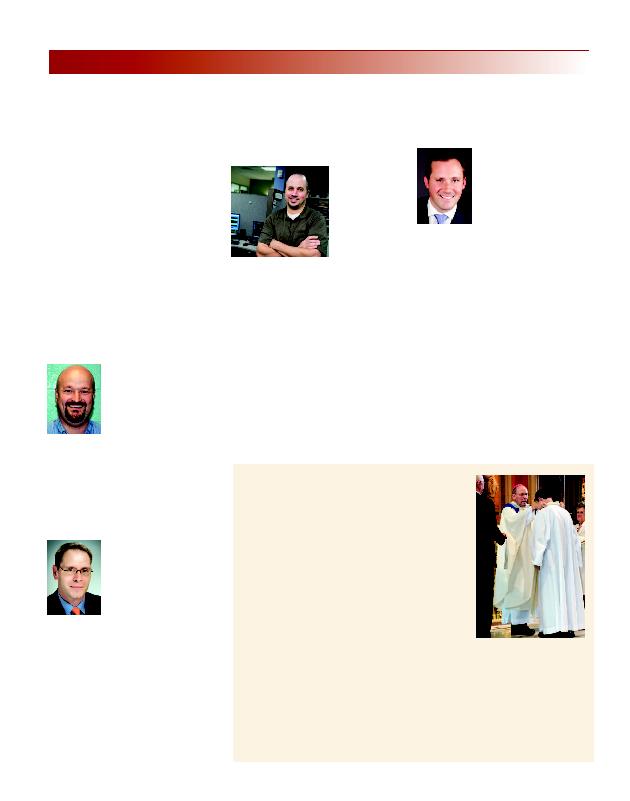 Rochester, N.Y., in May and June. In 2004,
Polisseni was introduced to filmmaking and
has served as executive producer on the
thrillers "The Attic" and "The Alphabet
Killer." His other projects include a TV pilot
and he is in pre-production for two more
films. He has been active in a number of
charitable causes, including his family's foun-
dation, The Polisseni Foundation. Danielle
M. Ryman was promoted to partner at
Perkins Coie in Anchorage. She is a member
of the Labor & Employment practice. Her
practice focuses on defense and representa-
tion of employers, as well as counsel and ad-
vice on legal issues affecting today's
workplace. She defends employers in state
and federal court, and before state and fed-
eral administrative agencies. She conducts
workplace investigations, defends employers
in union arbitrations, and represents man-
agement in labor negotiations. She also
works closely with corporate legal counsel,
executive management, and HR profession-
als to provide guidance on employment-re-
lated legal issues.
1995 -- Justin Reid, a prin-
cipal in the Bonadio Group,
has been appointed to the
Community Charter School
Board of Trustees. He serves
as treasurer of the board.
Reid has been active in the
tax-exempt market for more than 18 years,
providing audit and consulting services to
tax-exempt, governmental, school district
and health care clients. He lives in Lancaster
with his wife, Lori, and two children.
1996 -- Lyn Belzer is the new academic
programs coordinator at the University of
Maryland Francis King Carey School of Law.
Charles D.J. Case was
elected a partner at Rupp,
Baase, Pfalzgraf, Cunning-
ham & Coppola LLC, a Buf-
falo-based law firm. Case
was formerly an associate at
the firm. Case's practice fo-
cuses on commercial litiga-
tion. He has represented municipalities and
legislative bodies in a wide range of matters
and has extensive government affairs experi-
ence. He is a member of the New York State
Bar Association and the Erie County Bar As-
sociation. Case received his J.D. from the
State University of New York at Buffalo Law
School. Jennifer (O'Reardon) Meehan is
the assistant tax collector for Washington
Township (Long Valley), N.J. She primarily
oversees the processing of all tax payments
made to the office. Meehan was also re-
cently recognized as an outstanding Girl
Scout leader by the Girl Scouts of Northern
New Jersey. She is a leader of two Girl Scout
troops and serves as the Long Valley Girl
Scout treasurer.
1997 -- Phil Ceppaglia shed his associate
producer headphones in November 2012 to
assume ESPN
Audio's newly cre-
ated position of
commercial pro-
duction coordina-
tor. During his 13
years with ESPN
Audio, Ceppaglia
helped shape the
sounds of Dan
Patrick, Tony Kornheiser, and, most recently,
Mike Tirico and Scott Van Pelt.
1998 -- Jonathan Bertoline is an opera-
tional risk manager in Australian Banking
Risk for the Westpac Group based in Sydney,
Australia. Westpac is one of the four major
banking organizations in Australia and one
of the largest banking organizations in New
Zealand. He has spent the last six years
working and living Down Under. Bertoline
welcomes communication from Bona alumni
at sbubert9899@yahoo.com.
2000 -- Paul Gonzalez was elected to the
City of Olean Common Council in the gen-
eral election on Nov. 6, 2012.
2001 -- James McKay was accepted into
the Marymount University Doctor of Physical
Therapy program in Arlington, Va. He will
begin his work toward his doctorate of phys-
ical therapy this fall.
2002 -- Michael Britt was
named one of 25 Rising Stars
by Campaigns & Elections
magazine, which has a long
tradition of recognizing the
best and the brightest in the
political industry. He was rec-
ognized June 17 at S&E's an-
nual Art of Political Campaigning Conference
in Washington, D.C. Britt is vice president of
community and government affairs at Wynn
Resorts. He started his career on Wall Street,
though it wasn't long before he was hooked
into his first political campaign -- a race for
the Fairfax County Board of Supervisors in
Virgina. The next year, he had already made
his way to the National Republican Congres-
sional Committee. As a field representative
for the 2004 cycle, Britt coordinated
fundraising events for 13 top-tier congres-
sional races. During the next couple years
Britt would work in the office of Missouri
Rep. Sam Graves, run the successful re-elec-
tion campaign of Rep. Dave Reichert in
Washington, and spend a year in the White
House. In the run-up to the 2008 cycle, Britt
handled a number of primary states as re-
gional political director for Mitt Romney, in-
BonAlumnus Updates
Scott VanDerveer, who
earned a journalism and
mass communication de-
gree in 1997, was ordained
a Roman Catholic priest on
June 8 at The Cathedral of
the Immaculate Conception
in Albany.
His first assignment is to
be the associate pastor at St.
Mary's Parish in Oneonta,
N.Y. He'll also be participat-
ing in the campus ministry
programs at SUNY Oneonta
and Hartwick College,
which are located in
Oneonta.
Fr. Scott's ordination was
concelebrated by Albany
Bishop Howard J. Hubbard
and Bishop Emeritus
Matthew H. Clark, a former
bishop of the Diocese of
Rochester, where Fr. Scott
grew up.
After the celebration and
reception, Fr. Scott cele-
brated his first Mass at the
parish of Saint Vincent de
Paul in Albany, where he
previously served as a cate-
chist and deacon.
In the years since his grad-
uation from St. Bonaven-
ture, Fr. Scott worked in a
variety of jobs, traveled to
15 countries during two
years in the Up with People
program, participated in a
year of AmeriCorps and
lived for six years in Boston.
full of ministry, faith and
joy, but I have a sense that
the best is yet to come," he
said. In May, he completed
his master's degree in divin-
ity at Blessed John XXIII Na-
tional Seminary in Weston,
Mass.
Scott VanDerveer is pictured
being vested by Bishop
Emeritus Matthew H. Clark.
Scott VanDerveer, '97, ordained
a priest in Diocese of Albany