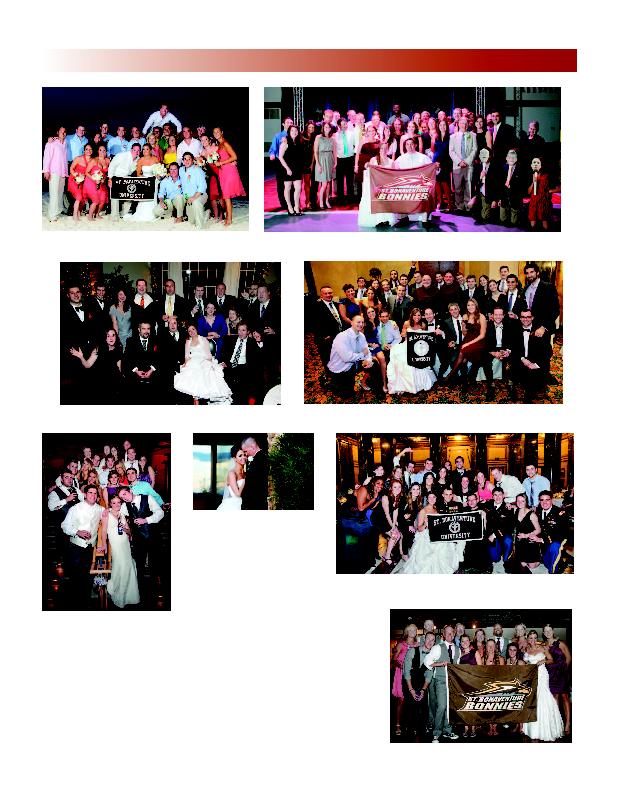 2
BonAlumnus Marriages
Marriage submission guidelines
Stephanie Belke, '06, and Shane Ryan, '06
Leah Kenny, '06, and Christopher Murray, '06
Michelle Bellonte and Gregory Moss, '06
Jenn Constanzo, '08, and Lou Dingeldey Jr., '99
Claire Collins, '08, '07, and Chris Dunham, '06
Megan Manjerovic, '08, and Timothy Condello, '09
Christy Markley, '07, and
Suzanne McDevitt and Gregory Spiro, '03
To submit your marriage announcement for an
· use the enclosed envelope
· email bonalumnus@sbu.edu
· mail to P.O. Box 2509, St. Bonaventure
University, St. Bonaventure, NY 14778
All photos must be of good reproductive qual-
ity. Pictures submitted electronically must have a
resolution of at least 300 dpi.
The university is prohibited from publishing
copyrighted photographs, unless accompanied by
written permission from the photographer. Photos
are published at the discretion of the editor.
The deadline for winter 2013-14 Bonaven-
ture magazine submissions is Sept. 20, 2013.
Don't forget to notify us of your new name or
address! Update your information at Bona's Online
at www.sbu.edu/bonasonline
Colleen Beaudette, '09, and
Patrick Harnisch, '08