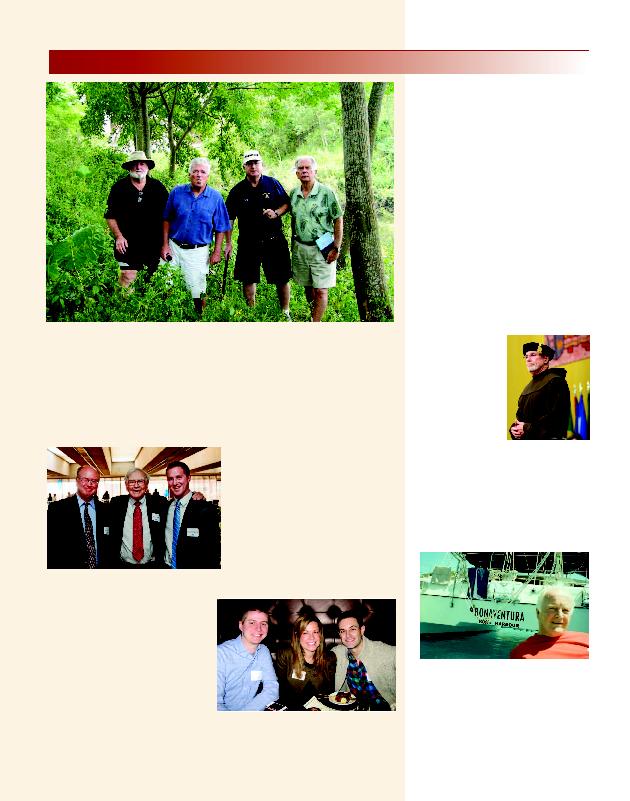 BonAlumnus Updates
tion, a North Carolina organization that
serves children with physical and commu-
nicative disabilities and counsels schools to
help meet their needs.
1958 -- Louis J. McDonald and his wife,
Alice, celebrated 55 years of marriage in
April. They have seven grandchildren and
three great-grandchildren.
55th Reunion ~ 2014
1959 -- Rev. Eugene R. Carr celebrated
50 years of ordination to the priesthood with
a Mass of Thanksgiving June 30 in the
Chapel of the Little Sisters of the Poor in
Scranton, Pa.
50th Reunion ~ 2014
1964 -- Fr. Daniel Riley, O.F.M., a founding
member of Mt. Irenaeus, received an hon-
orary doctorate of humane letters May 12
from Saint Michael's College in Vermont. Fr.
Dan was honored for being "a man of deep
faith and commitment
to Catholic higher ed-
ucation, and a
renowned spiritual
guide for young peo-
ple." He has part-
nered with the
Edmundite priests of
Saint Michael's to or-
ganize retreats for
young people and
priests on campus and at Enders Island. Saint
Michael's, located in Burlington, Vt., is the
only Edmundite college in the world. Fr. Dan's
radiant smile and uplifting personality have
been omnipresent fixtures at St. Bonaventure
since 1971, when he returned to his alma
mater and started the university's campus
ministry program. Read more at
http://tinyurl.com/mhnnmky.
1965 -- Richard C. Moran (above) char-
tered a sailing yacht in the British Virgin Is-
lands. The wonderful adventure was
especially great due to the name of the ves-
sel, the "Bonaventura." Marvin W. Stocker
and his wife, Donna, received honorary de-
grees during Commencement Exercises May
12 at Mount St. Mary's University in Emmits-
burg, Md. The Stockers, who were recently
Alumni return to Vietnam
Three members of the class of 1966 returned to Vietnam last summer, visiting many of
the famous battle sites where they served in 1967-68. Alumnus Jim Croke shared this
photo of him (second from left) and classmates Joe Potter and Jim Early. Also pictured
(at left) is Jack Wieshahn, who served with Croke. The men are pictured visiting "Mike's
Hill," the battlefield where fellow grad Robert "Bob" Burns, '66, and 22 other Marines
were killed in the early hours of Jan. 27, 1968. This battle was immortalized in the book
"One Avenue of Approach" written by Jack Solatario, who served with Burns.
SBU alums and Buffalo News colleagues
Dan Herbeck, '78, (left) and Charlie
Specht, '10, (right) are pictured with
Berkshire Hathaway, Inc., chairman and
CEO Warren Buffett. The photo was
taken at The Buffalo News building in
downtown Buffalo at a retirement party
for News Publisher Stanford Lipsey, who
Buffett picked to lead the newspaper in
the 1980s.
Bona night beer tasting
was a big hit in Chicago
Alumni living in Chicago had a great time
March 2 at the city's Paramount Room
that was transformed into the Rathskeller
for a night. The beer tasting and gourmet
buffet mixer was attended by 30 Chicago-
area alumni. Those attending represented
classes from 1980 through 2011 and en-
joyed an evening of DJ music and conver-
sation. Pictured at right are Matt
Theodorakos, '10, and Rachel and Jon Wright, '02. The event was chaired by Lisa
(Barone) Wallace, '80, and Tom Cullen, '00. By popular demand, the Chicagoans will be
making this a bi-annual gathering.
By News photographer Derek Gee