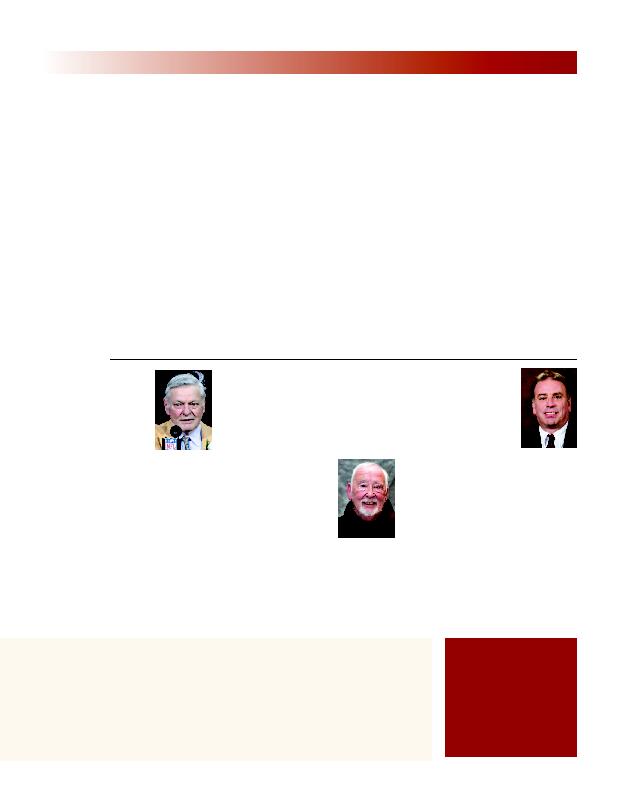 John "Jack" B. Butler, '51,
who helped revolutionize the
way cornerbacks played in
the NFL during his Hall of
Fame career with the Pitts-
burgh Steelers, died May 11.
Despite playing only nine
years in a career cut short by a
knee injury, he retired with 52
interceptions, the second most in NFL history at
the time, when teams ran far more than they
passed. In 1963, Butler became director of
BLESTO (Bears, Lions, Eagles, Steelers Talent Or-
ganization), the NFL's first scouting combine. He
retired in 2007 after a 44-year career.
Terence F. McShane, '51, died June 28. He
was a past president of the National Alumni
Association and served on the university's
Board of Trustees from 1966 until 1975. As a
student, McShane was a member of the
Bonaventure football team. Professionally, he
was an FBI investigator, chairman of the Board
of Monitors of the IBT (Teamsters Union), and
an executive with a number of firms, including
Hayden, Stone Inc.; Blyth & Co.; Wertheim &
Co.; Dillon Read & Co.; and Greenspan O'Neil.
McShane was also the author of "The Death
of Jimmy Hoffa."
The Rev. Jude Murphy, O.F.M., '57, died in
Butler, N.J., on Sept. 7, 2012. A professed
Franciscan Friar for 57 years,
Fr. Jude taught in St.
Bonaventure's English and
philosophy departments from
1962 to 1966. His longest
ministry in New Jersey was
parochial vicar at St. An-
thony's Church in Butler from
1989 to 1994, and 2003 to
2010. He also served as
parochial vicar at St. Mary's Church in Pomp-
ton Lakes from 1999 to 2003.
Dr. Jeffrey H. Peterson, a longtime faculty
member of the School of Business, died Feb.
11 following a courageous battle with cancer.
He was employed for 29
years at St. Bonaventure, first
as a professor of finance and
for the last 16 years as the
chairman of the Department
of Finance. Peterson was a
graduate of Salamanca High
School Class of 1979, re-
ceived his bachelor's degree
from Alfred University in 1983, received his
master's degree in finance from Texas A&M
University in 1984, and received his Ph.D. in fi-
nance from the University of Alabama in 1991.
Dr. William N. Turek of Ballston Lake, N.Y.,
died April 7. A former professor in the Depart-
ment of Chemistry, Turek enjoyed teaching
classes and labs from 1963 until his retirement
in 1996. Turek was a longtime resident of
Olean, where he moved after completing his
Ph.D. in chemistry at the University of Mary-
land. A professor emeritus, Turek had also
served as a president of the Penn-York section
of the American Chemistry Society.

2
BonAlumnus Updates
1984
Regina M. Costello
Sheila E. Ebbitt
Carolyn A. (Hasman) Gorman
John J. Graham
Renee J. (Johnson) Hartling
Susan A. Hartnett
Lisa R. (Reschini) Monk
Mary R. Panighetti
Monica A. Reardon
David G. Richards
David E. Rudgers
John J. Wojtowicz
Phillip A. Yargeau
1989
Scott J. Casaburro
Michael J Covell
John D. Flanagan
John P. Holcomb
James J. Menna
Donna M. (Ziegler) O'Sullivan
Todd P. Smith
Natalie A. White
1994
Aliciamarie (Schmid) Green
Joseph T. O'Connell
Michele L. (Patello) Patello
Bryan D. Ribardo
Martin V. Sweeney
1999
Brian M. Boyd
2004
Jeremy R. Monteleone
Marvin Hoffenberg, '37, Pacific Palisades, Calif.
Lawrence C. O'Brien, '41, Rochester, N.Y.
F. Joseph Wolcott, '41, Eldred, Pa.
Dr. Victor J. Tofany, '42, Clearwater, Fla.
Edward Trieskey, '45, Canton, Mich.
A. Donald McGrath, '46, Simsbury, Conn.,
and Martha's Vineyard, Mass.
Rev. James N. Cammisa, '47, Lawrenceville, N.J.
James R. Ransford, '48, Williamsburg, Va.
Edmund J. Stange, '48, Fairfax, Va.
Rev. John R. Burke, '50, Merida Yucatan
James D. Bergin '51, Charlotte, N.C.
John "Jack" B. Butler, '51, Munhall, Pa.
Andrew F. Corcoran, '51, Westlake, Ohio
Dr. James C. Kenrick, D.D.S., '51,
Orchard Park, N.Y.
Terance McShane, '51, Naples, Fla.
Richard E. Delaney, '52, Bronx, N.Y.
Hubert Donlon, '52, East Orleans, Mass.
Col. Albert La Barbera (Ret.), '52, Naples, Fla.
Robert A. Sullivan, '52, Saranac Lake, N.Y.
Alumni Deaths
We again invite alumni, friends and parents
to send us the names of family, friends and
classmates who will be remembered at the
Masses during November. The names will
be placed under the altar in the Chapel.
St. Bonaventure University
St. Bonaventure, NY 14778
Email ~ www.allsouls @sbu.edu
Timothy J. Rinker, '65, Cuba, N.Y.
Dr. Arthur O. Haf, '66, Garden City, N.Y.
Gerald J. Hensler, '69, Rochester, N.Y.
Ralph B. Metzger, '69, Warminster, Pa.
David M. Bergreen, '70, Portville, N.Y.
Rev. Paul J. Gaumond, '70, Essex, Conn.
Robert G. Jacobson, '70, Fairport, N.Y.
Terrence L. Valentine, '70, Dunkirk, N.Y.
Richard P. Wing, '70, Horseheads, N.Y.
Frederick B. Schenkel, '71, Frederick, Md.
Thomas D. St. Amand, '73, Aurora, Ontario
Stephen J. Font, '76, Victor, N.Y.
Thomas M. Leo, '79, Cicero, N.Y.
Julianne "Julie" Madigan, '80, Binghamton, N.Y.
Robert M. Leahy, '84, Lake Worth, Fla.
John R. LoPresto, '84, West Milford, N.J.
Karen M. Gaffney, '89, Fairport, N.Y.
Brian E. Murphy, '90, Needham, Mass.
Susan Wynne, '92, Camillus, N.Y.
Paul J. Grekalski, '02, Olean, N.Y.
Christopher L. Bosilkovski, '04, Lackawanna, N.Y.
Daniel H. Freeland, '07, Port Orange, Fla.
Andrew Revello, '13, Highland Heights, Ohio
Donald G. Solinsky, '52, Simsbury, Conn.
Rev. Thaddeus C. Rooney, O.F.M., '53,
Deer Park, N.Y.
Alfred Samulski, '53, Bradenton, Fla.
Charles J. Aimone Jr., '54, Barnegat, N.J.
Victor A. DiMatteo, '54, Dublin, Va.
Raphael A. Rodriguez, '54, Hartsdale, N.Y.
Rev. Patrick J. McCaffrey, '54, Washington, D.C.
Charles F. Dussing, '55, North Syracuse, N.Y.
Lt. Cmdr. Richard S. Lacher, '55, Doylestown, Pa.
Thomas A. Sienkowski, '55, Cheshire, Conn.
Maj. Gen. John H. Mitchell (Ret.), '56,
Colorado Springs, Colo.
Ruth A. Neff, '56, Olean, N.Y.
Rev. Jude Murphy, '57, Providence, R.I.
John J. Monigan, '57, Vestal, N.Y.
Paul D. Sullivan, '57, Hampton, N.H.
Arnold G. Wadas, '60, North Lauderdale, Fla.
Rev. Raymond J. Barry, '61, of Westbrook, Conn.
David T. Gibbons, '61, Shinglehouse, Pa
Donald G. Hunton, '61, Hockessin, Del.
Carole A. Munroe, '62, Larchmont, N.Y.
Edward R. Glynn, '64, Westfield, N.J.
Richard L. Burns, '65, The Villages, Fla.
In Memoriam
A directory of deceased alumni is available
on Bona's Online. Not a member? Visit
www.sbu.edu/alumni to register.