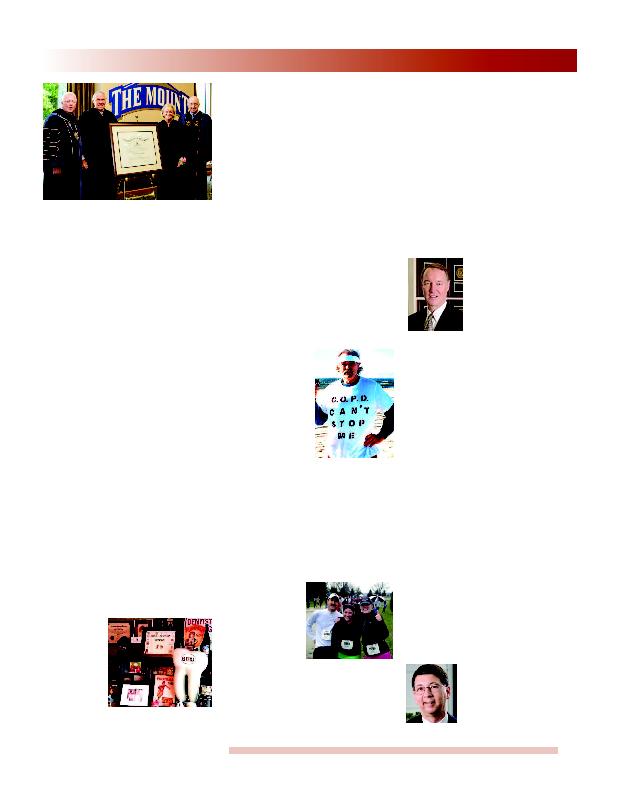 named Honorary Alumni by the Alumni Asso-
ciation, have three daughters who graduated
from the Mount. In 1992, the Stockers (cen-
ter, above) became members of the Mount
Parents Council, and were named co-chairs
of the Parents Advocates Fund in 1994 --
raising more than $750,000 in five years. In
1998, they received the Pride of the Mount
Award and continue to chair the Past-Parents
category of the Mount Annual Fund. Marv
Stocker has been a member of the Presi-
dent's Council since 2000, and in the years
leading up to the Mount's 200th birthday in
2008, the Stockers served on the Mount's
Bicentennial Commission and were awarded
a Bicentennial Medal in recognition of their
efforts. The Stockers have travelled with
Mount students and faculty on numerous
service trips to orphanages in Peru and
Costa Rica, and established scholarships in
2006 to assist Mount students in academic
and cultural programs. Read more about
the Stockers at http://tinyurl.com/nrxdt8s.
1966 -- Frank Higbie and his wife, Lois,
are enjoying retirement -- and being first-
time grandparents to twin girls. The Higbies
have also been traveling and visited friends
in the U.K., California, and saw a bit of Mu-
nich this past year.
1968 -- William J. Powers, D.D.S., has in-
ducted St. Bonaventure President Sr. Mar-
garet Carney, O.S.F., into the BonaDENTURE
Museum Hall of Fame (located at Powers'
Fayettville, N.C., home). The museum is
dedicated to the collection and display of
artifacts and
memorabilia
associated with
the history of
St. Bonaven-
ture University
and Powers'
career in den-
tistry. "I can
think of no bet-
ter time to honor Sr. Margaret for her many
years of service to the university and for her
support of good dental health," Powers
says.
1967 -- Jack Garner, retired chief Gannett
film critic and current Democrat and Chroni-
cle columnist, is one of the Rochester Media
Association's Impact Award winners this
year. This is the second year that the media
association has given the awards, which
honor individuals with distinguished careers
in local media who also have made substan-
tial contributions to the community. In a story
in the Democrat and Chronicle, Garner said
he always felt most gratified when he'd hear
that his positive review of an excellent, but
lower-budget or independent, film allowed
that movie to be seen by more people. "I love
that the arts have impact, and that I could
have impact on the arts," he says. In addition,
Garner's memoir-compilation "From My Seat
on the Aisle" is scheduled to be published
this fall by RIT Press.
1971 -- Victor J. Andrijauskas completed
the "Operation JACK Train For Autism"
marathon Dec. 26, 2012, in Manhattan
Beach, Calif. The 26.2-mile event was spon-
sored to raise research
funds for autistic chil-
dren. Along with his
partner, Diane Aus-
som, he crossed the
finish line within the
allotted time of 7
hours 15 minutes to
earn a Marathon Fin-
ishers Medal. Andri-
jauskas, who is 65
years old, has emphy-
sema and entered the competition to encour-
age others who have forms of chronic
obstructive pulmonary disease (COPD). He is
a retired Air Force major and flew F-4 Phan-
tom Jet Fighters as a weapons systems officer.
He concluded his military career as director of
News Media Relations at the Air Force Logis-
tics Command headquarters. He lives in Las
Vegas, Nev.
1973 -- Paul Gala-
jda's family has him
running 5Ks. He's
pictured here with
daughter-in-law
Amanda and
daughter Laura.
Connie Mon-
teleone Whitton has joined the Cazenovia
College Board of Trustees. She serves on the
Institutional Advancement and Student Life
committees. She was a member of the ad
hoc committee that directed Cazenovia Col-
lege's accreditation to grant baccalaureate
degrees in the 1990s. Whitton is an execu-
tive coach and business consultant. She was
assistant vice president at Strategic Initia-
tives at SRC, Inc., in Syracuse; and has
served in executive positions at Carrier Cor-
poration/United Technologies, HSBC and Al-
liance Bank. Whitton has been involved
with a number of non-profit organizations,
including SUNY College of Environmental
Science and Forestry; United Way; the
Friends of the Burnet Park Zoo; and was a
charter member of the Onondaga Lake
Commission. She served 16 years on the
Onondaga Community College Board of
Trustees.
40th Reunion ~ 2014
1974 -- John Habig, exec-
utive director of Wealth
Management at Morgan
Stanley, was honored for the
fourth consecutive year in
Barron's annual list of "Amer-
ica's Top Advisors." The
state-by-state ranking of fi-
nancial consultants is determined by a review
of assets under management, regulatory
record, quality of practice and philanthropic
work. Habig, his wife, Kelly, and three
grown children live in the coastal town of
Rye, N.H.
1975 -- William H. Werfelman was
elected a senior vice president of New York
Life. He is in charge of the Public Relations
Department. Werfelman is responsible for
domestic and international media and public
relations. He joined New York Life in 1995 as
a corporate vice president, responsible for
media relations, and was elected an execu-
tive officer by the Board of Directors in 1998.
He was elected a first vice president in March
2003 and a senior vice president in July
2012. Prior to joining New York Life, he was
vice president of external communications
for Home Insurance Company, and before
that served in public relations and corporate
communications management positions with
General Electric Company and Olin Corpora-
tion. He was previously a staff writer and re-
porter for the Connecticut Post and was a
publicist for Dictaphone Corporation. He
and his wife, Patricia (Maytrott), '77, have
two children and live in Redding, Conn.
1977 -- Dave Majka com-
pleted his Ed.D. from the
Graduate School of Education
at the University of Pennsylva-
nia and was recently promoted
to vice provost for Strategic
Planning and Quality Assurance at Robert

2
BonAlumnus Updates
What's new with you? Submit class notes online at www.sbu.edu/bonamag