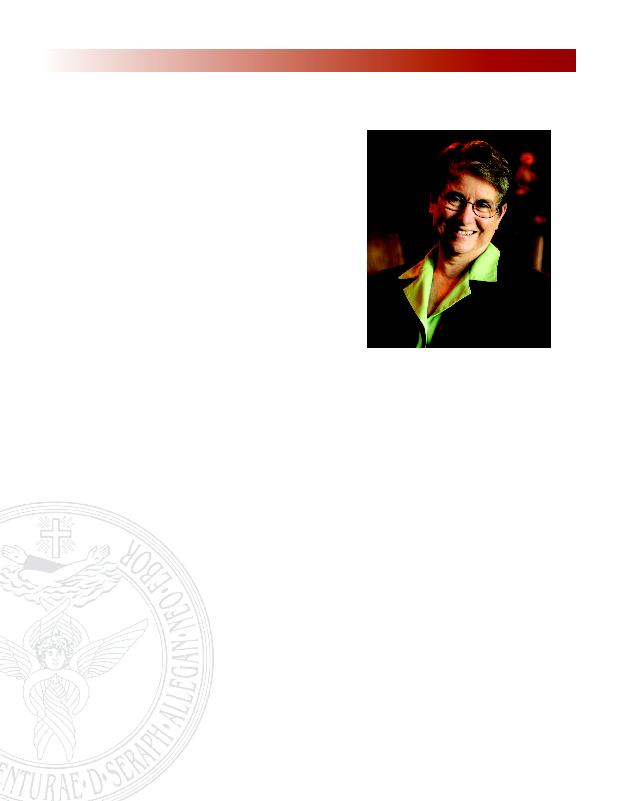 2
From the President
e've spent tens of millions of dollars on campus im-
provements in recent years. These investments have
been made possible in great part through the philan-
thropy of our alumni and friends. We get very posi-
tive feedback from all manners of campus visitors about the
continuing and increasing beauty of the campus and its status as an
architectural jewel of New York's Southern Tier.
One recent investment, however, has struck a resonant chord in
our community -- and has created a wonderful sense of hope and
optimism.
Of course, I'm talking about the restoration of our statue of the
Blessed Mother, which was made possible through the generosity of
the class of 1962 on the occasion of their 50th Anniversary Reunion.
When I was a little girl growing up in Pittsburgh, my family lived
within sight of the Motherhouse of the Sisters of Mercy. In the cen-
ter of their grounds was a beautiful statue of Mary. In her senior
year at Mt. Mercy Academy, my mother had been the May Queen.
Now this was the ultimate honor for a young lady of a Catholic
home in our section of the city. Believe me; I was reminded very
often when I was being less than a good young lady. "Remember,
your mother was the May Queen at Mt. Mercy!" This reminder was
meant to keep me on the right path and out of trouble.
On the sunny May afternoon when we rededicated the now pris-
tine statue, complete with her 12-star halo, I told the assembled
audience, including many members of the class of 1962, "Today I
feel like the May Queen."
It is also a moment that ties together dramatic strands of the his-
We know that this statue -- and the tabernacle door enshrined in
its base -- were two of the sacred objects that escaped the flames
that destroyed the original building of St. Bonaventure's College.
That fire took much but, from its ashes, Fr. Thomas Plassmann de-
manded that everyone come together to "build a better Bonaven-
ture." We have been doing that ever since.
When we had the privilege of celebrating our 150th anniversary
in 2008, Br. Ed Coughlin, O.F.M., and I -- along with other col-
leagues -- re-established a relationship with the descendants of our
first president, Fr. Pamphilo da Magliano. By a wonderful provi-
dence, we met them in their hometown -- his hometown -- of
Magliano di Marsi in Abruzzi, Italy. During the festivities of the an-
niversary, 21 members of the Pietrobattista family came here to see
the inheritance of their great ancestor's missionary zeal. Later, we
visited them.
During that visit we learned that Fr. Pamphilo had a great devo-
tion to Our Lady under the title of the Immaculate Conception --
W
Beloved statue's roots are stronger than stone
the title that this statue represents. We vis-
ited the friary of Magliano. There, over the
main altar of the chapel, is a painting that
portrays him in prayer before an image of
Mary. Further, we learned that every member
of that family takes Maria as a part of his or
her name to this day. We know, too, that it
was during the Synod in Rome that pro-
claimed the doctrine of the Immaculate Con-
ception that Bishop Timon finally succeeded
in getting the Franciscans to agree to come
here and found our college.
Thus, Mary has been part of our story from
the beginning. She was so important to
every generation of this place. And she will
continue to watch over us, inspiring hope
and faith among students and all others who
call the nation's first Franciscan university
home.
Pax et bonum,
Sr. Margaret Carney, O.S.F.
President of the University
Board Chair
Board Vice Chair
Fr. Frank R. Sevola, O.F.M., '82
Board Secretary
Lana D. Benatovich
Janet I. Bodnar, '71
Laurie A. Branch, '04
St. Bonaventure University Board of Trustees
Timothy J. Finan
Thomas M. Garvey, '74
Albert C. Horton, '66
Dr. Bharat Kohli
James E. Meyer, '76
Eugene M. O'Connor, Esq., `79
Rev. John F. O'Connor, O.F.M.
Fr. Kenneth P. Paulli, O.F.M.
William Purcell III
John V. Sponyoe, '61
James E. Stitt
Marvin W. Stocker, '75
Bernard E. Stoecklein
Lynda M. Wilhelm, '86
Trustees Emeriti
The Hon. Howard M. Holtzmann
Robert R. Jones, LL.D., '58
Charles Osgood, LL.D.
James E. Canty, '84
James J. Cattano, '65
Daniel F. Collins, '73
William M. Collins, '76
Kathleen A. Colucci, '77
Fr. Thomas E. Conway, O.F.M.
Joseph A. DeMaria, Esq., '79
Colette C. Dow, '88
Timothy F. Fidgeon Esq., '66