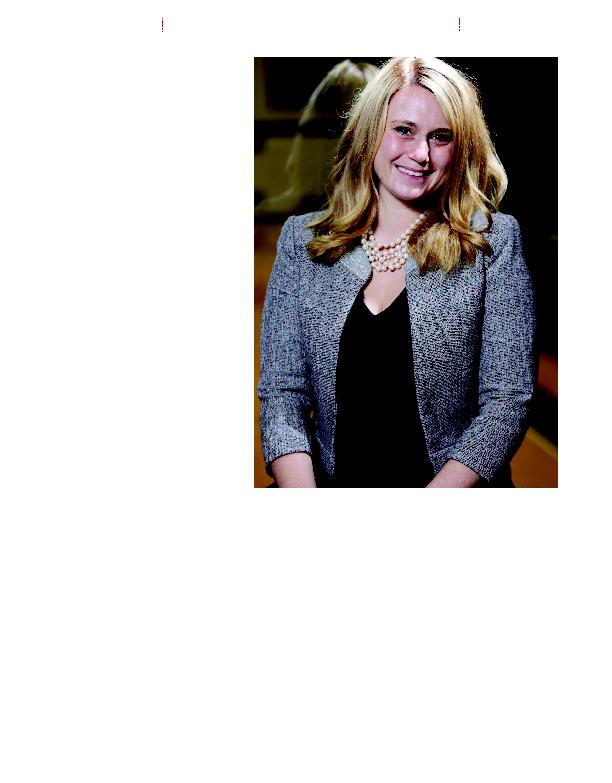 "I saw business at its lowest and was part of
its turnaround," she said.
Weaving her way through the business
world, Malik kept working hard and main-
tained an important network of friends and
mentors -- many of them Bonnies. Now, she
turns experience into advice for a shifting job
market.
"Work as hard as you can in your 20s, learn
as much as you can, and find people who will
support you and mentor you," she said. "And
find your passion ... There's a difference be-
tween chasing money and finding a career."
AT THIS POINT,
Malik feels more established
than ever, working on her MBA at the Univer-
sity of Notre Dame. She sees similar success in
other classmates.
"A lot of my classmates are starting to suc-
ceed, falling into their own in the last couple
of years," she said, noting that she often texts
or talks with fellow Bonnies a few times per
week.
Malik built much of this network while serv-
ing as her class president.
"Being president of the class really helped
me," said Malik. "It was fun and I was able to
know everybody -- I love people."
Beyond her duties as president, she also re-
members St. Bonaventure sporting events.
Earning the nickname "Go Bona's," Malik
played field hockey and attended sports
events while at Bonaventure, cheering along-
side fellow classmates. She revisited this pas-
sion for St. Bonaventure by traveling to
Nashville, Tenn., in 2012 to see the Bonnies
take on Florida State in the first round of the
men's NCAA basketball tournament.
"Being able to see the Bonnies play in
Nashville was an amazing experience and
catching up with classmates was great. We
were able to pick up where we left off," she
said.
MALIK ALSO
remembers her professors, par-
ticularly Fr. Allen Weber, O.F.M., and Dr. Carl
Case, for their sincerity and intelligence.
"The professors here take a genuine inter-
Other memories are more poignant, such as
9/11, when the Bonaventure community came
together to comfort those affected on cam-
pus.
"It felt good knowing I was safe, knowing
that there was a community that cared --
that if someone was down, we'd help
them," Malik recalled.
These Bonaventure experiences also inspire
Malik's non-profit involvement, one of her
life's cornerstones. Among other projects,
since 2011, she has volunteered her time
fundraising and mentoring for the Cystic Fibrosis Foundation, where
she organizes, markets, and participates in events that have grossed
more than $250,000.
Much of her volunteer experience has also benefited St. Bonaventure.
She served as a class chair from 2007-2013 and is preparing to serve
her initial term on the National Alumni Association Board.
Through her time and talent, Malik hopes to continue the Bonaven-
ture experience for new students, remembering how scholarships helped
her.
"I paid for college on my own," she said. "So I benefited from scholar-
With the class of 2018 now mid-year in their own "good journey," the
tradition continues, and Malik recognizes what it means for her and oth-
ers.
"I took advantage of everything I could at St. Bonaventure, took it into
my own life, and always tried to give back as my career has grown," said
Malik. "It's important to give back so that others can experience this."
(Brett Keegan is a Teaching and Learning Fellow in St. Bonaventure's
English master's program.)
Partnering with you today. Making a difference for tomorrow.
"There's a difference between chasing money and finding a career,"
says 2003 alumna Kayte Malik.
I
N

2
-
2