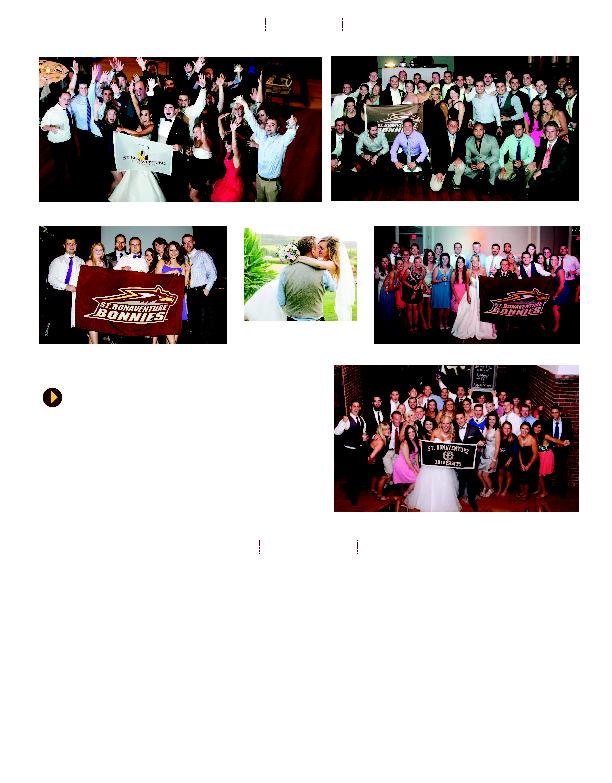 Lauren Adams, '11, and Kevin Okapal, '11
Lindsay Krug, '08, and Christopher "CJ" Maurer Jr., '08
Andra Anisorac and Vasile Godenciuc, '06
Stephanie Hacker, '09,
Katherine Kozsan, '07, and Brian Maxwell, '07, '08
To submit your announcement
· use the enclosed envelope
· email bonalumnus@sbu.edu
· mail to P.O. Box 2509
St. Bonaventure University
St. Bonaventure, NY 14778
All photos must be of good reproduc-
tive quality. Pictures submitted elec-
tronically must have a resolution
of at least 300 dpi. The university is
prohibited from publishing copy-
righted photographs, unless accom-
Guidelines
Kara Small, '10, and Conor Walsh, '10, '11
Abigail Catherine to Rebecca and
Timothy O'Brien, '96
Jonathan William Scott to Ashley
and Jeremy Donnelly, '97
Jackson Kenneth to Darcelle and
Lucas Jacobs, '98
Declan William to Erin (Guditus),
'98, and Andy McElwee, '00
Matthew Francis to Johanna
(D'Arcy), '99, and Graham
McHugh
Shaelynn Hope and Declan Sean to
Steph and Kevin Morey, '99
Junalie Susan to Juliet (Wallace),
'01, and Thomas Iwankow, '01
Welcome, Baby Bonnies!
panied by written permission from the pho-
tographer. Photos are published at the discre-
tion of the editor.
Don't forget to notify us of your new name or
address! Update your information at Bona's
Online at www.sbu.edu/bonasonline
St. Bonaventure University takes pride in its
alumni and joyfully shares the news of their
lives and achievements. Supportive of our
Catholic Church's teachings, publication of
announcements provided to us by our alumni
does not necessarily imply an endorsement
by St. Bonaventure University.
Griffin Walker to Penny (Soto),
'02, and Jonathan Myler, '01
Gerald Edward III to Cindy
(Mater), '01, '03, and Gerald Ed-
ward Nutt Jr.
Cassidy Angel to Holly and
Michael Bogart, '02
Fiona Grace to Jennifer and
Michael Cummings, '02
Sawyer James to Sarah (Brennan),
'02, and Ben Czekanski, '02
Peyton William to Casey (Weis-
han), '01, and Patrick Welch
Carl Raymond to Casey (Kloiber),
'03, and John Kuhn, '06
Jamison Ryan to Stacy (Mon-
aghan), '03, and Jon Poliseo
Harper Elizabeth to Kelly (Mallon),
'03, and Scott Reimann
Briar James to Pam (DeHaven),
'04, '05, and Matthew Hanrahan
Kayla Mary to Carri (Gregorski),
'04, and Ed Prue, '99
Harrison David to Rachel (Faber),
'05, and Kevin Bowers, '05
Declan James and Dylan Craig to
Rochelle (Zimpfer), '05, and
Kevin Lawless, '07
Tessa to Heather (Grimm), '05,
and Rob Powers
Bennett Alexander to Andrea (Co-
hoon), '06, '07 and Kyle Smith, '09
Benjamin Michael to Stacy (Brown),
'06, and Michael Swope, '06
Jacoby Charles to Ashley (Deuble),
'08, and Jayme Genco
Kieran James to Tara (Franklin), '08,
and Dave Hogan, '08
Aviana Joy to Alexandra (Holbrook),
'09, '11, and Victor Matos III
Nolan Ward to Kari (Tarnowski), '09,
'10, and Jeffrey Potter, Jr.
Sadie Rose to Reina (Nurnberger),
'10, and Drew Anderson