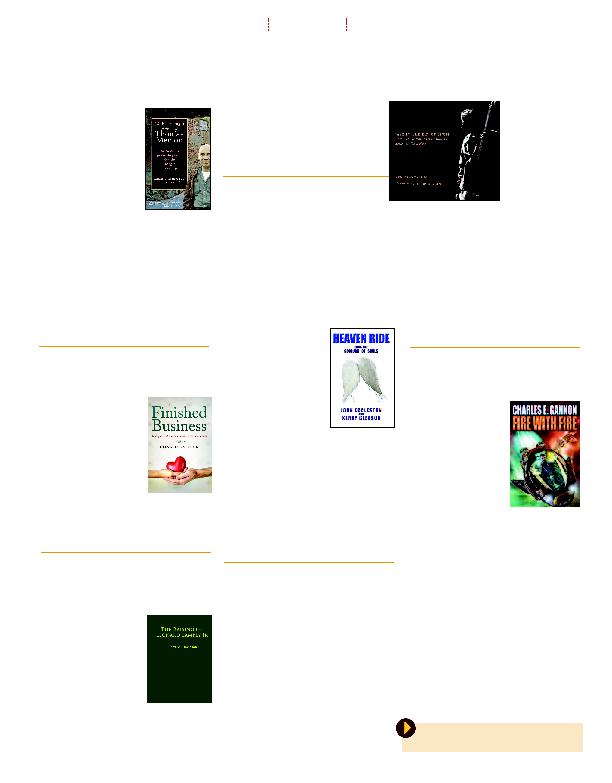 Daniel P. Horan, O.F.M., '05,
author of "Dating God" and other books
on Franciscan themes, has released another
must-read: "The Franciscan Heart of
Thomas Merton." Horan
masterfully presents the
untold story of how the
most popular saint in
Christian history inspired
the most popular spiritual
writer of the 20th cen-
tury, and how together
they can inspire a new
generation of Christians.
Merton's life was shaped by his love for
St. Francis and for the Franciscan spiritual
and intellectual tradition. Given recent re-
newed interest in St. Francis and 2015
marking 100 years since Thomas Merton's
birth, this timely resource is both informa-
tive and practical, revealing a previously hid-
den side of Merton that will inspire a new
generation of Christians to live richer,
deeper, and more justice-minded lives of
faith.
Donald Gallehr, '64,
Diana (Batch), '64, were proud to call St.
Bonaventure their alma mater. In 1996,
Diana was diagnosed with
brain cancer. Gallehr cared
for her in her last 17
months of life, and, when
she finally passed, he
turned to writing to help
him grieve. "Finished Busi-
ness" is the result of these
writings, and Gallehr
hopes that his book will
help others who are caring for their loved
ones in similar situations. "Finished Busi-
ness" is available in hard copy and e-book
forms.
No Frills Buffalo has published the first
John M. Davidson, '06.
Raising of Leonard Lamply Jr." tells the tale
of Leonard Lamply Jr., who was born into a
less than equipped family.
His overbearing grand-
mother, junkie mother,
and submissive grandfa-
ther are only a handful of
the people who inject tur-
moil into his life. Join in
the mayhem of those
who are endeavoring to
help Leonard. Track their
constant struggle with his delinquent
friends, drug dealers, and girls with low
self-esteem. Follow as you are led along the
arc of his life, from mischievous toddler to
troubled adolescent to mean-spirited and
felonious teen. Who is responsible for the
outcome of Leonard Lamply Jr.? I sup-
pose it all depends on your perspective.
Davidson lives with his wife and three
daughters in South Buffalo, where he
teaches in the Buffalo Public School Sys-
tem. Visit www.NoFrillsBuffalo.com or
Amazon.com for more information.
Kerry Gleason, '82,
John J. Eccleston on "Heaven Ride," a
techno-thriller about a brilliant entrepreneur
who helps invent a miraculous device that
can transport people to heaven and back
for a charge. While David Brownington
turns his discovery into a highly successful
business, ruthless rivals use a flaw in the
technology to steal it with the riches it
brings and a whole lot more.
Brownington, an entrepreneurial whiz at
one of the nation's best-known business
think tanks in San Fran-
cisco, recognizes that one
of the products he is de-
veloping is the linchpin in
some startling new re-
search being performed
by his housemate and
best friend, JW Gomez.
With two other friends,
they develop a method to
control out-of-body experiences that mimic
the soul's journey after death. They turn
this into a sleek, spa-like journey to heaven
-- a celestial Six Flags.
For some, Heaven Ride is a miracle; for
others, an atrocity. Brownington and
Gomez endure death threats, terrorist at-
tacks, psychopaths, and betrayal by people
they love and trust on the way to becoming
two of the most sought-after billionaire
celebrities on the planet.
Ken Franckling, '71,
the Key of Light -- Eighty of our Finest Jazz
Musicians Speak for Themselves," in Octo-
ber. It is not your typical fine art photogra-
phy book. Images of its featured jazz artists,
in performance or moments of personal re-
flection, are paired with illuminating quotes
from interviews Franckling had with those
musicians in assignments for a variety of
mainstream and music publications. New-
port Jazz Festival producer George Wein
wrote the foreword.
The spotlighted musicians range from leg-
ends Dave Brubeck, Miles Davis, Dizzy
Gillespie and Sarah Vaughan to a variety of
today's rising stars in jazz.
Franckling is a veteran arts writer and
freelance photographer who has special-
ized in jazz journalism and music photogra-
phy for more than
30 years. He
began carrying his
cameras to clubs,
concerts and festi-
vals across the U.S.
in 1983, after real-
izing that some
musical moments
were better cap-
tured by film than words. He was United
Press International's jazz columnist for 19
years. Franckling won an ASCAP Deems
Taylor Award in 1987 for excellence in
music journalism. In June 2003, he won the
Jazz Journalists Association's Lona Foote-
Bob Parent Award as Jazz Photographer of
the Year.
"Jazz in the Key of Light" is available
through Amazon.com. Signed or inscribed
copies are available directly from the au-
thor; details at kfjazzpix@aol.com.
Dr. Charles E. Gannon
, Distinguished
Professor of English at St. Bonaventure, has
authored five national science fiction best-
sellers since 2011: "Trial by Fire," "Fire With
Fire," "1636: Com-
modore Cantrell in the
West Indies," "1635:
The Papal Stakes" (with
Eric Flint), and "Ex-
tremis" (with Steve
White).
hard-science fiction inter-
stellar epics, urban fan-
tasy and military science fiction. In addition
to his novels, he has had many novellas
published or forthcoming in various an-
thologies (Ring of Fire/1632, War World,
Man-Kzin Wars, David Weber's Honor-
verse,) and in Analog Science Fiction and
Fact magazine.
Along with about 50 other SF writers,
Gannon is a member of SIGMA, the "SF
think-tank" that advises various intelligence
and defense agencies.
Gannon has three novels forthcoming in
2015: "Raising Caine," book three in the
Tales of the Terran Republic series; "Impera-
tive," book seven of the Starfire series, and
"1636: The Vatican Sanction."
Learn more about his various SF universes
and projects at www.charlesegannon.com.
Submit news about your new book, CD or other
multimedia work to bonalumnus@sbu.edu.
I
N

2
-
2