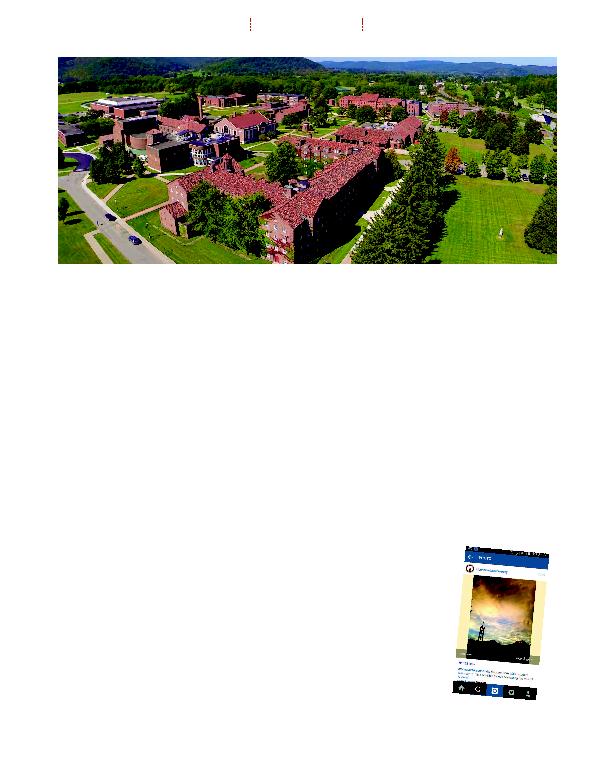 hysicist John Archibald Wheeler said, "Time is what
prevents everything from happening at once."
Most of what I know about physics I've learned
from watching the "Big Bang Theory." But we've all had
the experience of wanting to slow down time -- or dig in
with a paddle to speed it up.
I can't believe it's been six years since we introduced the
first issue of Bonaventure magazine to our alumni, friends
and campus. The issue in your hands is edition No. 13.
Shortly after we transitioned from tabloid to magazine
format, we conducted a survey to gauge our readers' in-
terests and habits and to see if we were meeting your
needs. (From that survey, I know that most alumni are only
reading this column after heading to the Class Notes to
see what's new with their classmates.)
This spring we'll reach out again to a sampling of our
constituents -- alumni, friends, faculty, staff, students and
parents -- giving everyone a voice in how we map our fu-
ture. In an upcoming edition, we will share with you what
we learn.
In this issue's cover story package, deans and alumni
from the schools of Education and Journalism share how
their jobs are evolving and how they're incorporating dif-
ferent technology into their work and life. Likewise, the
university is looking at those opportunities in the frame-
work of the magazine, ensuring staffing and resources are
put to good use. Who knows what new medium will be at
our fingertips in another six years?
We always welcome readers' input -- the good, the bad
and the in-between -- whether it's via a formal survey or a
quick email. Tom Missel's summer 2014 feature on the
McNamee family and their guidance in shaping a powerful
swim program moved many of you to share your own spe-
cial memories and inspiration. Warren Thomas, a member
of the Class of 1956 who lives in Georgia, wrote, "(It was)
wonderful to read how the spirit of Prof. John McNamee
has been instilled in his offspring. I, as one of his students,
have been instilled for all these years."
I hope the New Year is inspiring to you.
(Eberth is director of university communications at St.
Bonaventure.)
SBU's landscape: always evolving
On The Cover:
This amazing aerial photograph taken this fall highlights the physical changes in St. Bonaven-
ture's landscape in the past few years.
A Reminder to Keep in Touch
Please keep in touch! If you haven't
found SBU on Instagram yet, our
handle is @stbonaventureuniver-
sity. And don't forget to update
the Alumni Office when you
have a new postal or email ad-
dress. The @SBU e-newslet-
ter provides your inbox with
a monthly dose of Bona love
(as well as a heads-up as to
what alumni events might be
headed your way). Email ad-
www.sbu.edu/alumni
news about careers, marriages, births and book
www.sbu.edu/BonaMag