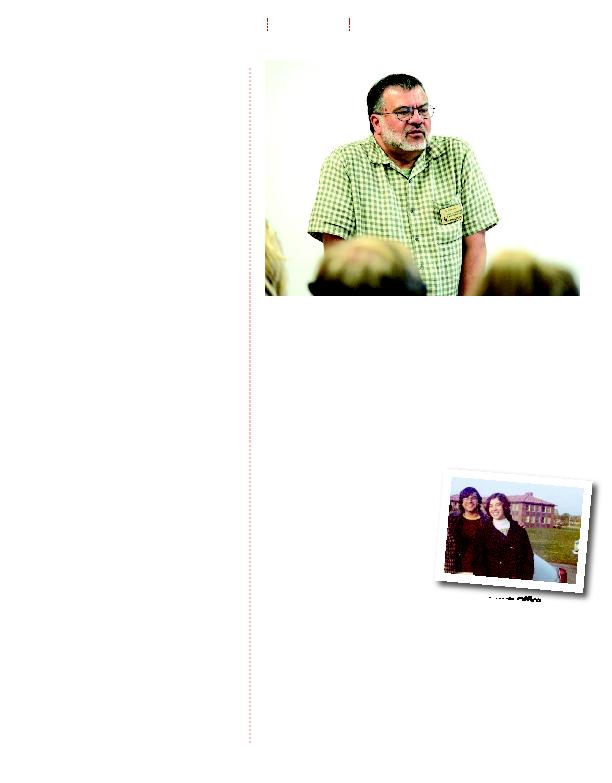 >> Continued from page 19
By Alexandra Salerno, '14, `15
f you had told freshly graduated English major Richard Lee in 1975 that
he would return to his alma mater to teach journalism, he would not
have believed you. Yet, Lee did just that in 2011 when he arrived back in
the Enchanted Mountains with his wife, Anne (Wojtaszek), '76, to be-
come assistant professor of journal-
ism and mass communication following
careers involving politics, public relations
and rock and roll. This fall marked Lee's
first as director of the Integrated Market-
ing Communications (IMC) graduate
program.
Lee's varied experiences include jour-
nalism jobs as the statehouse reporter
for The News Tribune in New Jersey
and rock music critic for Aquarian
Weekly. His work in government and
public policy include public information officer at the Mayor's Office
in Woodbridge, N.J., and deputy communications director at the Office of
the Governor in New Jersey. He also served as communications director for
the Hall Institute of Public Policy in New Jersey as one of its founding mem-
bers.
When Lee applied for a position as an assistant professor at his alma mater,
it wasn't until after spending time on campus interviewing and meeting with
faculty that he knew back at Bonaventure was where he belonged.
"Meeting with everyone and talking about journalism, that's when I knew
this was something I would be really interested in," he said.
Lee's interview process included questions about his career in politics and
journalism. He was impressed by how the faculty had clearly taken time to
research his career to date and ask specific questions about his previous posi-
today. One of the nicest things is that one of my
former students has been a fellow in the pro-
gram."
In 1996, while writing his dissertation, Wilkins
applied and interviewed at various schools across
the country for teaching jobs. Suddenly, he de-
cided to contact all of the schools he hadn't
heard back from. One of those schools was St.
Bonaventure. Wilkins received an email from de-
partment chair Dr. Mary Hamilton, who believed
Wilkins wanted to teach graduate level environ-
mental journalism courses, which St. Bonaventure
did not offer.
"I called Hamilton right away and said, `This is
Denny Wilkins, and I don't understand your email.
My cover letter said that I wanted to teach re-
quired skill courses or else I didn't want the job.'
On the other side of the phone, I heard the dean
rustling papers and she said to me, `Here it is on
the second paragraph of the second page. You
buried the lede.'"
Jokes and stories aside, Wilkins has now been
a Bonaventure professor for nearly two decades.
He has taught classes including Writing and Re-
porting, Feature Writing, Opinion Writing and
Building a Brand as a Blogger. He believes in a
solid foundation when teaching his student jour-
nalists.
"The thing I want my freshman and sopho-
more level students to do is realize that inaccuracy
comes at a very heavy price," he said.
Wilkins is known among students for a phrase
he is most often heard saying: "That's vague. Can
you be more specific?"
"I say it almost every class," Wilkins said. "The
nature of our business is precision. When some-
one speaks vaguely, I'm trying to teach (students)
that it's a reporting tool so if I keep reminding
them `that's vague, can you be more specific?'
over time it registers."
As students grow older, Wilkins focuses on
finding what passions they have and how they
can match certain passions with careers, much
like Wilkins did with environmental studies and
the media.
"When I teach blogging and opinion writing I
try to get students to marry their abilities to their
interests because frankly that's what lies ahead of
them," Wilkins said.
For Wilkins, the joy of teaching 18 years of stu-
dents at St. Bonaventure and five years at Col-
orado is surpassed only by the deep connections
he maintains with many former students.
"I've watched these kids leave here, get mar-
ried, have children, begin their lives. I've been
here long enough that I'm helping them find sec-
ond jobs and third jobs. That is an absolute perk
of this job," he said.