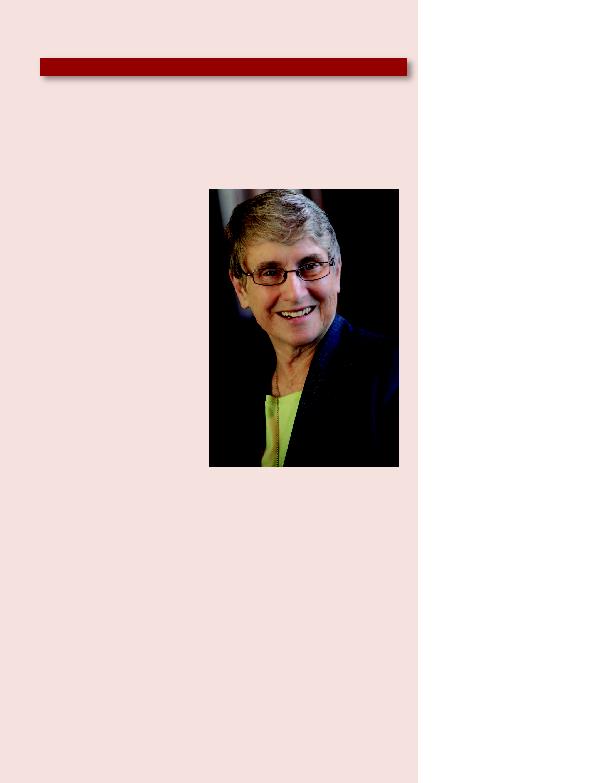 ith Devereux Hall's ivy
blazing red and the
grove near Plassmann
tinted like a setting sun, fall
washes over St. Bonaventure,
bringing nostalgia with its early
evenings and foggy dawns. For
Kayte Malik, '03, the October Na-
tional Alumni Association Board
meeting also brought a chance to
revisit Bonaventure, taking in old
sights with new perspectives --
though the sights weren't so far
behind.
"In work and in life, Bonaven-
ture means good journey," said
Malik. "And I always come back
to that good journey." In touch
with fellow Bonnies, conscious of
her Bonaventure beginnings, and
informed by work since gradua-
tion, Malik remains grounded in
the memories of her alma mater,
while moving forward.
Since earning her BBA in Busi-
ness Information Systems at St.
Bonaventure, Malik has worked
mainly in business technology and
marketing roles, most recently
joining Sears Holding Corporation
as an eCommerce product man-
ager. There, she develops and
manages the digital products and
tools for the footwear business
and Kmart Apparel.
"It has been really neat to be
part of something that has
evolved and continues to evolve,"
said Malik. "It's like being a trail-
blazer, in a way."
Working in Charlotte, N.C., as a
technology consultant for Wa-
chovia/Wells Fargo during the fi-
nancial crisis proved one of the
most formative parts of her work-
ing experience.
or the past decade, Sr.
Margaret's "swift pace"
and "unswerving" step
have led St. Bonaventure
University. Sister has steered our
University through fundraising cam-
paigns totaling more than $112
million; cultivated a spirit of aca-
demic rigor; encouraged students
to lives of service; and engaged alumni to assist with internships and job placement.
The past 10 years have also witnessed the most exciting physical transformation in
the history of the campus.
The Mille Grazie Scholarship has been established in honor of Sr. Margaret's many
accomplishments and milestone anniversary. On special occasions, Sr. Margaret often
uses the Italian expression "Mille grazie"-- a thousand thanks. The phrase evokes
images of our roots and of our patrons: Saints Bonaventure, Francis, and Clare.
In Franciscan spirit, the Mille Grazie Scholarship will provide need-based aid, filling
the financial gap for talented students who might not otherwise be able to experi-
ence a St. Bonaventure education.
Please invest in today's learners -- and in tomorrow's leaders -- with a gift to the
Mille Grazie Scholarship in honor of Sr. Margaret's leadership. Our goal is to raise
$500,000 during the next five years for scholarship aid.
Make your contribution online now at
www.sbu.edu/millegrazie
your donation will pay tribute to Sr. Margaret's many accomplishments and will pro-
vide financial assistance that paves the way to success for our students. And that's
The Power of a Bonnie.
For more information about a gift to the Mille Grazie Scholarship, please contact
Mary C. Driscoll, '79, vice president for University Advancement, at (716) 375-2331
or mdriscol@sbu.edu.
Watch for spring 2015 Mille Grazie celebrations at
www.sbu.edu/alumni
Look back.
Give back.
Power
forward.
Join the 10th anniversary
celebration of our president,
Sr. Margaret Carney, O.S.F., S.T.D.
joyfully and swiftly ..."
~ Clare of Assisi