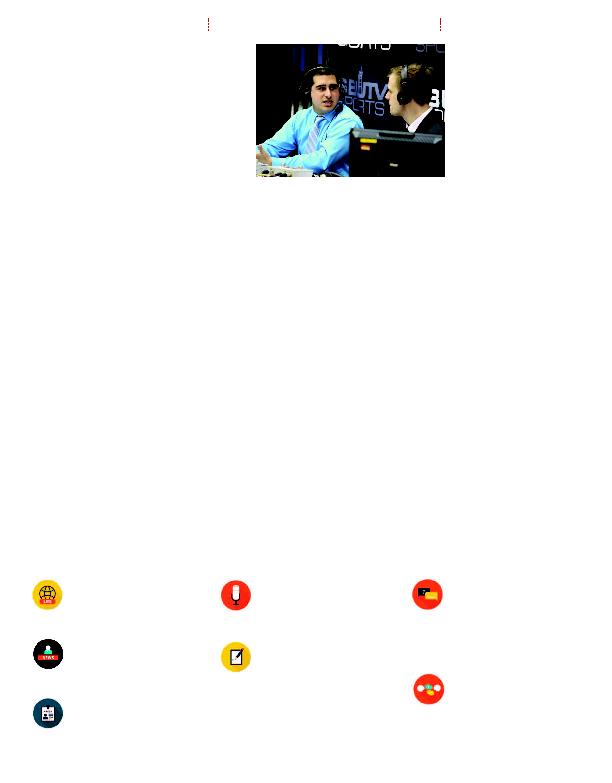 The public relations and
strategic communication pro-
fessional: Through our in-house
integrated marketing communica-
tion agency, Synapse Matters, stu-
dents craft plans for area small
businesses and nonprofits.
The social media professional:
Students serve as the social
media directors and ambassadors
for the SBU Office of Admissions
and the School of Journalism and
Mass Communication.
The professional radio personality
and executive: Students operate The
Buzz 88.9, SBU's campus radio station
available online and on your FM dial.
The advertising professional:
Through the organization Kwerkworks
(the name of our American Advertising
Federation group), students develop adver-
tising campaigns for national companies and
organizations. This year they're working for
Pizza Hut. They compete with other top
schools annually in New York City for the
opportunity to have their campaign
adopted by the company.
need research; others may need social media guid-
ance; still others may want input on PR and/or ad-
vertising. Students cater to the needs of the client
and sit down to talk about options. There may
also be a certain degree of client counseling.
This fall, we debuted our Journalists' Workshop
class. Students cover the local area as journalists,
much as SBU-TV has done with broadcasting for
years. In addition to covering local town and
school board meetings, students have fun cover-
ing pop culture and feature stories.
student work, please view
jwsbu.wordpress.com.]
We recognize the importance of experiential
learning for our students, starting as early as fresh-
man year. We are proud that our students are job-
ready when they graduate and that they are
getting excellent jobs in the field or are going on
to graduate school and then excellent jobs. The
selection of alumni stories on the next page pro-
vides a view into the kinds of professionals today's
Jandoli School is cultivating.
OUR STUDENTS ARE ALSO AWARD WINNERS.
Check out our Points of Pride to read about some
of our bragging rights. These students join a long
list of award-winning alumni. We expect our cur-
rent students to continue in the footsteps of those
of you who have come before.
We have also redesigned several of our key
events. Communications Day (formerly Press Day)
has now become CommDay. Students compete
with videos, photo essays, feature/news stories,
websites and advertising campaigns centered on a
common theme. This year, we have also asked
faculty and upper class students to visit high
schools and offer master classes. It's a wonderful
way for our faculty to reach out and show West-
ern New York high school students what careers
are possible with a communication degree.
>> Continued from page 13
The Changing Landscape ~ School of Journalism
WE ARE PROUD OF OUR FACULTY.
ulty are academically and professionally quali-
fied. We have faculty who were (and still are)
working journalists, from reporters to editors to
managing editors to freelance writers. We have
authors of fiction and nonfiction books. We
have active bloggers who maintain blogs that
are regularly read by hundreds and sometimes
thousands of people.
We have faculty who are adept at using so-
cial media strategically to better their entre-
preneurial business ventures as well as their
freelance outlets -- and these social media
outlets are followed and liked and retweeted
by hundreds and sometimes thousands. All of
these activities help our faculty members
teach students the latest techniques and best
practices in our ever-changing field.
The field of communication is an ever-evolv-
ing one. In the time it's taken you to read this
article, something in the field has changed. The
Jandoli School has accepted the challenge to be
the leader in communication education while
maintaining the vision and mission of a world-
class program.
To see what else we are up to, find us online
via Twitter, Facebook, LinkedIn, Pinterest, In-
stagram, and Wordpress using BonasJMC, or
visit our social media hub at
The professional sports broad-
caster: SBU-TV students broadcast
our Division I men's and women's bas-
ketball games via internet stream.
The professional news broad-
caster: SBU-TV students produce a
weekly television newscast that is
available both online and on our local
cable system.
The professional journalist: Stu-
dents produce The Bona Venture
newspaper (available in print and on-
line) and The Intrepid online news source.
· An SBU J/MC major has won
the Buffalo Broadcasters' Tim
Russert Medal of Merit four of
the seven years it has been pre-
· More SBU J/MC majors have
won the prestigious Murray
Scholarship for Excellence in
Sports Writing than any other
· For the first time, SBU J/MC
students have won local and re-
· Students have earned intern-
ships at Corning, Inc., Oppen-
heimer Funds, Sirius Satellite
Radio, The White House, "Meet
the Press," CNN, Glamour, Fit-
ness, and Allure magazines, Edel-
man public relations, and Fort
· There are now five Pulitzer
· CommDay (formerly Press Day
and Communications Day) has
engaged hundreds of high school
students in journalism, strategic
communication, and digital
· The J/MC Advisory Council is
composed of alumni and friends
-- all leading professionals from
all corners of the journalism and
strategic communications fields
-- and provides guidance to aca-
demic and co-curricular pro-
gramming and special initiatives,
· We are pursuing national ac-
creditation with the Accrediting
Council on Education in Journal-
ism and Mass Communications
A look at the professional faces of today's J/MC student