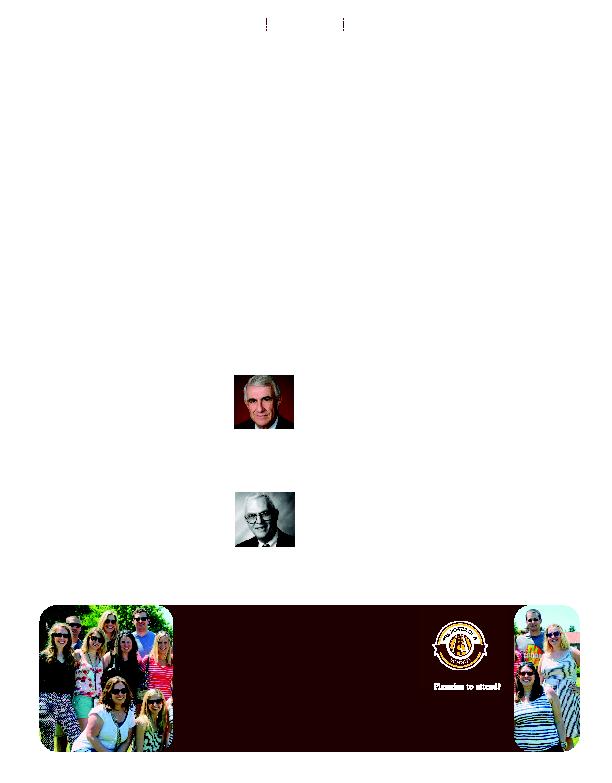 Jay C. LickDyke, '58, passed away May 10, 2014. A diehard Bonnie, he and his wife,
Priscilla Cunningham, were foundational benefactors and supporters in the early years of
The Regina A. Quick Center for the Arts. Both served on the University Arts Council, pro-
viding guidance to the center as it opened on campus. His impact on the arts at St.
Bonaventure can be seen in the naming and funding of the LickDyke-Cunningham Prints
and Drawings Study Room in the Kenney Museum, in numerous donated works of art in
the University's Permanent Collection and through significant contributions to events,
restoration projects and equipment purchases for The Quick Arts Center. LickDyke's true
contribution, however, came in the giving of his wise counsel on budgets, program devel-
opment and his true passion for the ways that Bonaventure's history might inform its
present and future in what was then a new cultural center.
Trustee John Sponyoe passed away Oct. 14, 2014. A 1961 graduate, he
was a longtime member of the Devereux Giving Societies and a loyal
major donor to the University. He served on the Board of Trustees from
2005-2014, where he chaired the Finance Committee and was known
for his soft voice and strong words of wisdom. Founder of a Bona's
legacy family, his son J. Christopher Sponyoe graduated in 1986 and his
grandson Christopher "Drew" Sponyoe graduated in 2013. He served as an officer com-
manding an Artillery battery in the U.S. Army until 1965, when he began his career in the
private sector at IBM. In 1999, he was named President/CEO of Lockheed Martin Global
Telecommunications, where he remained until his retirement in 2002.
Dr. James White, professor emeritus and longtime professor of biol-
ogy, passed away Oct. 23, 2014. In addition to serving two terms as
chairman of the Department of Biology at St. Bonaventure, he also
served as acting dean from 1993 to 1994 and subsequently as the
dean of the School of Arts and Sciences at the university from 1994 to
2003. During this time, he established a Science Advisory Council,
whose efforts eventually led to the construction of the William F. Walsh Science Center.
He retired in 2009 after 42 years of service.
Francis J. Guidone, '72, Jensen Beach, Fla.
Daniel F. Kula, '72, Portville, N.Y.
John Scarzafava, Esq., '73, Oneonta, N.Y.
Walter J. Zoller, '75, Greenville, N.C.
Lewis J. Novotny, '77, East Amherst, N.Y.
David E. Connolly, '78, Milford, Maine
Sr. Christine Vladimiroff, '79, Erie, Pa.
Ardythe A. Weston, '79, San Diego, Calif.
Patricia A. Money, '83, Fairfield, Conn.
Bonnie C. Gallagher, '86, Camden, Maine
I
N

2
-
2
James McCloskey, '35, Grand Island, N.Y.
Rev. Martin A. Hanhauser, O.F.M., '39,
Ringwood, N.J.
Thomas J. Monforte, '39, West Melbourne, Fla.
Edwin A. Foster, Esq., '49, Hilton, N.Y.
Bruno Campagnari, '50, Olean, N.Y.
Anthony V. Cotroneo Jr., '50, Fairport, N.Y.
Gerald J. Fordham, '50, Salamanca, N.Y.
Rev. Mark S. Roueche, '50, Warren, Pa.
Richard A. Schott, '50, Hemet, Calif.
Norman J. Eckl, '51, Pittsford, N.Y.
James P. O'Hara, '51, Bath, Pa.
Richard Trombetta, '51, Jensen Beach, Fla.
Dr. Gerard F. Joyce, D.D.S., '52, Pittsford, N.Y.
Lucian L. Lodestro, Esq., '52, Falconer, N.Y.
James W. McDonald, '52, East Amherst, N.Y.
Leo J. Pranitis Sr., '52, Rolling Meadows, Ill.
Michael D. Fitzsimmons, '53, Crossville, Tenn.
Alfred G. Donofrio, '54, Arlington, Texas
Dr. James C. Adrian, D.D.S., '55, Amherst, N.Y.
Joseph A. Cushing, '55, Litchfield, Conn.
Ronald D. Geuder, '55, Broken Arrow, Okla.
Lawrence L. Bowen, '57, Lima, N.Y.
Stuart J. Conto, D.D.S., '58, Southbury, Conn.
Jay C. LickDyke, '58, Hampton Bays, N.Y.
Bishop William J. McCormack, L.H.D., '59,
New York, N.Y.
Rev. Robert P. Fidor, '60, Cleveland, Ohio
Donald W. Maitland, '60, Palmyra, N.Y.
John V. Sponyoe, '61, Naples, Fla.
Edward L. Burwell, '62, Spring, Texas
Dr. Lawrence J. Vanty, '62, West Hartford,
Conn.
David J. Brown, '65, Atlantic Beach, Fla.
Frank A. Moretti, Ph.D., '65, Bronx, N.Y.
Rev. Michael J. Putich, O.F.M., '65,
Williamsville, N.Y.
William F. Velsor, '66, Coals, N.C.
Frank A. Fortuna, '68, Long Valley, N.J.
Paul J. Grekalski, '69, Frewsburg, N.Y.
Donald J. Keller, '70, Seminole, Fla.
Robert W. Deverna, Jr., '71, Northport, N.Y.
Rev. James H. Kasprzyk, '71, Simpsonville, S.C.
Diane M. Driscoll, '72, Olean, N.Y.
In Memoriam
Alumni Deaths
A directory of deceased alumni is available on Bona's Online.
Not a member of Bona's Online? Visit www.sbu.edu/alumni to register.
Jeanne M. Dangle, '87, Baldwinsville, N.Y.
Gerard T. Manko, '91, Moon Township, Pa.
Arthur E. Cooney Sr., '92, Salamanca, N.Y.
Gary J. Strong, '95, Blaine, Minn.
Thomas S. Kacalski, '01, Hamburg, N.Y.
Kelly R. Scanlon-Mazon, '04, Cape Coral, Fla.
Dr. Nicholas J. Aquino, '07, La Quinta, Calif.
Leah A. Bingeman, '08, Buffalo, N.Y.
Ryan C. Hughson, '13, Palmyra, N.Y.
It's your reunion year,
keep your connections in gear!
Join us in celebration of
The Power of a Bonnie
Reunion Weekend, June 5-7, 2015
All are welcome! We will honor graduates of classes
ending in "0" and "5" and celebrate the 50th anniversary
class of 1965 and years prior
Planning to attend?
Want to see who's
coming? Find this
and more at
www.sbu.edu/reunion