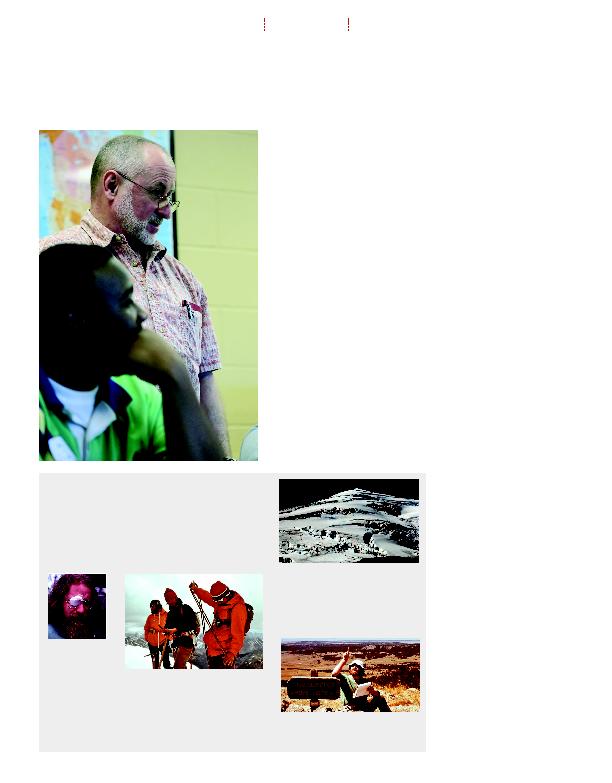 r. Dennis Wilkins, professor of
journalism and mass commu-
nication (known to students
simply as Denny), jokes that
the only reason he ended up
at St. Bonaventure is because he
walked down a random set of stairs at
the University of Colorado Boulder.
"I try to teach behaviors that lead to
success," Wilkins said. "I do that in all
my courses and they boil down to
three things: attention to detail; com-
mon sense; and disciplined, intelligent
effort."
Wilkins' story begins with a career
course change at the University of
Massachusetts after deciding to leave
the news industry he'd worked in for
years. The course concluded with a list
of the top 10 careers that best suited
Wilkins.
"It was one of the most extraordi-
nary experiences I'd ever had," said
Wilkins. "My top two careers were
community college teacher and run-
ning an environmental group. It made
sense because I'd been covering all of
the environmental groups in New Eng-
land, so I was pretty sure I could have
2) The summit of Mount Athabasca, the
second-highest mountain in Canada, on
Aug. 9, 1974. "The two other climbers,
both Canadians, had just told me that
Nixon had resigned," said Wilkins.
Denny Through the Lens
Denny Wilkins is known for his love of photography and
unique snaps around campus. He bought his first camera
in 1964, and it still works. Most photos below were taken
with Wilkins in front of the lens instead of behind it. His
own photography can be viewed at
5280lensmafia.wordpress.com/author/drdenny/.
I
N

2
-
2
found a job, but I needed cre-
dentials first."
Wilkins found his credentials in
1990 when he graduated from
The Evergreen State College with
a master's degree in environmen-
tal studies to complement the
bachelor's degree in geology he
earned from the University of
Massachusetts two decades ear-
lier.
"Once I graduated from Ever-
green, I was going back to New
England, but I stopped in Boul-
der, Colorado, to visit friends,"
Wilkins said. "I was showing my
master's thesis to a friend of
mine, and he told me that the
person I'd quoted extensively in
my research, named Lee Wilkins
(no relation), taught at University
of Colorado, so I drove down
from my friend's place to see if I
could talk to her."
The SBU professor recalled ar-
riving at the Boulder campus and
searching for Lee Wilkins in the
directory during a mid-June after-
noon when the campus was a
ghost town. He looked all over
the building but could not find
her office. For a reason still un-
known to him, he decided to
walk down a random set of stairs
when, suddenly, double doors
opened and a man stuck his
head out of an office to see if he
needed help.
That man ended up being the
dean of the Journalism School at
University of Colorado Boulder.
Wilkins recalled being inter-
viewed for two hours by the
dean before being told to apply
for the Ph.D. program.
"What he really wanted was
the background I had, because
he wanted to start a center for
environmental journalists, and
that's what I came in to do,"
Wilkins said. "I helped faculty
write the prospectus, and it's up
and running and still running
CLASSROOM PHOTO BY DANNY BUSH, '13
TEXT BY ALEXANDRA SALERNO, '14, '15
4) The summit of Devils Tower in
3)"No one will ever be able to take this
picture again. This is a view of the sum-
mit of Mount St. Helens. It blew up just
nine months after I took this picture
about a thousand feet below the sum-