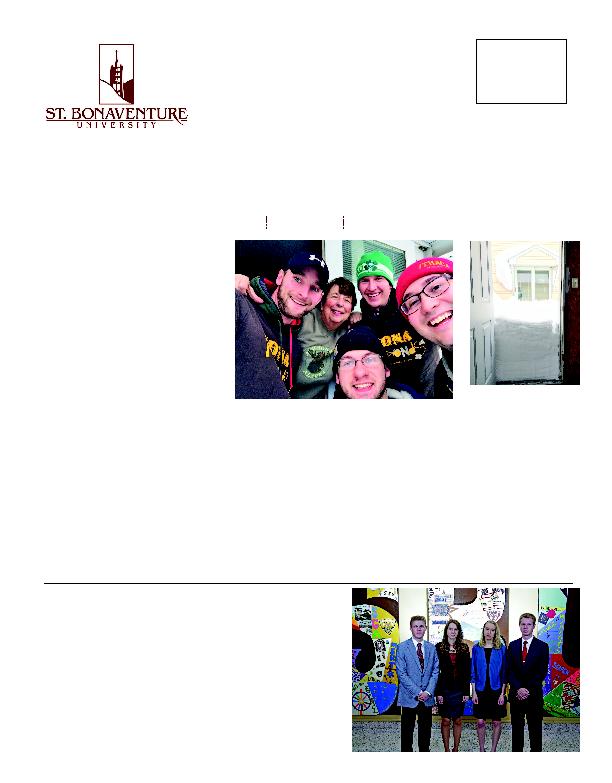 St. Bonaventure, NY 14778
Even 88 inches of snow doesn't scare
BonaResponds. That's what residents in the
hamlet of Cowlesville, 25 miles east of Buffalo,
were facing in the aftermath of a daunting
winter storm that dumped from 4 to 7 feet of
snow across a swath of Erie and Wyoming
counties the week before Thanksgiving.
BonaResponds waited for the snow to settle
and driving bans to be lifted, then gathered
students, employees and alumni and headed
north on three trips Nov. 21-23 to West
Seneca and Cowlesville.
Dr. Jim Mahar, BonaResponds adviser and fi-
nance professor, said almost four dozen volun-
teers pitched in -- and broke seven shovels
hauling the sodden snow as weekend temper-
atures climbed into the 50s.
Rob Ryer, Phil Penepent, Steve Gearhart and
Brian Mikewicz, all recent alums of St.
Bonaventure and BonaResponds, joined cur-
rent Bona students in West Seneca to lend a
hand.
"All four of us enjoy doing the job no one
else wants to do, and will help the person that
everyone else overlooks," Ryer said. "That is
kind of the motto of BonaResponds. ... We wanted to
find that road in a suburb of Buffalo that hadn't been
touched yet. That is why we went (to West Seneca)
and chose those houses. Their driveways had not
been touched, and they were far too old to be able to
accomplish the task on their own.
"We gave those people the opportunity to leave
their house for the first time. It really was an awesome
thing to be a part of," Ryer said.
No job is too big (or too
cold) for BonaReponds
champion SBU women's
rugby team made the trek to
the Cowlesville area Nov. 23
to help dig out coach Dr.
Tracy Schrems, a lecturer in
SBU's English department,
among others.
in the aftermath of Hurricane
Katrina, BonaResponds
(www.bonaresponds.org)
has assisted victims after
more than 100 disasters in
the region and across the
country.
ABOVE: Alumni Rob Ryer, '11 (clockwise, from left);
Brian Mikewicz, '12; Phil Penepent, '11; and Steve
Gearhart, '11, are pictured with a West Seneca
homeowner. RIGHT: A common scene across the Buf-
falo region.
The Power of a Bonnie can be seen in all of our students. It has also been
a proud tradition in many families for generations. The Kibbe family of Har-
rison Valley, Pa., is a perfect example of a family who has learned the value
of a Bonaventure education and has emulated The Power of a Bonnie.
Kathryn Kibbe, class of '79, was a German and French double major who
earned her teaching certification.
Her four children are all pursuing undergraduate degrees at Bona's:
Steven (right), a senior political science major; Amelia (second from left), a
sophomore journalism and mass communication (J/MC) major; and fresh-
man twins Ethan (left) and Ellen. Ethan is a J/MC major, while Ellen is an
English major. Learn more about their story at
www.sbu.edu/Kibbe
Families Matter: The Power of a
Bonnie seen generation to generation