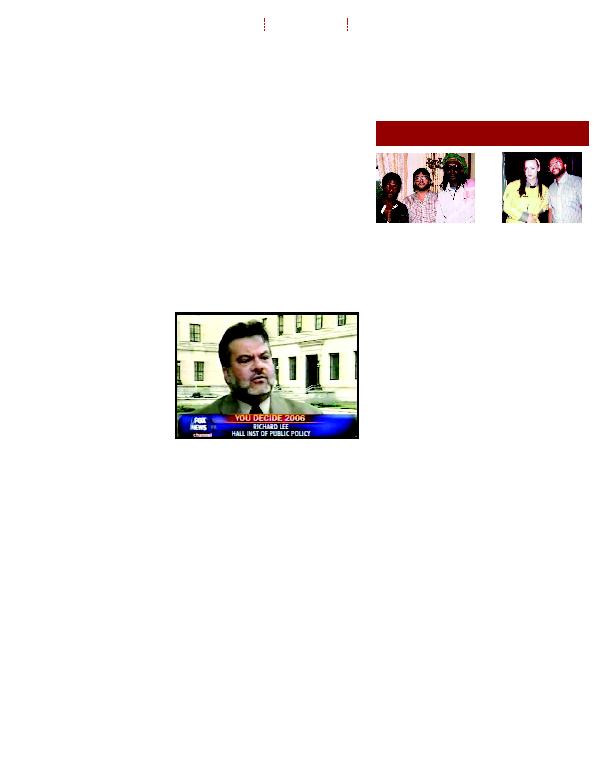 What is your favorite interview from
your time as a rock music critic for
Aquarian Weekly?
Her name was Melanie, and she was a popular folk
singer. My wife's brother adored her, and she was
playing at a club in NYC. It ended up being a differ-
ent type of interview than most that I'd done be-
cause we had dinner together (instead of meeting at
a record company office).
We know you would choose Beatles
over Stones, but what's your favorite
Beatles' song of all time?
Depends on the mood I'm in, but I do love `I've Just
Seen a Face.'
What's it like hosting a radio show on
WSBU 88.3, The Buzz?
When I was a student, you had to try out, and I got
rejected every year. Once I became a teacher, one of
my students heard about my background with
music and asked me if I'd like to do a show. I really
look forward to it, and I try to do a theme for each
show.
As journalism evolves, how do you use
technology in the classroom to keep
your students up to date on media trends?
The way people communicate today is changing. I
tell my students, `I'm not going to teach you how to
use social media. I'm going to teach you how to use
it as a journalist.' I also have some of my classes run
their own blog. I've done campaign blogs where
each student covers a certain state, and during non-
campaign years we run a baseball blog where each
student covers a baseball team to learn what it's like
to write for a beat.
Where is your favorite spot on campus?
Café LaVerna. I love that coffeehouse atmos-
Yet, of course, the day wasn't with-
out some more lighthearted banter.
"I remember Professor (Pat) Vec-
chio's first question in my interview
was, `Beatles or Stones?' and I an-
swered `Beatles,' which he replied was
the wrong answer," Lee laughed.
The university holds many memories
for Lee as an undergraduate, including
meeting his wife of 37 years. Anne
teaches undergraduate journalism
courses. They were married in the
chapel on campus.
"I didn't come back to Bonaventure
out of a sense of nostalgia, though,"
said Lee. "I came to make journalism
better by working with students who
will become the next wave of journal-
ists."
Included in Lee's teaching schedule
during the fall semester was
an honors course, Decision
2014: An Exploration of Cam-
paign for Governor of New
York State, which he devel-
oped. The course looked at all
components of elections in
broad terms and then specifi-
cally applied them to the New
York state governor election.
Lee's students also researched
what the media was covering
versus what voters were inter-
ested in.
"They each followed a news organ-
ization and coded it by topic so you
can see what the press is covering,"
said Lee. "Then we looked at a Sienna
College poll where the voters were
asked, `what's the most important
issue to you?' You could see a real dif-
ference between coverage and what
was important to people."
In his first semester as director of the
IMC program, Lee believes it is too
early to determine his long-term goals
for the program, but said his first goal
is keeping the program at its already
high standard.
"It's a great program," said Lee.
"When you walk into a program that
is already doing well and is successful,
it's kind of a challenge, first of all, to
make sure you maintain the high
level that it's at."
For Lee, one of the most rewarding
parts of teaching is how much he can
directly impact students because they
are so eager to learn. He loves receiv-
ing emails from recent alumni about
their lives post-grad. An alumnus
emailed him with news about starting
graduate school and pursuing a career
as a music writer.
"It's amazing how much you write
or say to a student means to them,"
said Lee. "Something that may seem
small to me like a note to a student
when they are doing a good job
means so much to them," said Lee.
Lee holds a master's degree in pub-
lic media arts from Montclair State
College and received his Ph.D. in
Media Studies from Rutgers Univer-
sity. One of Lee's biggest goals for the
future is to make sure his students
are passionate about their fields, espe-
"I hope to continue making students
excited about being journalists," said
Lee. "There's often excitement around
things like radio, advertising and pub-
lic relations, which are all important,
but I want to also make sure that
there's that same excitement about
being a journalist."
Lee believes a degree from the
school of journalism can help students
accomplish whatever plans they may
have.
"We always tell people the skills you
learn in the journalism school transfer
into any career," said Lee. "You learn
to collect information, organize it and
communicate it, and that's what a
journalist does. That's what a public
relations professional does. In so
many fields you follow that same
process."
I came (back to Bonaventure) to make journalism better by working
with students who will become the next wave of journalists.
"
''
I
N

2
-
2
Q
Q