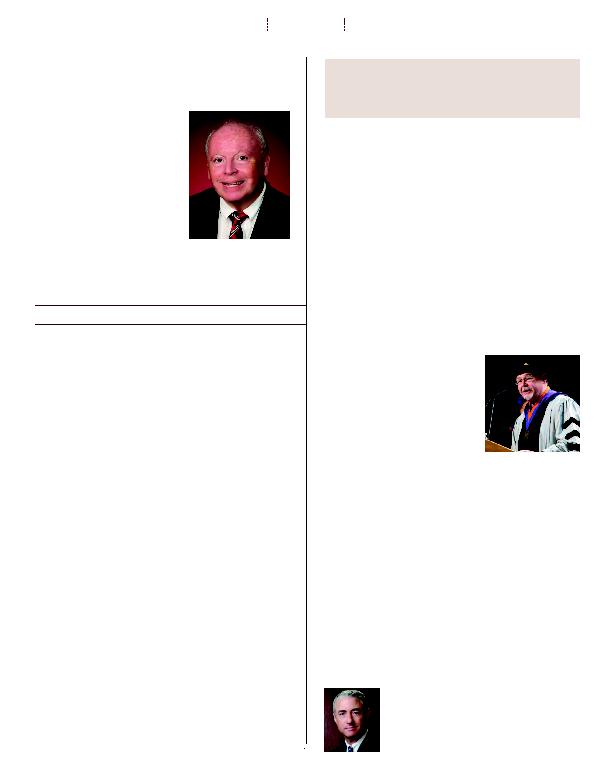 50th Reunion ~ June 5-7
1965 -- Ken Steffan received the Wright Brothers "Master Pilot"
Award in recognition of more than 50 consecutive years of dedi-
cated service in aviation safety. He first soloed on July 4, 1959, and
has accumulated more than 22,000 hours flying various civilian and
military aircraft. Steffan retired in 2003 after 36 years of flying for
Pan Am and Delta airlines. He still flies for enjoyment with his wife,
Christine, and some of his 13 grandchildren.
1966 -- Ronald Scott is enjoying retirement. He now spends time
traveling and visiting his grandchildren with his wife, Angela, with
whom he is celebrating 46 years of marriage. He has also been en-
joying vintage auto racing throughout the U.S.
1968 -- Susan Mikula Campbell of Youngstown has retired as a
writer and editor for the Tribune, part of the Grand Island-based Ni-
agara Frontier Publications. The Niagara Town Board, which she reg-
ularly covered, honored her with a certificate of appreciation. Shortly
after graduating from St. Bonaventure, she joined the Niagara
Gazette as a reporter and feature writer.
1969 -- Dr. David Van Buren retired as
associate vice chancellor for academic af-
fairs and dean of the School of Graduate
Studies at the University of Wisconsin-
Platteville. Prior to joining the faculty in
1976, Van Buren served on the staff of
the Criminal Justice Coordinating Council
in the Mayor's Office in New York City
and worked as the coordinator of public
housing security for the city of Albany. He
earned his M.A. and Ph.D. in criminal justice from SUNY at Albany.
Prior to entering the university's senior administration, Van Buren en-
joyed a distinguished teaching career at UW-Platteville, receiving the
Phi Kappa Phi Honor Society's Award for Excellence in Teaching and
the Teaching Excellence Award of the College of Liberal Arts and Ed-
ucation. In 1987-88, he served as a member of the Faculty of Law at
the Institute of Criminology at Cambridge University in England.
Later, as a visiting scholar at Northern Arizona University, he re-
searched Navajo peacemaking and the tribal courts of the Navajo
Nation. He is a past president of the Wisconsin Criminal Justice Edu-
cation Association. In 2000, Van Buren was appointed associate vice
chancellor and graduate dean. In that capacity, he was deeply in-
volved in developing programs with UW-Platteville's partner univer-
sity in China. Through this collaboration, UW-Platteville became the
first university in Wisconsin approved by the Chinese government to
host a Confucius Institute for teaching Chinese language and cul-
ture, and Van Buren was appointed its dean. Van Buren has been of-
fered a teaching position at South-Central University for Nationalities
in Wuhan, China, but says he would like to travel and visit family
and friends before making any final decision regarding the position.
1974 -- Walter Brasch, after 40 years in the pub-
lic accounting profession, is now pursuing other
business opportunities in the New Jersey and New
York City marketplace, including joining boards of
directors of companies and chairing audit commit-
tees.
Dear fellow alumni and friends,
n keeping with the theme of this
edition of Bonaventure magazine,
I would like to celebrate the
strong influence of St. Bonaven-
ture University's academic strengths in
the communication and education
arenas. The Jandoli School of Journal-
ism and Mass Communication and
the School of Education continue to
produce outstanding graduates in
their respective fields. Our alumni
make immeasurable contributions in the fields of media and edu-
cation. Their influence reaches around the globe, across genera-
tions, and through communities both small and large. They make a
difference every day. That is The Power of a Bonnie.
Our School of Education was recognized in 2014 as one of the
nation's top 25 innovative teacher education programs by the
American Association of Colleges for Teacher Education (AACTE).
The educators who are developed in our School of Education are
amazing. From teaching preschool to graduate school, our alumni
have influenced multiple generations of learners. Beyond the
strong academic skills they bring to the classroom, they bring
something else. Something that is equally important. They bring a
strong tradition of caring, nurturing and intellectual discipline. All
of these competencies are rooted in the Franciscan tradition -- a
Franciscan tradition focused on educating the whole individual.
Knight Kiplinger, editor in chief of Kiplinger's magazine and
Kiplinger Letters, served as keynote speaker for the Jandoli
School's 54th annual Mark Hellinger Awards Ceremony in Wash-
ington, D.C., this fall. Our alumni from the Jandoli School are out-
standing communicators. They hold every role in the mass
communication marketplace from social media to print to the web
and beyond. What distinguishes them is the strong language and
writing skills they learned at St. Bonaventure. Yes, grammar still
matters.
In addition to all of the technical aspects of communication, our
alumni bring something else to the marketplace. They bring with
them integrity, ethics and the spirit of St. Francis. They give a voice
to those who may otherwise not have a voice and they use the
words they craft to make the world a better place. They truly make
a difference.
All alumni, regardless of major, play a critical role in the ongoing
success of St. Bonaventure University. Your continued support is
vital in helping us to identify and recruit students. Our strong
alumni network continues to help us grow the pool of future Bon-
nies. Equally important are all of the alumni who provide intern-
ship and career opportunities for our students and graduates. The
support you have shown in helping with our recruitment efforts
and in providing job opportunities is truly amazing.
That is The Power of a Bonnie.
Robert P. Kane, '78
Message from the 2013-2015 National Alumni Association Board President
44 SEND US NEWS OF YOUR ACCOMPLISHMENTS
To submit information for the next issue of
Bonaventure magazine, use the enclosed envelope
or fill out an online form at www.sbu.edu/BonaMag.
Recognizing our schools of
Education and Journalism