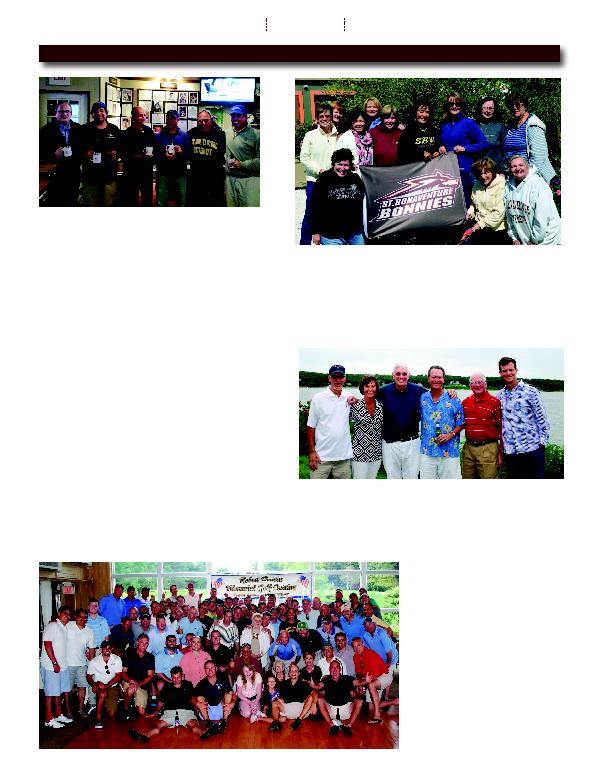 I
N

2
-
2
In June 2014, 87 golfers, along with a
host of supporters, attended the 13th
annual Gringo Open in Yonkers, N.Y.,
to honor Robert D. Peraza, `94, `96,
who was killed in the Sept. 11, 2001,
terrorist attacks. The golf outing and
fundraiser is held annually at Dun-
woodie Golf Course. This year's event
featured an online auction and raised
more than $37,000 for the Peraza Me-
morial Scholarship at St. Bonaventure.
For more information or to support the
scholarship, please visit
www.sbu.edu/bonarugby.
BONA BUDS FROM THE CLASS OF 1976
birthdays on Cape Cod in September. Pictured are Mary Beth
(Shea) Wells, Kathy (Neumeister) Danahy, Joan (Kurkowski)
Gillen, Eileen (Lannon) Kane, Liz Barrett, Mary Ann (James) Ker-
win, Chris (Frank) Petosa, Dee Daly, Rose (Fernandes) Kline, Judy
(Donowick) Dell'uomo, Marla (Cullen) Rapini and Patti (Barbato)
Jackson. Missing from the photo is Kathy Maloney Condon.
Gringo Open honors
Rob Peraza, '94, '96
A NUMBER OF BONA ALUMNI
gathered to celebrate Jim
Cowan's surprise 70th birthday at Pequash Club, Cutchogue,
Long Island. Pictured (from left) are Timothy Baydala, '73;
Patty (Cowan) Flaherty, '90; Jim Cowan, '66; Terry Baydale, '80;
Steve Buchanan, '66; and Patrick Flaherty, '89.
The 22nd annual Tim "Arch" Manning, '85, Golf
Tournament was held Sept. 13, 2014, at South Shore
Country Club in Hamburg and The Wanakah Grill in
Lake View.
There were 30 in attendance and several more dona-
tions received, raising more than $4,000. The annual golf
outing began as a tribute to Tim Manning, '85, who was
tragically killed in an automobile accident June 3, 1989.
This is the longest-running scholarship event in St.
Bonaventure history, and organizers look forward to
keeping this great tradition alive in Tim's honor. Proceeds
benefit the Timothy J. Manning '85 Endowed Scholar-
ship at St. Bonaventure, which so far has awarded 29
student scholarships.
Please reserve Sept. 12, 2015, for the 23rd Annual
"Arch" Memorial Scholarship Golf & Fundraising
event. For more information or to support the scholar-
ship, visit
www.sbu.edu/manning2014
Manning Tournament raises
$4,000 for student scholarships
The athletes crowned the 2014 Rotating ARCH BALL
Champions, with a score of 51, were (from left) John
Murphy, '85 (tournament intern); Bradley Hall, '83; An-
thony Tirone, '85; Michael Gallo, '85; Rod Stankewicz,
'83; and Kevin Curley, '85. All of the alumni called Dev-
ereux Hall home at some point during their undergradu-
ate years.
Bonnies and their peeps! Getting together with your classmates? Email us a pic ~ bonalumnus@sbu.edu