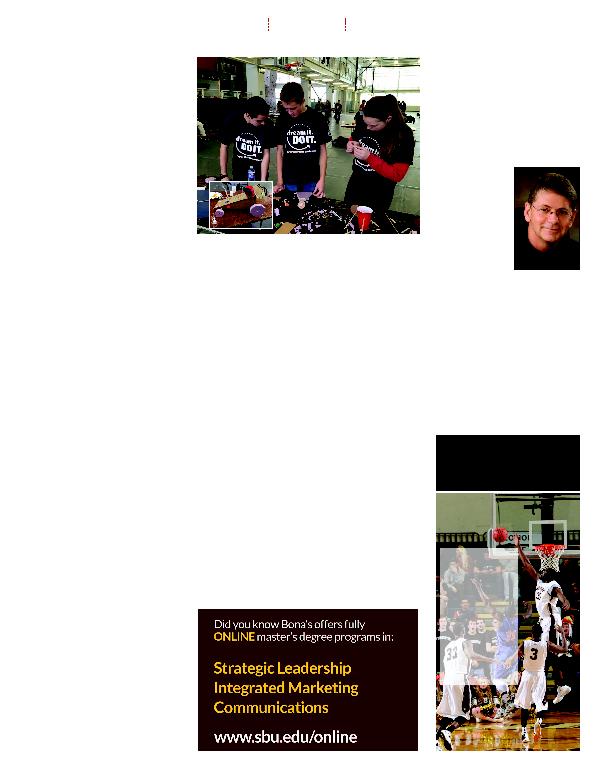 e Fibertech
Conference Classic
January 14 , 2015
7 p.m.
Blue Cross Arena
downtown
Rochester
Tickets start at $12
Visit Ticketmaster.com
or call 1-800-745-3000
St. Bonaventure is No. 3
in the North; No. 1 in NY
Our graduates are quick to say
why St. Bonaventure has given them
a competitive edge -- they call it
"The Bonaventure Advantage." U.S.
News & World Report calls it one of
the top three best college values in
the north and top value in New York
state.
The ranking is St. Bonaventure's
highest ever on U.S. News' "Great
Schools, Great Prices" list of Best
Regional Universities in the North.
And here's why: 95 percent of our
graduates are either employed or in
graduate school within six months
of graduation. Learn more about
some of our young alums, who are
inspiring young schoolchildren in
Harlem, completing medical school
at George Washington University,
and managing social media ac-
counts for major companies such as
Godiva:
www.sbu.edu/Out-
comes
SBU introduces new
undergrad degree in
Professional and
Creative Writing
The university has unveiled a new
undergraduate major that combines
the imaginative power of creative
writing with the technical skill of
professional communicators.
Classes in the new Professional
and Creative Writing major begin in
fall 2015.
The Professional and Creative
Writing major is a collaborative ef-
fort between the School of Journal-
ism and Mass Communication and
the Department of English.
The course of study, which leads
to a Bachelor of Arts degree, builds
upon existing and new course offer-
ings in both programs.
Aside from exploring more tradi-
tional areas of creative writing like
fiction, poetry, and creative nonfic-
tion, St. Bonaventure's program of-
fers students opportunities to
explore newer areas, like video
game scripting and blogging.
An emphasis on digital technology
is woven throughout the curriculum.
Learn more at
www.sbu.edu/PCWriting
The race is on: Students partner with
national foundation, local engineers to
promote STEM careers to high schoolers
More than 100 high school students built and raced
rubber band-powered cars, then prepared and presented
marketing pitches to sell their vehicles in the third annual
Dream It. Do It 500, held Nov. 22 at the Richter Center.
The event partners Dream It. Do It. a program designed
to expose young people to careers in manufacturing, with
SBU's chapter of ENACTUS, which promotes partnerships
between business leaders and university students. Teams
of four high school students were given two and a half
hours to construct cars with the help of local engineers,
then race them, earning points for distance, accuracy and
how much weight they could carry. Then they had 20
minutes to prepare a two-to three-minute marketing
pitch, which they presented to university professors and
students.
Students help refugee children,
families get a fresh start in Rochester
Inspired by this year's All Bonaventure Reads selection
"The Promise of a Pencil," SBU students visited Saint's
Place in Rochester to see firsthand some of the barriers to
schooling that exist in our own country. Saint's Place pro-
vides household goods, clothing and education to legal
refugees. The students brought more than 120 St.
Bonaventure bags full of school supplies for children,
worked at the agency's Clothing Closet, and assisted in
the setup for a Bhutani family living in Rochester.
Alumnus and longtime
SBU administrator
named Siena president
Br. F. Edward Coughlin, O.F.M.,
Ph.D., a member of St. Bonaven-
ture's Class of 1970, was named
the 11th president of Siena Col-
lege in November.
brother for more
than 40 years,
Br. Ed has led a
distinguished ca-
reer in Catholic
higher education
as a scholar, pro-
fessor and senior
administrator.
he was vice president for the Fran-
ciscan Mission at St. Bonaventure
and a Siena trustee.
Br. Ed became the college's in-
terim president in August after Fr.
Kevin Mullen, O.F.M., Ph.D., re-
signed to become provincial minis-
ter of Holy Name Province, the
largest Franciscan community in
the United States.