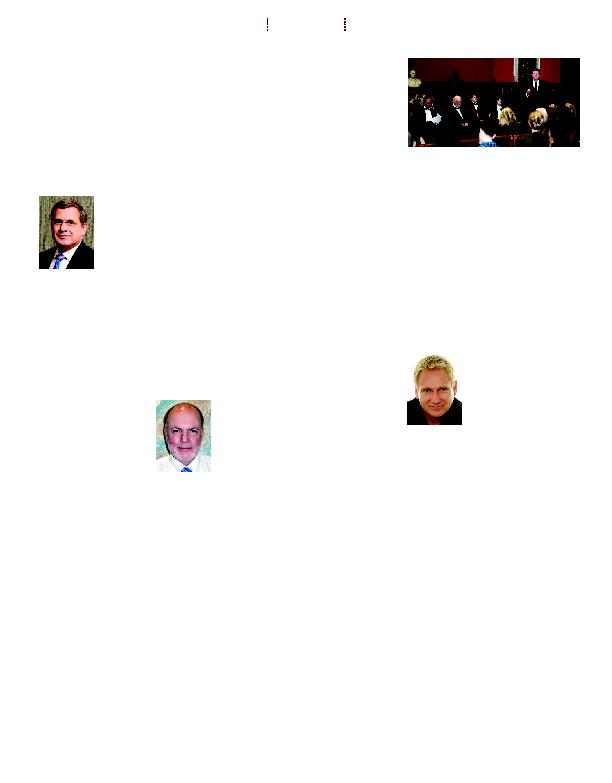 40th Reunion ~ June 5-7
1975 -- Dominic Genova's car dealership,
Genesee Valley Motors, Inc. in Avon, re-
ceived an ETHIE award for business ethics
from the Rochester Area Business Founda-
tion. Genova opened his first dealership 18
years ago, following 17 years working on
the manufacturing side for Chrysler. Gary
Schober, Esq., assumed the role of manag-
ing partner for Hodgson Russ law firm's New
York City office in October. Schober served
as the firm's president and CEO from July
2005 through January 2012.
Under his leadership, the
firm grew and deftly navi-
gated the economic down-
turn. As president, Schober
spearheaded the firm's
strategic vision and initiatives
for growth and business de-
velopment as well as guided the firm's day-
to-day operations. Schober continues to lead
the firm's Emerging Companies & Venture
Capital and Privacy, Data Security & Cyber Li-
ability practices.
1976 -- James Beck was elected president
of the BOCES Educators of Eastern Suffolk
(BEES) local 3037, an American Federation
of Teachers and New York State United
Teachers affiliate. BEES is an educational
union representing more
than 1,400 members, includ-
ing special education and oc-
cupational teachers, teacher
assistants, aides, therapists,
speech teachers, vision
teachers, and occupational
and physical therapists. East-
ern Suffolk BOCES is the largest BOCES in
New York, serving more than 46 component
districts. Beck has been a special education
and secondary social studies teacher at East-
ern Suffolk BOCES for 28 years. "I am very
grateful to St. Bonaventure for preparing me
for this journey with a special shout out to
Dr. Ed Eckert for all his encouragement,"
Beck writes. Bob Clark retired as a social
worker for the state of Kansas and has
taken on a new position with the Boulevard
Brewing Company in Kansas City as part of
the guest relations staff. He invites alumni
living in or visiting Kansas City to contact
him (www.boulevard.com) if interested in a
tour. Charlie Chambers is president of the
Society for Cardiovascular Angiography and
Interventions (SCAI), the society that repre-
sents the cardiologists who do invasive pro-
cedures by catheters in the heart. Chambers
has been at Penn State, Hershey Medical
Center for 27 years and is a tenured profes-
sor of medicine and radiology in the Division
of Cardiology. He and his wife, Linda, have
three children.
1978 -- William Fulton, a prominent ex-
pert and commentator on urban planning in
California, was named director of Rice Uni-
versity's Kinder Institute for Urban Research.
As director of the Planning Department for
the city of San Diego, he led a 120-em-
ployee department with a $24 million an-
nual budget overseeing all long-range city
planning, infrastructure financing, and eco-
nomic development efforts. He has also
served since 2004 as a senior fellow in the
Sol Price School of Public Policy at the Uni-
versity of Southern California. Fulton previ-
ously worked as a city council member,
deputy mayor, and mayor of Ventura, Calif.,
vice president for policy development and
implementation at Smart Growth America,
and as a principal in various urban planning
and environmental firms. A prolific writer, he
has authored hundreds of articles, dozens of
reports, and five books on urban planning in
California, including "Guide to California
Planning," the state's standard textbook on
urban planning. In 2009, Planetizen, a public
interest information exchange for the urban
planning, design, and development commu-
nity, named Fulton to its list of "Top 100
Urban Thinkers."
1979 -- Dennis DeBalso is staying at an
assisted living establishment and thus will
not be able to make any alumni activities or
reunions. He would appreciate hearing from
his fellow alumni at d.debalso@gmail.com.
Classmates Chris Keenan, Jim Terrell, Dr.
Ron Scardetta, Kevin Dillon and Mike
Spallone got together for their annual
hunting adventure at the "Spallone Ranch"
in Wisconsin. They welcome others to join
them!
35th Reunion ~ June 5-7
1980 -- Dan Barry and two New York
Times colleagues won top honors in the
2014 Katherine Schneider Journalism Award
for Excellence in Reporting on Disability.
"The `Boys' in the Bunkhouse" described in
text, photos and video the lives of men who
for 30 years worked in an Iowa turkey pro-
cessing plant for almost no pay. The story
raised questions about the federal law that
permitted the men to be underpaid for
doing the same work as their non-disabled
colleagues, explained how regulators effec-
tively sanctioned the exploitation and de-
tailed the squalid living conditions and
mistreatment the men endured. The contest,
the only one devoted exclusively to disability
reporting, is administered by the National
Center on Disability and Journalism at the
Walter Cronkite School of Journalism and
Mass Communication at Arizona State Uni-
versity. Read the story online at
http://tinyurl.com/knzk3sc.
1982 -- Mark Thornton (above) partici-
pated in an Oxford Union debate concerning
the War on Drugs. The Union is the world's
most prestigious debating society, with an
unparalleled reputation for bringing interna-
tional guests and speakers to Oxford. The
Oxford Union Society was founded in 1823,
aiming to promote debate and discussion not
just in Oxford University, but across the globe.
1983 -- Dennis T. Giacino's hit new musi-
cal-comedy "Disenchanted" opened Off
Broadway in November at the Theatre at St.
Clement's in New York City. Giacino is the
creator of the show and has written the
book, music and lyrics as well. He says music
from the show has already received raves
from the N.Y. Post and Huffington Post and
the show has played to sold-
out houses and raves around
the country, including Los
Angeles, Syracuse, Orlando,
Philadelphia area, San Fran-
cisco Bay area, Tampa,
Rochester, San Diego area,
Sarasota, and Columbia, Mo.
Other productions by Giacino have toured
throughout the U.S., Canada, Prague, Singa-
pore and Sydney. Giancino has been a pro-
fessional actor, playwright, and musician
over the past few decades, performing plays
and musicals that he has written. He is
proud of his SBU studies (social sciences, his-
tory and education) and Garret Theater per-
formances ("Godspell," "Company").
Rosemary Peng presented a poster at the
February 2014 Combined Section Meeting
of the American Physical Therapy Associa-
tion in Las Vegas. The poster was titled "The
use of a driver alert device to improve mid-
line head position in patients with neurologi-
cal and orthopedic conditions." An abstract
of the poster was published in the "Stroke
of Genius" newsletter of the Neurology Sec-
tion's Stroke Special Interest Group in Au-
gust. Peng works part time as a senior
physical therapist in the outpatient depart-
ment of Kessler Institute and part time in the
Somerville School District and for the NJ
Early Intervention System.
30th Reunion ~ June 5-7
1985 -- Terrence Gilbride, Esq., was
among 14 Hodgson Russ attorneys listed in
Buffalo Business First and Buffalo Law Jour-
I
N

2
-
2