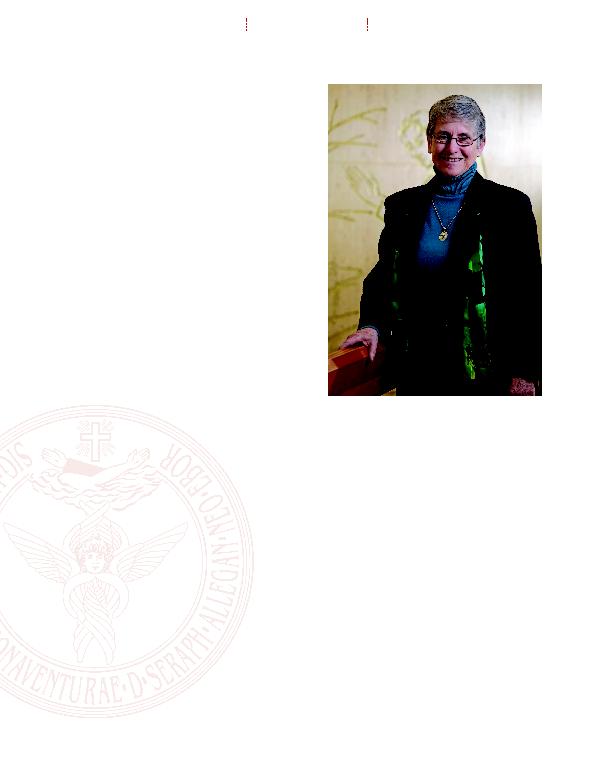 I
N

2
-
2
Mille grazie!
Board Chair
Board Vice Chair
Fr. Frank R. Sevola, O.F.M., '82
Board Secretary
Lana D. Benatovich
Janet I. Bodnar, '71
Laurie A. Branch, '04
St. Bonaventure University Board of Trustees
James E. Canty, '84
Sr. Margaret Carney, O.S.F.
James J. Cattano, '65
Scott P. Cielewich, '72
Daniel F. Collins, '73
Kathleen A. Colucci, '77
Fr. Thomas E. Conway, O.F.M.
Joseph A. DeMaria, Esq., '79
Colette C. Dow, '88
Timothy J. Finan
Thomas M. Garvey, '74
Michael Hill, '96
Albert C. Horton, '66
Robert P. Kane, '78
Bharat Kohli
Cindy Abbott Letro
Paul C. McDonald, '80
James E. Meyer, '76
Very Rev. Kevin Mullen, O.F.M.
Eugene M. O'Connor, Esq., `79
Les Palm
Fr. Kenneth P. Paulli, O.F.M.
Very Rev. John Puodziunas, O.F.M.
Bill Purcell
Yvonne Minor Ragan
James E. Stitt
Marvin W. Stocker, '75
Lynda M. Wilhelm, '86
Trustees Emeriti
Robert R. Jones, LL.D., '58
Charles Osgood, LL.D.
iterally "a thousand thanks." This beautiful Italian expression
of gratitude is commonplace in the homeland of St. Francis
and St. Clare of Assisi. In this 10th anniversary year of my
presidency, I aim to make it as common among all St. Bonaventure
alumni, friends, faculty, staff and students.
This goal to make mille grazie* common in our lexicon is not be-
cause it's the name of a very thoughtful fundraising campaign initi-
ated by our Board of Trustees to mark this milestone anniversary of
my presidency. I wish to make it known among all Bona faithful be-
cause I am deeply grateful -- beyond words or numbers --for your
support that has propelled my years at the helm of your beloved
Bonaventure.
A thousand thanks does not begin to express my appreciation to
our faculty and academic administration, whose commitment to
student-centered excellence in education has fueled an academic
assessment paradigm that received overwhelming praise by our vis-
iting team for the Middle States re-accreditation in October. While
the final decision on our regional re-accreditation lies in the hands
of the Middle States Commission on Higher Education, we owe our
faculty and academic administration, in particular, a debt of grati-
tude for their focus and determination. This resulted in the best exit
report of any Middle States visiting team in the history of this Uni-
versity.
What does this mean to the average person on the street? It
means our faculty members are committed to assuring student
learning and documentable student learning outcomes -- and that
translates into student success. Given this, it's no wonder that U.S.
News and World Report has named St. Bonaventure University the
#3 Best College Value in the North (#1 in New York) among re-
gional universities.
A thousand thanks only skims the surface of my gratefulness for
the loyalty and selfless giving of our alumni and friends who, during
the course of my 10 years as president, have contributed in excess
of $112 million to support the building and facilities projects, en-
dowments, faculty development, scholarships, and annual operat-
ing needs of this University. St. Bonaventure University is the envy of
other colleges and universities who wish to follow in the realm of
our record of philanthropic support. It would not be possible to do
what we do for students and for our regional community without
the generosity of our extraordinary alumni.
A thousand thanks includes our religious sponsor, the Holy Name
Province, and the countless Franciscans worldwide who have served
the University on our faculty, in ministry, in scholarship, in commu-
nity service, and in prayer for our University and our students, fac-
ulty, staff, alumni and mission. We believe in the goodness of every
person and in the ability of every person to do extraordinary things.
That goodness stems from and is perpetuated through
the vows and commitment of Franciscans the world
over.
Truthfully, I could fill the remainder of the pages in this
magazine -- and more -- with lists of the individuals,
groups, and gracious gifts and considerations for which I
am grateful. These experiences and generosities have
made the past 10 years rich, remarkable and humbling
beyond anything I might have imagined when I took my
oath of office. I will continue to do all that is in my
power, with the blessing of God's greater power, to
make good with these extraordinary gifts.
Grazie mille! Grazie infinite!
Sr. Margaret Carney, O.S.F., S.T.D.
President
*Pronounced: MILL-aye GRATS-ee-aye