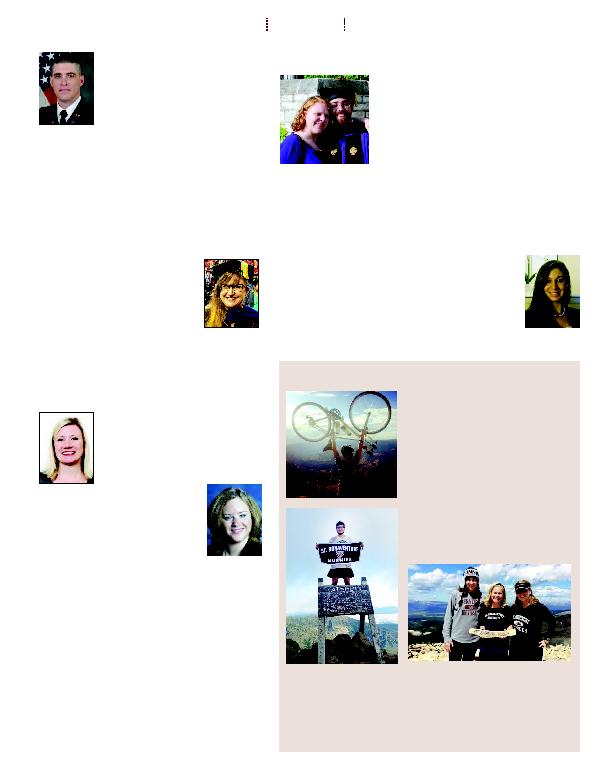 through 3 at Ellicottville Central School.
2006 -- Matthew Cressler earned a Ph.D. in reli-
gious studies from Northwestern University and has
joined the faculty at Earlham College in Richmond,
Ind., as a jointly appointed assistant professor of reli-
gion and African and African American studies. Sean
Lynch was promoted to vice president in the Invest-
ment Banking department at Barclays Capital. Peggy
Masters accepted a position as senior associate direc-
tor of admissions at The University of Alabama in
Huntsville. Rose Proto has returned home with legal
experience in tow to open law offices in Olean and
Wellsville. After earning a law degree from Charlotte School of Law (N.C.) in
2010 and remaining in that area to work for two prestigious firms, she said the
choice was simple. Not only will she now be closer to her family, but she will get
to enjoy all of the outdoor pleasures she missed while in North Carolina, such as
mountain biking, hiking, kayaking, and skiing.
2007 -- Laura Tucker graduated from Villanova University
School of Law in May 2014 and was named an associate at the
premier Manhattan matrimonial and family law firm Cohen
Rabin Stine Schumann LLP. She was offered the position follow-
ing her legal internship at the firm last summer. Prior to joining
CRSS, Tucker interned at Proskauer Rose LLP in Manhattan in the
firm's Securities Law practice. During law school, she was pub-
lished in the Villanova Environmental Law Journal and served as the Journal's
mand and General Staff College at Fort
Leavenworth, Kan. Frank is serving as the
Deputy G1 (Human Resources) Officer at
the 42nd Infantry Division "Rainbow" in
Troy, N.Y.
2002 -- Michael Cummings graduated
in May 2014 from Georgetown Univer-
sity's McDonough School of Business with an executive
master's in leadership and has accepted a position as direc-
tor of Admissions for St. Mary's College of Maryland. Tom
Griffin of Proctor & Gamble has been appointed customer
business development sales leader for the Hair Care and
Color business. Griffin will manage Proctor & Gamble's hair
care portfolio (Pantene, Head & Shoulders, Herbal Essences,
Clairol) at the Walgreens corporation. Griffin, his wife,
Meghan (Zimmerman), '01, '03, and their daughter relo-
cated to Chicago for this new and exciting opportunity.
2003 -- Amber Candela earned a Ph.D
in mathematics education from the Univer-
sity of Georgia. The subject of her disserta-
tion was Middle School Mathematics
Teachers' Perspectives on Implementing
High Cognitive Demand Tasks. She has ac-
cepted a position at the University Missouri
- St. Louis as an assistant professor of mathematics educa-
tion in the College of Education. Kevin Ross was named
associate director of athletics for athletic communications at
Manhattan College. Ross spent the last nine years as the as-
sistant director of media relations at Wagner College in
Staten Island.
2004 -- Jill Fecher was promoted to vice
president of Account Services at SKM
Group in Depew, N.Y. Fecher is responsible
for all aspects of the department, includ-
ing client service and account executive
staff. Fecher joined SKM Group in 2004.
Sarah E. Hansen, Esq.,
was appointed to the DRI
Young Lawyers Steering Committee as vice
chair of "The Whisper," a monthly newslet-
ter publication. Hansen is a civil litigator
concentrating her practice in defending cat-
astrophic personal injury cases in New York
state, primarily in the areas of
trucking/transportation negligence, product
liability, premises liability, labor law, and municipal law. Sgt.
Sarah Skelton is completing her last year as a psychology
intern at Stanford University and has accepted a position at
George Washington University as a veteran staff coordina-
tor in Washington, D.C. Skelton joined the Army National
Guard while at St. Bonaventure and continues to serve nine
years later. After graduating from St. Bonaventure's MSED
program, Skelton went to Hawaii School of Professional
Psychology to work on her doctorate in clinical psychology.
10th Reunion ~ June 5-7
2005 -- Marie Kleiderlein completed her Ph.D. in English
education at the State University of New York at Buffalo,
defending her dissertation, "The Muddy-Booted Boys: A
Case Study of Working-Class Youth in a Rural Community,"
in August 2013. Her degree was conferred in February
2014. She works as a reading specialist for grades 1
1993 alumnae Susan (Gingrich) Ul-
rich, Kate Halaiko and Joey (Bullard)
Glenn met in August to hike up one of
Colorado's famous "fourteeners" called
Mt. Sherman. The women, who all live in
Denver, show off their Bona pride at an el-
evation of 14,036 feet.
Alicia D'Alessandro, '12, completed a
cross-country cycling trip from Nags Head,
N.C., to San Diego with the nonprofit or-
ganization Bike & Build, which raises
money and awareness for affordable hous-
ing. Her group of 31 riders raised more than
$157,000, assisted at 13 Habitat for Hu-
manity sites across the country, and rode
3,652 miles over a span of 70 days (bike-
andbuild.org/rider/7308). Shortly after she
completed her trip, she accepted a position
as corporate and foundation relations man-
ager at Habitat for Humanity Capital District
in her hometown of Albany.
St. Bonaventure alumni reaching new heights
Michael Marrash, '03,
proudly displays his SBU ban-
ner on the Appalachian Trail.
This past summer he hiked
821 miles of the trail from
New Jersey to Maine in less
than two months.
Cressler and his wife,
Mary Ellen Giess